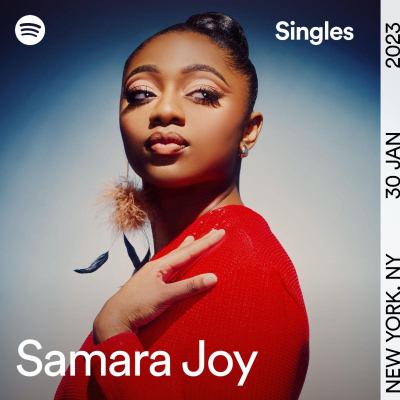 2X Grammy-Nominated Artist Samara Joy Shares Spotify Singles "Someone Like You" and "Guess Who I Saw Today" 
https://samarajoy.lnk.to/spotifysingles
Watch Samara Joy's CBS Mornings "Road to the GRAMMYS" Profile HERE
"One of a kind voice… an ageless talent" (CBS Mornings) to Perform at GRAMMY Premiere Ceremony, MusiCares Persons of the Year 2023 Benefit Gala, and Spotify Best New Artist Party This Week in Los Angeles
January 30, 2023: Samara Joy, GRAMMY nominee for Best New Artist and Best Jazz Vocal Album, has unveiled two Spotify Singles - a breathtaking cover of Adele's "Someone Like You" and a new version of "Guess Who I Saw Today" from her GRAMMY-nominated album Linger Awhile, out now on Verve. The tracks, featuring pianist/organist Shedrick Mitchell (Whitney Houston, Aretha Franklin, Stevie Wonder), arrive less than a week before the 65th Annual GRAMMY Awards® in Los Angeles, where the "silky-voiced rising jazz star" (New York Times) will perform at the Spotify Best New Artist Party, the MusiCares Persons of the Year 2023 Benefit Gala, and the GRAMMY Premiere Ceremony.
Listen to Spotify Singles "Someone Like You" and "Guess Who I Saw Today" here.
Samara Joy was featured on CBS Mornings today as part of their "Road To The GRAMMYS" series. The 23-year-old Bronx native sat down with correspondent Michelle Miller at Mezzrow in NYC's West Village, the first jazz club Samara performed after graduating from SUNY Purchase's jazz studies program as the Ella Fitzgerald Scholar. Since then, Samara has released an album with Verve Records, dazzled increasingly larger crowds all over the world, garnered millions of likes on TikTok, and most recently, earned GRAMMY and 2023 NAACP Image Awards nominations. Samara explains how she "silently screamed" in Amtrak's quiet car when she found out she was nominated for two GRAMMY Awards late last year.
Watch Samara Joy on CBS Mornings here.
Samara's Verve Records debut album Linger Awhile, a collection of beloved songs updated for a fresh audience, was spotlighted on "Best of The Year" lists by the New York Times, Rolling Stone, Downbeat, Ebony, Philadelphia Inquirer, Boston Globe, Chicago Tribune, Slate, JazzTimes, WBGO, WRTI, KEXP, and more. The New York Timesapplauded Samara for "helping jazz take a youthful turn" while NPR All Things Considered named her a "classic jazz singer from a new generation." Last week, Samara performed "Guess Who I Saw Today" on the Jennifer Hudson Show - watch the performance and interview here.
Samara Joy will perform Valentine's Day shows at the Blue Note before a string of international tour dates in late February and March. Later this spring, Samara will return to her hometown crowd in New York City for her highly-anticipated Village Vanguard debut. Full touring schedule below.
Samara Joy 2023 Tour Dates
February 11 – Northridge, CA – Younes and Soraya Nazarian Center for the Performing Arts (Samara Joy W/ The Clayton Hamilton Jazz Orchestra)
February 14-15 – New York, NY – Blue Note Jazz Club (Samara Joy Presents Valentines Day)
February 16 – Madison, WI – Wisconsin Union Theater
February 17 – Germantown, TN – Germantown Performing Arts Center
February 19 – Palm Springs, CA – Annenberg Theater
February 20 – Palm Springs, CA – Smoke Tree Ranch
March 15 – Stanford, CA – Bing Concert Hall
March 17 – Seattle, WA – Town Hall-Great Hall
March 18 – Salt Lake City, UT - Rose Wagner Performing Arts Center
March 19 – San Diego, CA – La Jolla Music Society
March 24-25 – Bloomfield Hills, MI – Christ Church Cranbrook
March 31 – Greensboro, GA – Festival Hall
April 1 – Annapolis, MD – Rams Head On Stage
April 2 – Reading, PA – Miller Center For The Arts
April 15 – Pittsburgh, PA – MCG Jazz
April 21 – Charleston, SC – Charleston Jazz-Charleston Music Hall
April 22 – Newport News, VA – Downing-Gross Cultural Arts Center
April 25-30 – New York, NY – Village Vanguard