Say She She Announce Biggest Headlining Tour To Date, Including Double Header at LA's Lodge Room (9/28 + 9/29) and NYC's Bowery Ballroom (10/17)
Follows Hollywood Bowl Debut w/ Portugal The Man, Opening Central Park Summerstage, and Three Sets at Glastonbury 
New Music Video for "Astral Plane" Out Today – Watch HERE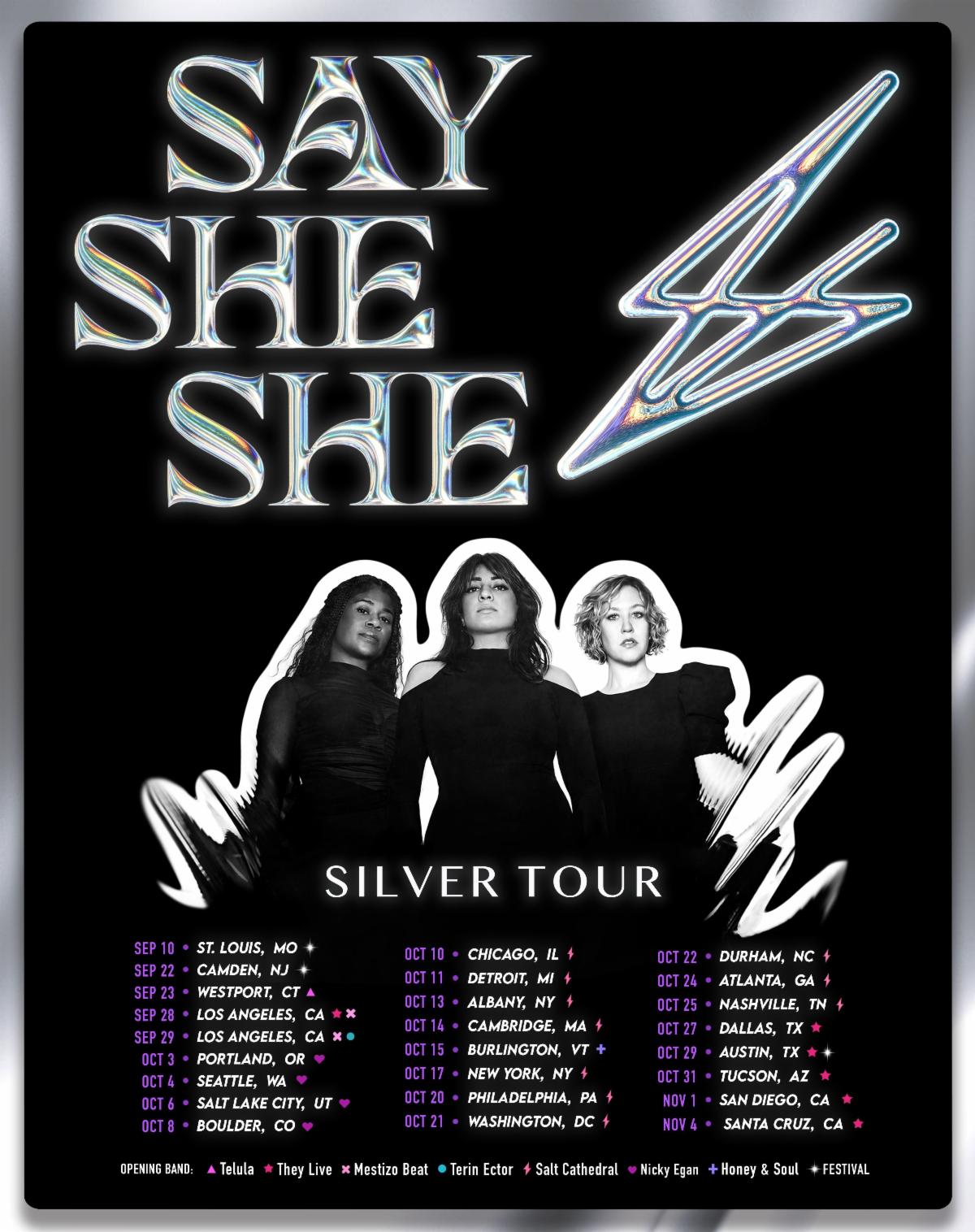 In celebration of their recently announced forthcoming new record Silver — out September 29 (Karma Chief / Colemine) — NYC disco-pop outfit Say She She has announced the dates for what will be their biggest headlining tour yet, with performances at Hardly Strictly Bluegrass, LEVITATION fest, a double header at LA's Lodge Room (9/28 + 9/29), and NYC's Bowery Ballroom (10/17). Tickets will be on sale this Friday at 10am local time.
Since the release of their debut record Prism in 2022, fans across the globe have embraced Say She She's singular sound, solidifying their standing as a "staggeringly inventive" band to watch (The Guardian). In what has been a break-out year, the three-piece has made their national TV debut on CBS Saturday and have emerged as darlings of tastemaker radio, performing sessions and receiving significant spins from the likes of KEXP, a performance at NonCOMM, WFUV — who selected the group as featured performers in last year's annual Holiday Cheer event at the Beacon Theater — and WXPN, including a World Cafe Live performance. Their latest single release, "Astral Plane," marked the groups fourth appearance at #1 on KCRW's Top 30.
Check out Say She She's brand new live session with WFUV here: https://wfuv.org/content/say-she-she-racket-2023
Today's announcement follows a statement-making summer tour that included the group's Hollywood Bowl debut in support of Portugal. The Man and Chicano Batman, performing in June as Central Park Summerstage season openers, plus three sets and a National TV (the BBC) over 24 hours during their Glastonbury debut — and as their rapid and impressive rise to stardom continues, Say She She will take the stage as headliners for these 24 new dates across the United States.
Also released today is the music video for "Astral Plane" from Say She She's forthcoming LP Silver. A romantic venture into the world Say She She has so expertly crafted: "Astral Plane's" fat basslines and honeyed grooves are enveloped by slinky harmonies that rocket dramatically skywards — disco ecstasy for the modern femme.
The video for "Astral Plane" is directed by Lisa Schiller, who previously directed Silver's lead single "Reeling." Other previously released tracks include "C'est Si Bon," an upbeat summer anthem which was featured on BBC6's A-list playlistand is spinning on Alternative FM radio, and "NORMA," the group's protest anthem released in the wake of Roe v. Wade being overturned.
Watch "Astral Plane" HERE
PRE-ORDER Silver HERE
DON'T YOU DARE STOP SUMMER TOUR
August 3-4 - Pickathon Festival, Portland (USA)
August 6 - Hollywood Bowl, Los Angeles (USA)*+
August 16 - Musikfestwochen, Winterthurer (Switzerland)
August 18 - Festival Chez Hubert, Brittany (France)
August 20 - Green Man Festival, Wales (UK)
August 22. - Bla, Oslo (Norway)
August 23 - Vega, Copenhagen Denmark)
August 24 - Faschiong, Stockholm (Sweden)
August 26 - Shambala Festival, Northamptonshire (UK)
August 28 - Rescue Rooms, Nottingham(UK)
August 31 - Village Underground, London (UK)
September 1 - End Of The Road Festival, Dorset (UK)
September 2 - Manchester Psych Fest, Manchester (UK)
September 3 - Hare & Hounds, Birmingham (UK)
September 10 - Music At The Intersection, St. Louis (USA)
September 22 - XPonential Music Festival, Camden (USA)
* as support for St Paul & The Broken Bones
** with special guest, Abby Jeanne
*+ as support for Portugal The Man & Chicano Batman
^ as support for Shannon & The Clam
NEW DATES
Thursday September 28 - Los Angeles, CA - Lodge Room ^ / x
Friday September 29 - Los Angeles, CA - Lodge Room x / #
Sunday October 1 - San Francisco, CA - Hardly Strictly Bluegrass 2023 (festival)
Tuesday October 3 - Portland, OR 10/3/23 - The Get Down *
Wednesday October 4 - Seattle, WA - Tractor Tavern *
Friday October 6 - Salt Lake City, UT - The State Room *
Sunday October 8 - Boulder, CO - Velvet Elk Lounge *
Tuesday October 10 - Chicago, IL - Martyrs ++
Wednesday October 11 - Detroit, MI - El Club ++
Friday October 13 - Albany, NY - Lark Hall ++
Saturday October 14 - Cambridge, MA - The Sinclair ++
Sunday October 15 - Burlington, VT - Higher Ground Showcase Lounge ~
Monday October 17 - New York, NY - Bowery Ballroom ++
Friday October 20 - Philadelphia, PA - World Cafe Live ++
Saturday October 21 - Washington, DC - Miracle Theatre ++
Sunday October 22 - Durham, NC - Motorco Music Hall ++
Tuesday October 24 - Atlanta, GA - Vinyl Tue ++
Wednesday October 25 - Nashville, TN - The Blue Room ++
Friday October 27 - Dallas, TX - Club Dada
Sunday October 29 - Austin, TX - LEVITATION @ Empire Control Room & Garage (festival)
Tuesday October 31 - Tucson, AZ - 191 Toole ^
Wednesday November 1 - San Diego, CA - Casbah ^
Friday November 3 - San Francisco, CA - The Chapel ^
Saturday November 4 - Santa Cruz, CA - Moe's Alley ^
KEY (Opening Band)
^ They Live
X Mestizo Beat
# Terin Ector
* Nicky Egan
++ Salt Cathedral
~ Honey & Soul