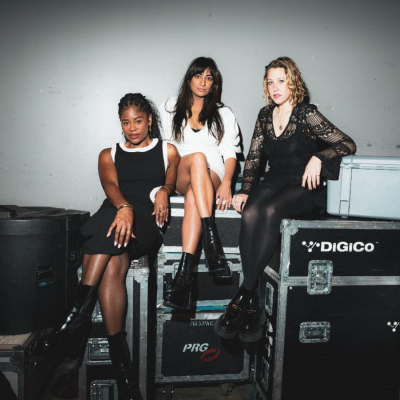 Say She She Calls For Gun Control Reform Through The Ecstatic and Revolutionary Sounds of Post-Disco Funk
New Single "Echo In The Chamber" Out NOW, Silver Out Sept 29 on Karma Chief Records
Set To Embark On Biggest Headlining Tour To Date This Fall, Including LA's Lodge Room (9/28 + 9/29) and NYC's Bowery Ballroom (10/17)
"[Silver] expands the grammar of R&B into the heart of the modern-day mainstream." —Uncut
Today, NYC discodelic soul outfit Say She She shares "Echo In The Chamber," the latest preview of forthcoming record Silver (out September 29 / Karma Chief Records). Crying for listeners to "usher in the change," "Echo In The Chamber" — which premiered yesterday on WXPN — is a fiery call to action in support of increased gun control legislation in the states.
Alongside the single release, the band is working to support the Background Check Expansion Act — a bipartisan proposal widely supported by organizations like Sandy Hook Promise, Moms Demand Action, The National Education Association and others which requires background checks on all gun sales — through a record store initiative: all record stores that carry Say She She's new album Silver will also carry and give out postcards that include a call to action against the national gun violence epidemic, meant to be sent to your local representative. From their collective backgrounds in education, speechwriting, and nonprofit work, Say She She has learned that the best ways to take action are direct, loud, and proud — just like their music.
Listen to "Echo In The Chamber" HERE
Opening with the fiery incantation that is "Reeling," Silver turns the dial on their anger and confidence all the way up. "Kick the door down, smash the ceiling, leave 'em reeling!" sets the mood for a musical journey imbued with political grit. While today's release addresses gun control, "NORMA," the group's protest anthem written in response to the decision to overturn Roe v Wade, is an urgent call to action to support the protection of women's rights and preserving the right to choose. It was first released on Bandcamp, just days before the Supreme Court decision to overturn Roe v Wade was made last year. "We will not go back!!," the trio cries, channeling the revolutionary and ecstatic sounds of disco to perfect, compelling harmony.
In a new review, Uncut lauds Silver for its "eloquent excursions into vintage Philly soul ("Don't You Dare Stop"), En Vogue operatics ("Forget Me Not") and the cinematic funk of Curtis Mayfield ("Astral Plane", "Passing Time"). That's not to suggest [Silver] is an entirely retro proposition, as even on the record's most left-field moments and historical echoes there's a clear path being charted, expanding the grammar of R&B into the heart of the modern-day mainstream."
PRE-ORDER Silver HERE
In what has been a breakout year, Say She She has made their national TV debut on CBS Saturday and have emerged as darlings of tastemaker radio, performing sessions and receiving significant spins from the likes of KEXP, WFUV — which selected the group as featured performers in last year's annual Holiday Cheer event at the Beacon Theater — and WXPN, including World Cafe and a performance at their spring NonCOMMvention. Their latest single release, "Astral Plane," marked the groups fourth appearance at #1 on KCRW's Top 30. Watch Say She She's new live concert performance with WFUV here: https://wfuv.org/content/say-she-she-racket-2023
Plus, Say She She just announced the dates for what will be their biggest headlining tour yet, with performances at Hardly Strictly Bluegrass, LEVITATION fest, a double header at LA's Lodge Room (9/28 + 9/29), and NYC's Bowery Ballroom (10/17). The performances follow the group's Hollywood Bowl debut with Portugal The Man, opening Central Park Summerstage's 2023 season, and three sets in 24 hours at Glastonbury.
SILVER TRACK LIST
Reeling
Don't You Dare Stop
Astral Plane
C'est Si Bon
Entry Level
Passing Time
Think About It
Questions
Forget Me Not
Never Say Never
The Water
Echo In The Chamber
Bleeding Heart
Find A Way
NORMA
Silver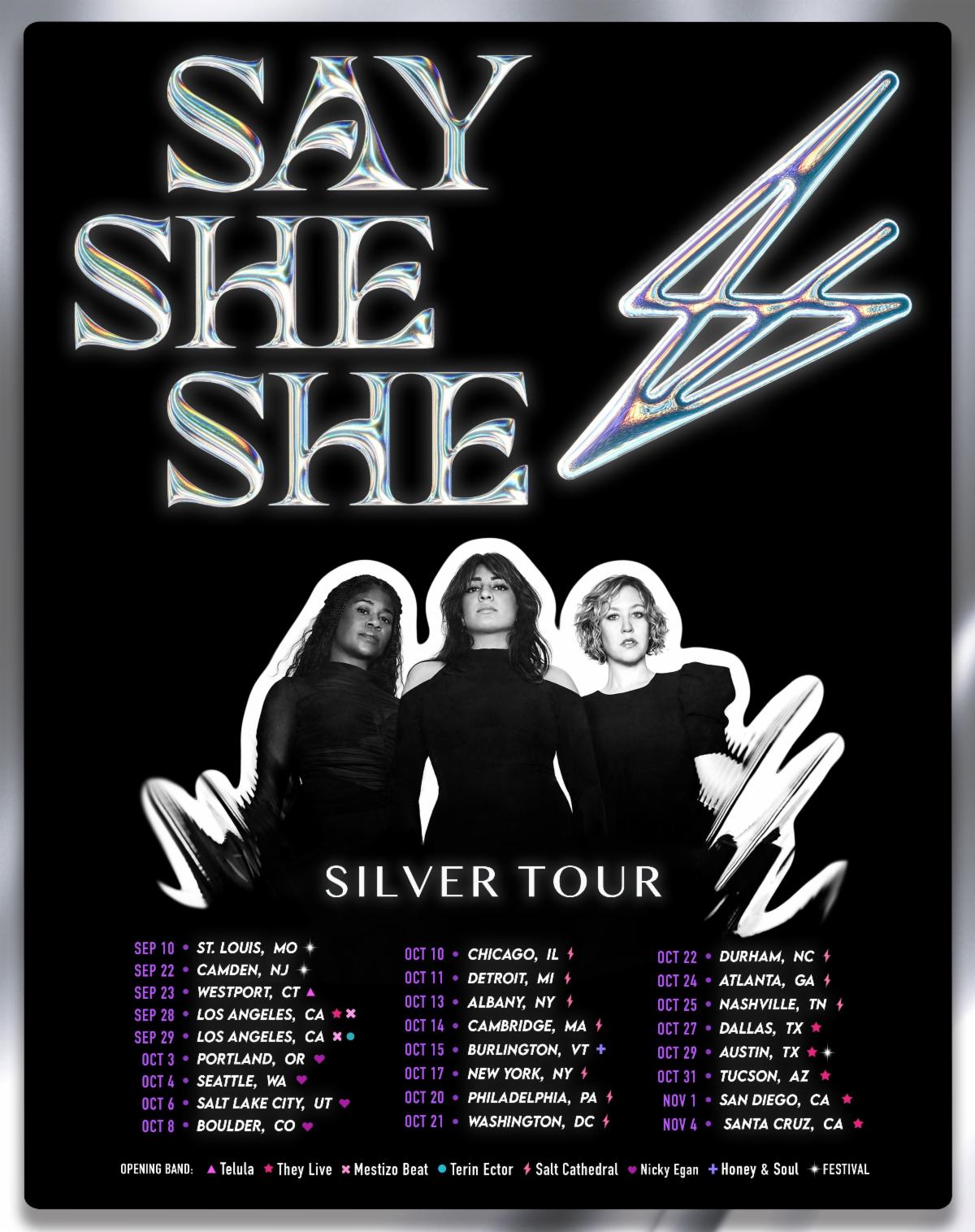 DON'T YOU DARE STOP SUMMER TOUR
August 3-4 - Pickathon Festival, Portland (USA)
August 6 - Hollywood Bowl, Los Angeles (USA)*+
August 16 - Musikfestwochen, Winterthurer (Switzerland)
August 18 - Festival Chez Hubert, Brittany (France)
August 20 - Green Man Festival, Wales (UK)
August 22. - Bla, Oslo (Norway)
August 23 - Vega, Copenhagen Denmark)
August 24 - Faschiong, Stockholm (Sweden)
August 26 - Shambala Festival, Northamptonshire (UK)
August 28 - Rescue Rooms, Nottingham(UK)
August 31 - Village Underground, London (UK)
September 1 - End Of The Road Festival, Dorset (UK)
September 2 - Manchester Psych Fest, Manchester (UK)
September 3 - Hare & Hounds, Birmingham (UK)
September 10 - Music At The Intersection, St. Louis (USA)
September 22 - XPonential Music Festival, Camden (USA)
* as support for St Paul & The Broken Bones
** with special guest, Abby Jeanne
*+ as support for Portugal The Man & Chicano Batman
^ as support for Shannon & The Clam
FALL HEADLINING TOUR
Thursday September 28 - Los Angeles, CA - Lodge Room ^ / x
Friday September 29 - Los Angeles, CA - Lodge Room x / #
Sunday October 1 - San Francisco, CA - Hardly Strictly Bluegrass 2023 (festival)
Tuesday October 3 - Portland, OR 10/3/23 - The Get Down *
Wednesday October 4 - Seattle, WA - Tractor Tavern *
Friday October 6 - Salt Lake City, UT - The State Room *
Sunday October 8 - Boulder, CO - Velvet Elk Lounge *
Tuesday October 10 - Chicago, IL - Martyrs ++
Wednesday October 11 - Detroit, MI - El Club ++
Friday October 13 - Albany, NY - Lark Hall ++
Saturday October 14 - Cambridge, MA - The Sinclair ++
Sunday October 15 - Burlington, VT - Higher Ground Showcase Lounge ~
Monday October 17 - New York, NY - Bowery Ballroom ++
Friday October 20 - Philadelphia, PA - World Cafe Live ++
Saturday October 21 - Washington, DC - Miracle Theatre ++
Sunday October 22 - Durham, NC - Motorco Music Hall ++
Tuesday October 24 - Atlanta, GA - Vinyl Tue ++
Wednesday October 25 - Nashville, TN - The Blue Room ++
Friday October 27 - Dallas, TX - Club Dada
Sunday October 29 - Austin, TX - LEVITATION @ Empire Control Room & Garage (festival)
Tuesday October 31 - Tucson, AZ - 191 Toole ^
Wednesday November 1 - San Diego, CA - Casbah ^
Friday November 3 - San Francisco, CA - The Chapel ^
Saturday November 4 - Santa Cruz, CA - Moe's Alley ^
^ They Live
X Mestizo Beat
# Terin Ector
* Nicky Egan
++ Salt Cathedral
~ Honey & Soul
NEW 2024 EU/UK DATES
Wednesday March 6 - Brighton, UK - Komedia
Thursday March 7 - London, UK - KOKO
Saturday March 9 - Bristol, UK - Thekla
Sunday March 10 - Manchester, UK - Gorilla
Monday March 11 - Edinburgh, UK - The Caves
Tuesday March 12 - Leeds, UK - The Brudenell Social Club
Sunday March 17 - Leipzig, Germany - UT Connewitz
Tuesday March 19 - Hamburg, Germany - Knust
Wednesday March 20 - Berlin, Germany - Frannz
Friday March 22 - Mannheim, Germany - Alte Feuerwache