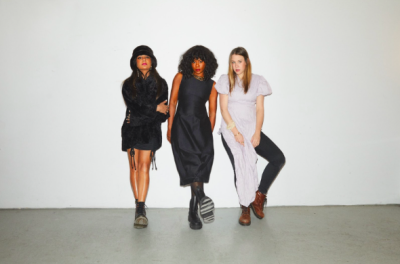 Say She She Descend Into Operatic, Post-Disco Fervor On New Video For "Trouble"
Watch Here: https://youtu.be/1mCgvmfzWKs
"The Muses of Greek legend, brought to life in the form of a Brooklyn soul-funk band" (LA Times Best 100 Songs of 2022)
"A post-disco confection built around the eclectic and thrilling harmonies of their three singers" (WNYC)
"The funkiest sh*it we've heard in a while" (KCRW)
"I think this band are going to be absolutely huge"
(Deb Grant, Jazz FM/ BBC 6)
Brooklyn disco-pop trio Say She She has released a new music video for their song "Trouble." The video arrives as a break-out year for Say She She continues on the heels of their debut album Prism (Karma Chief).
Last week the trio performed at NYC's famous Beacon Theater with Spoon and Lucius, were just featured on the LA Times Best Songs of 2022 list, nabbed a co-sign from Clairo and have growing support at key tastemaker radio stations across the country including KCRW, KEXP, WFUV, KUTX and WXPN. Say She She has been praised by NPR Music, MOJO, Wax Poetics, Brooklyn Magazine, The Guardian, spins and interviews across the BBC and recently hit #1 on KCRW's Top 30 Albums list, not to mention that their music can be heard in the new season of Gossip Girl and in the trailer for Lena Dunham's recent film.
The video for their stand alone single "Trouble" finds Say She She stepping into a '50s vignette atop their signature psychedelic grooves. Longingly waiting for a lover that will never come home, their operatic choruses rise to a fever pitch as the trio descends into a rhythmic fervor - realizing the futility of the mundane and at last dissolving into harmonic cries to reclaim their power.
Watch the "Trouble" music video here
"Trouble" was co-produced by former Daptone touring stalwarts Michael Buckely (Sharon Jones/Dap Kings, Lee Field/ The Expressions) and Vince Chiarito (Charles Bradley The Extraordinaires, Antibalas) at their analog studio, Hive Mind Recording, in Brooklyn, and recorded straight to tape.
Today's video release is accompanied by a new 45 pressing from the group that features both "Trouble" and an all new song, "In My Head." The 45s will be available in both standard vinyl and a limited edition red pression on Colemine's site, Bandcamp, and at local record shops — purchase here.
Named as a silent nod to Nile Rodgers (C'est chi-chi!: It's Chic!"), Say She She melds the three strong female lead voices of Piya Malik (El Michels Affair staple feature, and former singer for Chicano Batman), Sabrina Mileo Cunningham and Nya Gazelle Brown into one delicious, psychedelic trip.
Prism, the group's fall LP debut, brims with mesmerizing riffs, disco beats, and lo-fi soul, featuring a roaring roster of musicians that includes not only the core trio's honeyed harmonies, but former members of The Dap-Kings, The Extraordinaires, the house band at Ronnie Scott's, The Shacks, Twin Shadow, Chicano Batman and members of underground cult-funk band Orgone.
Say She She has also been releasing stand-alone non-album singles since February, with "Forget Me Not," a gritty funk send-up inspired by NYC's Guerilla Girls that made a huge first splash, as well as "Norma," their protest anthem written in response to the decision to overturn Roe v Wade.
Say She She Spring Tour Dates
March 16 The Hope & Ruin, Brighton
March 17 Jazz Cafe, London
March 18 Lost horizons, Bristol
March 19 Yes Basement, Manchester
March 21 King Tut's Wah Woh Hut, Glasgow
March 23 Belgrave Music Hall, Leeds
March 24 District, Liverpool
March 25 The Sugar Club, Dublin
For more information, please contact:
Chris Taillie | Shore Fire Media | ctaillie@shorefire.com
Ailie Orzak | Shore Fire Media | aorzak@shorefire.com