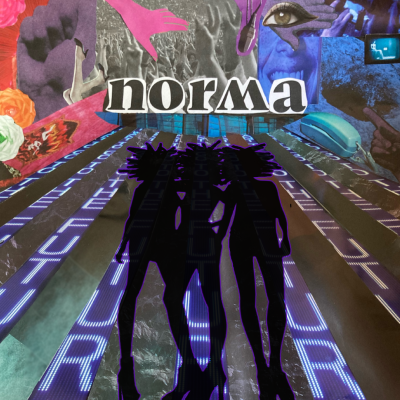 Say She She Release "Norma" Protest Anthem Written In Response To Overturning Of Roe V Wade 
LISTEN HERE
August 3 – New York trio Say She She have released their buoyant and billowing protest anthem, written in response to the decision to overturn Roe v Wade, today on all platforms. "NORMA" is an urgent call to action to support the protection of women's rights and preserving the right to choose. It was first released on Bandcamp exclusively on June 21, just days before the Supreme Court decision to overturn Roe v Wade was made. 100% of the sales on Bandcamp will continue to be donated to NARAL: Pro-choice America. Say She She tap into a gritty 70s disco groove on "NORMA" to make their message hard to ignore.
"NORMA," produced by Sergio Rios, was written and recorded just days after the story broke about the leaked Supreme Court draft opinion that would overturn decades-old abortion rights enshrined by the law. With collective backgrounds working in education, speechwriting and nonprofit, the three female frontwomen of Say She She - Piya, Nya and Sabrina - have not shied away from their intention to use their voices to share important messages.
The band's decision to name the song after Norma Mccorvey aka Jane Roe - who the law was named after - wasn't an easy one. Norma's story was complicated and controversial. After fighting vehemently for years in support of the law to protect women's right to chose she changed position a number of times - finally admitting on her deathbed that she had only done so in exchange for payments from an ultra conseravtive evangelical movement in a bid to undermine the law, but that she had in her heart always supported a woman's right to choose. Say She She contemplated this as an example of how the vested interests of the ultra religious and conservative patriarchy pose a corrupting and unyielding threat not to be met with complacency.
"WE WILL NOT GO…
WE WILL NOT GO BACK!
…RIGHT IS NOW WRONG!
WHAT IS LEFT OF LEFT?
…BEFORE IT GETS TOO LATE…
WRITE A LETTER TO THE STATE!"
When asked about the inspiration for "NORMA," Say She She's Piya Malik says;
"Our friend Dina Seiden - who is an activist, writer, comedian and musician once said to us during a rally for Planned Parenthood, "I reckon feminists need to start touring the way bands do." It resonated and we felt a sense of urgency and obligation to recognise the opportunity we had to use our voices in a concerted way to protect what we believe to be fundamental to women's rights.
Call it blind idealism - but I still believe that policy, public opinion and protest can push change towards a fairer and more equitable society. After years working in Parliament where tireless hours are spent implementing Bills only for them to simply get amended or scrapped by the opposition once there was a change in the administration, I knew I wanted to find a new medium for the message.
We are using our song and music to let other women know we are here and we stand with them ready to fight. But behind the scenes we are also working with a number of grassroots organizations to develop a policy position paper around SCOTUS Reform which we aim to publish as a coalition soon.
Sabrina Mileo Cunningham states: " We believe in using the tools at our disposal - from grassroots activism, to the power of voting awareness and letter writing campaigns. And to us, being able to use our voice and music as a force for change and to send our message to the powers that be on behalf of all women who support the right to choose what happens to our bodies is a gift we want to harness and direct."
Adds Nya Gazelle Brown: "Ultimately, we recognize that all lives are complicated and that the story only serves to prove how important it is for us to collectively use our voice to raise the importance of protecting our right to choose."
"NORMA" was recorded, produced and mixed by Sergio Rios at Killion Sound with additional vocals recorded by Matt Kursmark at Shag City and mastered by JJ Golden. The artwork was collaged and created by the band's very own Sabrina Mileo Cunningham.
The band's debut single, "Forget Me Not," (released earlier this year, and also produced by Sergio Rios) is an homage to New York City's Guerilla Girls who fought racism and sexism in the art world. The song title and lyrics are written from the perspective of the Guerilla Girls - as a message to the female protest movements of today not to reinvent the wheel and to take some of the lessons they learnt in how to enact direct action and instigate change - fighting for parity and equality for all.
Say She She is in the midst of a breakthrough year. "Forget Me Not" was premiered on KCRW's Morning Becomes Eclectic and played in heavy rotation, with a KCRW DJ describing it as "The Funkiest sh*t I've heard in a while!" They recorded a ripping live performance session for Paste Magazine, are getting spins on the BBC6, and their music is featured in the trailer for Lena Dunham's upcoming movie Sharp Stick.
Say She She also just recently released another single, "Trouble," which hit #7 on KCRW's Top 30 and prompted the station to say: "New York's Say She She are always on the assignment of making it as funky as possible, and with their new single they've cranked up the lovers rock lever."
Say She She will share more information soon on their debut album on Colemine Records this fall, as well as more tour dates to be announced following a summer that has included sharing the stage with Chicano Batman and more.