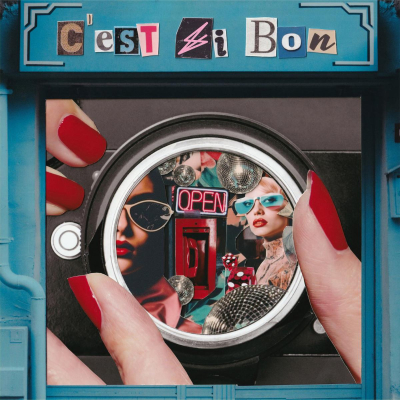 Say She She Return With "C'est Si Bon"
 A Discodelic Love Letter To The Global Dance Floor 
Listen Here: http://colemine.lnk.to/kcr12024dig1 + https://www.youtube.com/watch?v=3YrEpnQcETE
Major Summer Tour Starts June 10 at Central Park Summerstage, Includes Glastonbury + Hollywood Bowl Debuts
June 8, 2023 -- Say She She has returned with a new single today called "C'est Si Bon," a discodelic love letter to the global dance floor. Part Parisian playground, part 90's LA shopping mall glamor, with an enchanting explosion of 1970's downtown New York and the gutter glitter of London nightlife - it's a revitalizing summer anthem to seize the day and make your time count.
The single - which debuted on BBC6's Lauren Laverne program - arrives on the heels of a break-out year for Say She She that grows brighter by the day. They have just announced their Don't You Dare Stop Tour, which launches at Central Park Summerstage's 2023 season opening night this Saturday June 10. The 35-date international run goes into September and includes major festivals including their Glastonbury debut, and historic venues including Hollywood Bowl in Los Angeles with Portugal. The Man.
The group made their national TV debut on CBS Saturday in January, and performed at a sold-out Brooklyn Steel with Thee Sacred Souls earlier this year as part of an east coast winter tour with the Daptone soul band. Say She She's debut album, Prism (Karma Chief Records/Colemine), was released last fall and celebrated by NPR Music, LA Times, 5 stars from The Guardian, WNYC, Brooklyn Magazine, Ones To Watch and MOJO, calling the album "a joyous overload of joyful elation and spiritual elevation." Prism hit #1 on KCRW's Top 30 Albums and Best of 2022 lists, plus sessions and significant spins from several tastemaker radio stations across the country including KEXP, WFUV, including last year's annual Holiday Cheer event at the Beacon Theater, and WXPN, including a recent World Cafe Live performance at the Non Comm Convention.
Listen to "C'est Si Bon" here: http://colemine.lnk.to/kcr12024dig1
https://www.youtube.com/watch?v=3YrEpnQcETE
"Say She She beckons you to throw your hands up and declare your heart's desires.
Tell them what you want!
The time will soon be gone.
When all is said and done
The world keeps spinning on…"
"C'est Si Bon" was produced by Sergio Rios, and follows "Reeling," a new single that dropped in January. The single was #1 in KCRW's Top 10 charts, was playlisted at BBC's 6 Music and the 45 (w/ "Don't You Dare Stop") charted in the Top 20 Vinyl Charts in the UK.
Say She She is Piya Malik (staple El Michels Affair feature, and former backing singer for Chicano Batman), Sabrina Mileo Cunningham and Nya Gazelle Brown, named as a silent nod to Nile Rodgers (C'est chi-chi!: It's Chic!"). This trio of three strong harmonizing voices was formed in a classic New York tale of friends that met by following the music: the downtown dancefloors, through the Lower East Side floorboards and up to the rooftops of Harlem. They've collaborated with members of The Dap-Kings, The Extraordinaires, Peanut Butter Wolf, The Shacks and Chicano Batman. Their current band plays as a seven piece and includes members of Los Angeles cult-funk band Orgone, who they are touring with extensively this year.
DON'T YOU DARE STOP TOUR
June 10 - Central Park Summerstage, NY (USA)*
June 16 - Maifeld Derby Festival, Mannheim (Germany)
June 17 - Franz Mehlhose, Erfurt (Germany)
June 18 - Knust, Hamburg (Germany)
June 19 - Privateclub, Berlin (Germany)
June 20 - Yuca, Cologne (Germany)
June 24-25 - Glastonbury Music Festival, Worthy Farms (UK)
June 28 - Upload, Barcelona (Spain)
July 1 - Les Musicaves, Burgundy (France)
July 6 - La Noce, Chicoutimi (Canada)
July 7 - Festival d'Été de Québec, Québec (Canada)
July 8 - Festival International de Jazz de Montréal , Montreal (Canada)
July 9 - Horseshoe Tavern, Toronto (Canada)
July 19 - Woodward Theatre, Cincinnati (USA)**
July 20 - Switchyard Park Bloomington, IN (USA)^
July 21 - Spirit Hall, Pittsburgh (USA)**
July 22 - Union Craft Brewing, Baltimore (USA)
July 25 - Back Room @ Collectivo, Milwaukee (USA)**
July 27 - 7th Street Entry, Minneapolis (USA)**
July 28 - Wicker Park Fest, Chicago (USA)
July 29 - Maha Festival, Omaha (USA)
July 31 - Globe Hall, Denver (USA)
August 3-4 - Pickathon Festival, Portland (USA)
August 6 - Hollywood Bowl, Los Angeles (USA)*+
August 16 - Musikfestwochen, Winterthurer (Switzerland)
August 18 - Festival Chez Hubert, Brittany (France)
August 20 - Green Man Festival, Wales (UK)
August 22. - Bla, Oslo (Norway)
August 23 - Vega, Copenhagen Denmark)
August 24 - Faschiong, Stockholm (Sweden)
August 26 - Shambala Festival, Northamptonshire (UK)
August 28 - Rescue Rooms, Nottingham(UK)
August 31 - Village Underground, London (UK)
September 1 - End Of The Road Festival, Dorset (UK)
September 2 - Manchester Psych Fest, Manchester (UK)
September 3 - Hare & Hounds, Birmingham (UK)
September 10 - Music At The Intersection, St. Louis (USA)
September 22 - XPonential Music Festival, Camden (USA)
* as support for St Paul & The Broken Bones
** with special guest, Abby Jeanne
*+ as support for Portugal The Man & Chicano Batman
^ as support for Shannon & The Clams
For more information, please contact Shore Fire Media: