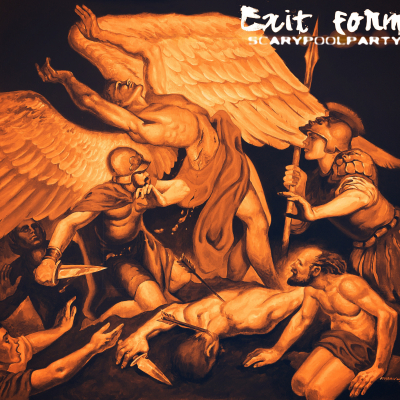 Scarypoolparty's Debut LP 'Exit Form' Bows Nov. 22 
Caps First-Ever Tour With Back-To-Back Sold-Out Shows At LA's Belasco Theatre (Nov. 21 + Nov. 22)
Today, Scarypoolparty (aka Alejandro Aranda) announces the Nov. 22 release of his debut full-length 'Exit Form'. Scarypoolparty's exceptional debut highlights his chops as a musical wunderkind, fusing fast-paced walls of sound in a intricately-woven collage of pulsing beats, in a sound "reminiscent of the genre-blending [Post] Malone" on tracks like "Tonight" and "Cholo Live" to "Ministry-like industrial rock vibes" on his latest single "Diamonds" (Alternative Press).
"'Exit Form' is designed to be a journey," says Aranda. "Brutal in the beginning with each track leading to something beautiful and simple."
In the last 6 months, the 25-year-old has emerged at the forefront of LA's underground scene. From busking and playing backyard parties, to backing his mentor Twin Shadow, to being a judge-favorite on this year's American Idol, his unrivaled musical prowess has continually set him out at the front of the pack. Scarypoolparty played his first-ever full band show at Lollapalooza this summer and has since played Life is Beautiful and Austin City Limits. He was recently added as one of the headliners of the 2020 Rose Parade on January 1st in Pasadena, CA. Accompanied by a 3-piece band, Scarypoolpartywill wrap his 30-date debut headlining tour on Nov. 22 with back-to-back, sold-out nights at LA's Belasco Theatre with Twin Shadow as support before heading to London for two debut sold-out shows.
'EXIT FORM' TRACK LIST:
Black Cross
DIAMONDS
Dance The Night Away
Vampire Shade
Beneath The Skin
True Religion
Heart Storm
Millennial Love
10 Years (remastered)
Tonight
Cholo Love
Out Loud (remastered)
Pre-save the album here: smarturl.it/ExitFormSPP
'EXIT FORM' ALBUM CREDITS
Written by Alejandro Aranda & TJ Routon (except track 10 & track 12)
Produced by Scarypoolparty & Sawyr (except track 10 & track 12)
"Tonight" written and produced by Alejandro Aranda & George Lewis Jr.
"Out Loud" Written & Produced by Alejandro Aranda
Drums by Darren King
Bass by Maxx Diaz
Mixed by Neal Pogue
Mastered by Mike Bozzi
PRAISE FOR SCARYPOOLPARTY:
"Scarypooparty is the rare virtuoso who showed up to American Idol already a star" - MTV News
"An artist like Scarypoolparty comes around only once in a lifetime… an artist destined to become a household name" - Ones to Watch
"The haunting imagery coupled with the innate beauty of Scarypoolparty's piano prowess imbues 'Cholo Love' with an air of breathtaking mystery" - Ones to Watch
"Impressive musicianship" - Billboard
SCARYPOOLPARTY UPCOMING TOUR DATES:
Nov. 5 - The Underground - Charlotte, NC%
Nov. 7 - The Buckhead Theatre - Atlanta, GA%
Nov. 9 - The Plaza Live - Orlando, FL%
Nov. 10 - Revolution - Ft. Lauderdale, FL%
Nov. 12 - House of Blues - New Orleans, LA%
Nov. 13 – White Oak Music Hall - Houston, TX%
Nov. 15 - Emo's - Austin, TX%
Nov. 16 - House of Blues - Dallas, TX%
Nov. 19 - House of Blues - San Diego, CA%
Nov. 21 - Belasco Theater - Los Angeles, CA!
Nov. 22 - Belasco Theater - Los Angeles, CA!
Dec. 9 - Hoxton Square Bar & Kitchen - London, UK#
Dec. 10 - Hoxton Square Bar & Kitchen - London, UK^
Jan. 1 – Rose Parade – Pasadena, CA
Jan 23 - Homeward Bound Concert - Los Angeles, CA
Feb. 14 - Moon Palace Golf & Spa Resort - Cancun, Mexico$
BOLD denotes SOLD-OUT show
% denotes shows w. Sucre as support
! denotes shows w. Twin Shadow as support
# denotes show w. Violet Skies
^ denotes show w. Toby Johnson
$ denotes show w. Dave Matthews & Tim Reynolds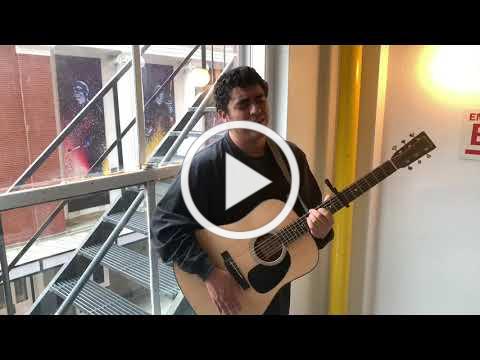 "Millennial Love" (Acoustic Version)