Scooby-Doo! And The Lost City Of Gold Releases Heartfelt New Single "Follow The Stars" (Out Now)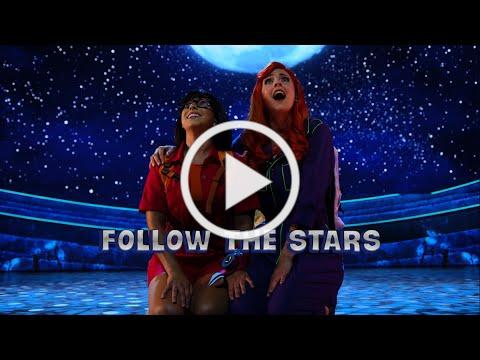 Scooby-Doo! and the Lost City of Gold kicks-off 2021 with an all-new original song featuring everyone's favorite mystery-solving gals: Daphne and Velma. Written and produced by the tour's creative team at MONLOVE (Ella Louise Allaire and Martin Lord Ferguson), "Follow the Stars" is a heartfelt ballad about holding on to hope and the limitless possibilities when you follow the stars - a fitting message for the start of this year.
"Follow the Stars" is out on all streaming platforms today, along with an original video. In the video, Daphne and Velma are brought to the stage, and we are given a first look behind the scenes at the team responsible for The Gang's leading ladies.
"Follow the Stars" follows the first single from the live stage spectacular, "Do the Scooby-Doo." Watch the adorable sing-a-long video here.
Scooby-Doo! and The Lost City of Gold was written, arranged, and produced by MONLOVE's Ella Louise Allaire and Martin Lord Ferguson, in partnership with Warner Bros. Consumer Products. Stay tuned for more information and announcements on the live touring stage spectacular this year!
Follow The Gang here:
Facebook: @ScoobyLiveTour
Instagram: @scoobylivetour
Twitter: @scoobylivetour
YouTube: Scooby Live Tour
Sign up for the latest news at scoobylivetour.com/signup
About MONLOVE:
A world leader in adapting family brands for live stage and digital mediums, MONLOVE is a full production company specialized in developing creative content since 2005. With a vast experience on numerous Cirque du Soleil's shows such as Kà, Mystere, Zed, Alegria, and building from the success of the critically acclaimed Ice Age Live! A Mammoth Adventure, which toured 48 countries, was translated in 12 languages and grossed over $100 million, the company's credo is to innovate with ideas that send a message of love and hope to the world.
About Warner Bros. Consumer Products:
Warner Bros. Consumer Products (WBCP), a WarnerMedia Company, extends the Studio's powerful portfolio of entertainment brands and franchises into the lives of fans around the world. WBCP partners with best-in-class licensees globally on an award-winning range of toys, fashion, home décor, and publishing inspired by franchises and properties such as DC, Wizarding World, Looney Tunes, Hanna-Barbera, HBO, Cartoon Network and Adult Swim. The division's successful global themed entertainment business includes groundbreaking experiences such as The Wizarding World of Harry Potter and Warner Bros. World Abu Dhabi. With innovative global licensing and merchandising programs, retail initiatives, promotional partnerships and themed experiences, WBCP is one of the leading licensing and retail merchandising organizations in the world.