slenderbodies Kick Off Headlining U.S. Fall Tour Supporting Debut LP 'komorebi'
More than Half of Show Dates Already Sold Out; The Psychedelic, Genre-defying Duo will Traverse Both Coasts Through October
Buy tickets HERE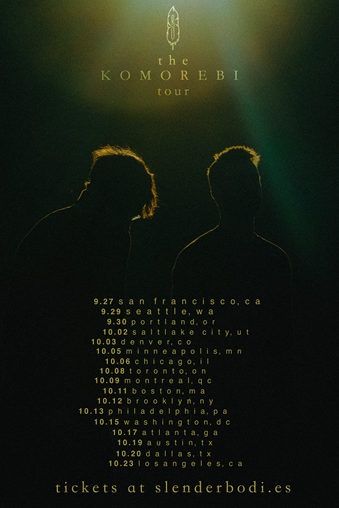 (New York, NY:) Today, neo dream-pop duo slenderbodies are kicking off a headlining North American Fall tour with a sold-out set at San Francisco's Rickshaw Stop. The tour, in support of their debut LP 'komorebi' (out via Avant Garden Records), will run through October. Playing at their biggest venues to date, slenderbodies will finish with a victory lap in California with another sold-out gig on October 23rd at The Troubadour in Los Angeles. The tour boasts additional sold-out stops in Seattle, Denver, Salt Lake City, Portland and Rough Trade NYC in Brooklyn and follows a celebrated Lollapaloozadebut earlier this year.
Listen to 'komorebi' via Highsnobiety: https://www.highsnobiety.com/p/slenderbodies-komorebi-premiere/
slenderbodies debut record, 'komorebi' was largely recorded and conceptualized in the natural oasis of an isolated cabin. Max Vehuni and Benji Cormack, the two names behind the duo, have created a surreal fusion that explores and pushes the limits of electric guitar, fusing them with breathy vocals to craft slinky, soothing walls of sound.
Read more via Line of Best Fit: https://www.thelineofbestfit.com/features/interviews/slenderbodies-on-the-rise
"belong" speaks to the feeling of wanderlust that permeates this album, while tracks like "dewdrops" and "arrival" speak to meditations on home amidst the experimental vortexes of sound slenderbodies have made their signature. The silky-smooth 11-track collection is steeped in self-reflection, exploring the ebbs and flows of friendship and romance while weaving in a deep connection to nature.
Watch slenderbodies perform "belong" for Vevo DSCVR: https://www.youtube.com/watch?v=GX32s_wxUiY
About slenderbodies:
slenderbodies first emerged in 2016 with 'sotto voce,' a mesmerizing EP that took its name from an Italian phrase meaning to speak softly but with emphasis. The collection quickly caught fire on Spotify, where it racked up millions of streams without any label or radio support. The next year, the pair returned with a second EP, fabulist, which launched their following into the stratosphere as lead single "anemone" garnered more than 30 million plays across platforms.
Though the duo had never planned on performing live, they soon found themselves on stage in front of massive crowds around the world, sharing bills with the likes of Mura Masa, Passion Pit, PVRIS, Milky Chance, and more. In 2018 and 2019, Vehuni and Cormack released two more EPs ('fabulist: extended' and 'soraya') earning ecstatic reviews on both sides of the pond and landing coveted spots at Austin City Limits and Lollapalooza. The Line Of Best Fit proclaimed that slenderbodies "conjure an immersive world" with their "genre-blurring" music, while Complex described their songs as "subtle but infectious."
slenderbodies tour dates:
Friday, September 27th - San Francisco, CA - Rickshaw Stop [SOLD-OUT]
Sunday, September 29th - Seattle, WA - Columbia City Theatre [SOLD-OUT]
Monday, September 30th - Portland, OR - Holocene [SOLD-OUT]
Wednesday, October 2nd - Salt Lake City, UT - Kilby Court [SOLD-OUT]
Thursday, October 3rd - Denver, CO - Larimer Lounge [SOLD-OUT]
Saturday, October 5th - Minneapolis, MN - 7th Street Entry
Sunday, October 6th - Chicago, IL - Sub-T
Tuesday, October 8th - Toronto, On - Drake Hotel [SOLD-OUT]
Wednesday, October 9th - Montreal, QC - Le Ministere
Friday, October 11th - Boston, MA - Sonia's
Saturday, October 12th - Brooklyn, NY - Rough Trade [SOLD-OUT]
Sunday, October 13th - Philadelphia, PA - Foundry
Tuesday, October 15th - Washington, DC - U Street Music Hall
Thursday, October 17th - Atlanta, GA - Aisle 5
Saturday, October 19th - Austin, TX - Antone's
Sunday, October 20th - Dallas, TX - Three Links
Wednesday, October 23rd - Los Angeles, CA - Troubadour [SOLD-OUT]
praise for slenderbodies:
"There are moments where it feels intimate and isolating, but there's beauty to be found within the escapism" – Highsnobiety
"alt-J-esque cinematic dream-pop" – Wonderland
"spellbinding vocals...ethereal vibe" – Vulture
"charming" – Complex
"dynamic pairing" – Clash
"chilling soundscape" – Ones To Watch
"alchemy of feather-light vocals and billowing instrumentals" – Line of Best Fit