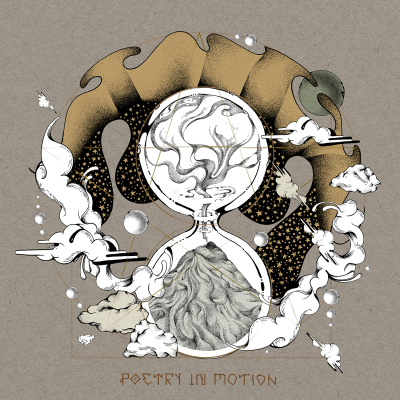 SOJA Announce New Album Poetry in Motion, out October 27th on ATO Records
International GRAMMY-nominated reggae act celebrates its 20th anniversary with new LP
Upcoming New York and D.C. album release shows confirmed
(New York, NY): SOJA, the internationally acclaimed GRAMMY-nominated eight-piece from Washington D.C., will release its new album 'Poetry in Motion' on October 27th via ATO Records. SOJA will host special album release shows at NYC's Bowery Ballroom on October 26th, D.C.'s Anthem on December 29th and will headline 5,000+ capacity arenas across Brasil. Tickets are on-sale Friday.
SOJA's core sound - an uplifting meld of reggae, go-go, D.C. hardcore, Latin, rock, and hip-hop - is as tight and compelling as it's ever been in the group's 20 year history, but now the group digs deeper on its message of finding peace and understanding in the world caught in tribulation. For the band, having fun and social awareness can, and should, co-exist. "More" is a Bob Marley-influenced manifesto to fight greed by being content with what you got and "Bad News" looks for hope in tragic headlines.
Their lead single "Bad News," urging listeners to keep their hopes up, has surpassed 1M streams on Spotify. Watch here: https://www.youtube.com/watch?v=v2Rnf1Wfqtw
Watch the new lyric video for "More": https://www.youtube.com/watch?v=DOFG-Z27efE
"'More' is about consumption and envy," explains Lead singer Jacob Hemphill. "It's about the false belief that you need more stuff to be happy [and] about trying to strip all that away and finding happiness in the truth that less is more."
Hemphill continues, "'Poetry in Motion' is about us, the human race. We're beautiful. We're the caretakers of this earth and everything that lives here, calls it home. But something is wrong. Something in us is lost. That's the focus - how to get back to the beauty and away from... well, this."
Pre-order 'Poetry in Motion' with instant great tracks "Bad News" and "More": http://smarturl.it/soja-pim
The members of SOJA, some of whom met in middle school, are stars among the international reggae and jam-band worlds. The band has over 400 million YouTube views and over 7 million social media followers. They have headlined shows in over 30 countries and just wrapped up a 31-date U.S. co-headline tour with The Dirty Heads that included a sold out show at the iconic Red Rocks Amphitheatre in Denver, Colorado.
SOJA's last two albums 'Amid The Noise and Haste' (2014) and 'Live In Virginia' (2016) each earned the band a GRAMMY nomination in the 'Best Reggae Album' category. They have received recent media acclaim from Rolling Stone, Billboard, NPR, The Washington Post, and more. With all these accolades and devoted global fan base, these talented musicians use explosive energy and positivity to reach its audience and help them relate to the world and to each other.
'Poetry in Motion' track list:
1. Moving Stones
2. I Can't Stop Dreaming
3. Tried My Best
4. More
5. Fire In The Sky
6. Everything To Me
7. Life Support
8. Bad News
9. To Whom It May Concern
10. Sing To Me
11. I Found You
SOJA:
Jacob Hemphill – Vocals / Guitars
Robert 'Bobby Lee' Jefferson – Bass + Vocals
Ryan Berty – Drums
Patrick O'Shea – Keyboards / Pianos / B3 Organ
Kenneth Brownell – Percussion
Hellman Escorcia – Saxophone / Aerophone + add'l Percussion / Rhodes / Harmony Vocals
Rafael Rodriguez – Trumpet / Harmony Vocals
Trevor Young – Guitars / Harmony Vocals / Vocals / Bass
UPCOMING SOJA TOUR DATES
Oct. 26 - New York, NY @ Bowery Ballroom
Nov. 1 - Sao Paulo, Brasil @ Espaco Das Americas
Nov. 3 - Rio de Janeiro, Brasil @ Fundicao Progresso
Nov. 4 - Balneario Camboriu, Brasil @ Music Park
Nov. 5 - Curitiba, Brasil @ Live Hall - Curitiba
Nov. 8 - Porto Alegre, Brasil @ Pepsi On State
Nov. 11 - Buenos Aires, Argentina @ Personal Festival
Dec. 13 - Ecatepec De Morelos, Mexico @ Closer To The Sun Festival
Dec. 29 - Washington, DC @ Anthem