Sports Illustrated And OneOf Collaborate With Opensea To Launch "Legends Of The Gridiron" 
THE ACTION FIGURE THEMED NFT COLLECTIONS WITH EMMITT SMITH, JERRY RICE AND DICK BUTKUS ARE INSPIRED BY CAREER-DEFINING SPORTS ILLUSTRATED COVERS, MORE ATHLETES TO FOLLOW
THIS ICONIC COLLECTION MARKS THE FIRST MARKETPLACE COLLABORATION BETWEEN ONEOF & OPENSEA
NFTS WILL BE AVAILABLE ON BOTH SITES STARTING AT 6PM EASTERN TODAY
March 10, 2022 – OneOf, the premier NFT platform for music and sports, has officially launched the "Legends of the Gridiron" NFT collection in partnership with Sports Illustrated (or "SI") today, available for purchase on both OneOf and leading NFT marketplace, OpenSea. Each collection highlights a superstar athlete, inspired by their career-defining Sports Illustrated cover. This is the first of a full slate of drops featuring cover collections from the world's most iconic athletes.
The "Legends of the Gridiron'' NFT collection - featuring first ballot NFL Hall of Famers Emmitt Smith, Dick Butkus and Jerry Rice - launches at 6PM ET on both OneOf's sports marketplace and OpenSea, with a pre-sale going live at 3PM ET for Sports Pass holders. A portion of the proceeds will be donated to The Butkus Foundation.
The collections for Smith, Butkus and Rice are each inspired by their career-defining Sports Illustrated covers. The 3D animations bring these star football players to life as action figures, created by the design and animation studio SeriouslyFun.
Each collection features three different tiers of rarity and incorporates Americana themes and city-specific cultural elements to make each piece of memorabilia visually striking and unique. In line with OneOf's overall mission of fan accessibility, the collections start at only $20.
At launch, the series will be available on OneOf, and OpenSea will be selling a select amount of NFTs in the Platinum and Diamond tiers from the "Legends of the Gridiron" NFT Collection.
In February 2022, Sports Illustrated and OneOf announced their NFT cover collection partnership with iconic Sports Illustrated magazine covers: Muhammad Ali, Billie Jean King, Emmitt Smith, Jerry Rice, Wayne Gretzky, to name a few.
With this expansion into sports and lifestyle, OneOf's partners and brands will have the option to mint NFTs on a variety of proof-of-stake blockchains that are substantially more energy efficient than traditional networks, including Polygon and Tezos. OneOf has announced that Polygon Studios will host the drops for these mega-star athlete collections.
Drop details for Thursday, March 10:
NFL all-time leading rusher and widely considered as the greatest running back of all time, Emmitt Smith's collection was inspired by his famous 1996 Sports Illustrated cover story that captured him like never before - relaxing in his pool.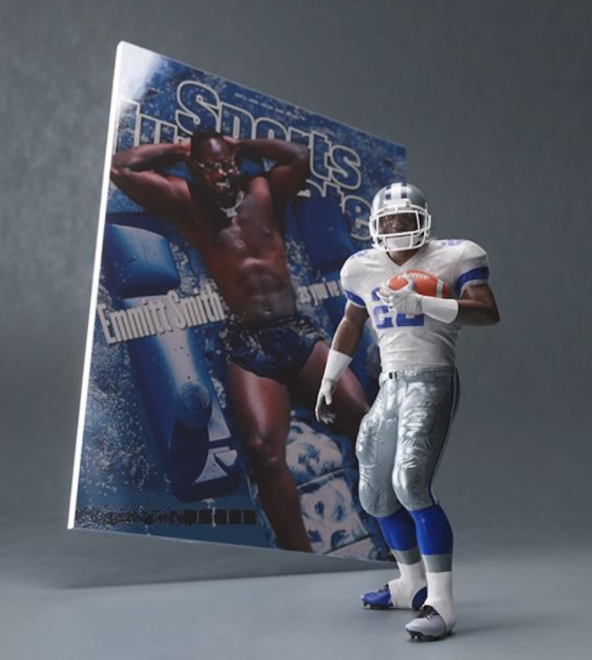 The "Maestro of Mayhem" - Dick Butkus - was featured on the cover of Sports Illustrated in 1970. Known as the ultimate "Man in the Middle," Butkus possessed grit, speed, tenacity and desire which made him one of the game's most competitive players and defined the position of middle linebacker.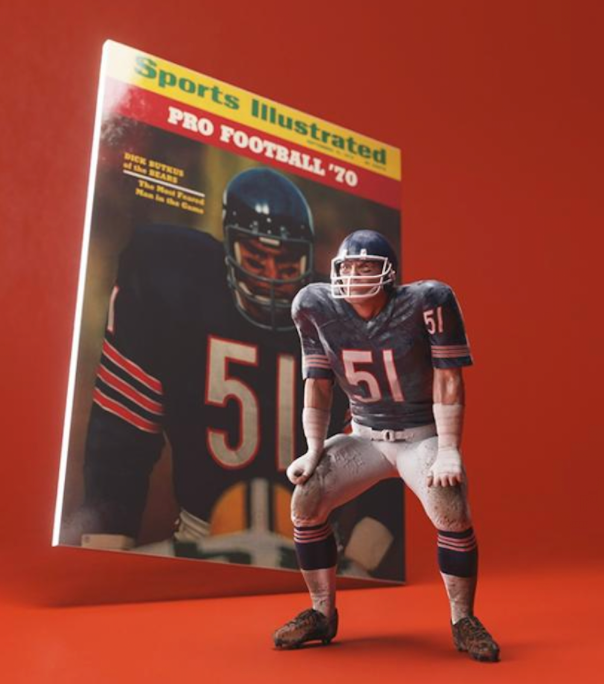 Jerry Rice's collection was inspired by his second Sports Illustrated cover appearance that ran in January of 1990, following an epic performance in a playoff game earlier that month. Rice is known as the most prolific wide receiver in football history and holds every major NFL receiving record.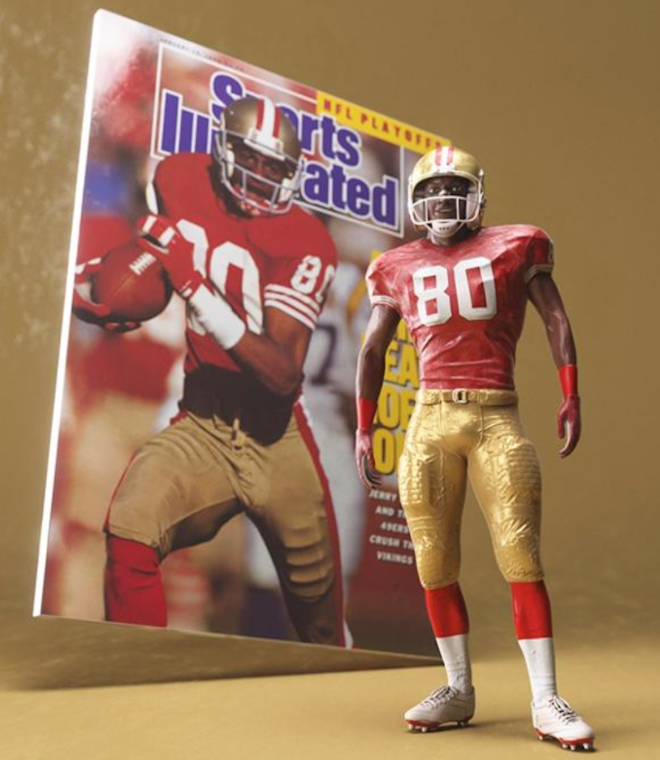 Twitter Spaces Highlights and Iconic Athlete's Quotes:
Sports Illustrated hosted a Twitter Spaces this past Sunday to kick off this extraordinary collection and all three athletes joined in - Smith, Butkus and Rice - to talk about their NFTs and their remarkable careers. Listen to the archived version here.
Dick Butkus: "I think these new NFTs will start a new way of collecting. We can't just lay back and think everything is going to be hunky dory with the future of fans and I think this is another way of getting fans more involved."
Jerry Rice: "Throughout my career it was all about the fans, it was all about having those fans say 'look, did you see that catch, did you see that touchdown?!' This is making it accessible to them to continue those memories."
Emmitt Smith: "I've had people come up to me and talk to me about that 'swimsuit' issue cover. It's funny years later to hear people talk about that one cover and what that one cover meant because I never thought about it from that perspective…I'm blessed to have lived the life that I've lived thus far. There are so many great things to come, and that Sports Illustrated cover is one of those things on the list for sure."
About OneOf
OneOf is a NFT platform designed to create an environmentally sustainable, creator-and-fan-friendly experience. Built on multiple environmentally responsible proof-of-stake blockchain protocol, including Tezos and Polygon, minting a NFT on OneOf's platform uses up to two million times less energy than other proof-of-work networks, and for its artist, athletes and brand partners, minting NFTs costs $0 in blockchain transaction fees. OneOf aims to bring the next 100M non-crypto-native fans into web3 by removing the technical frictions and allowing fans to pay for their NFTs with credit/debit cards as well as many top cryptocurrencies. Dedicated to charitable causes, OneOf offers partners using their platform the option to donate portions of their NFT proceeds to charities of their choice.
About Sports Illustrated
Sports Illustrated (SI) is an unparalleled and influential leader recognized for shaping modern culture and uniting athletes, teams and fans worldwide. At the intersection of sports, lifestyle and entertainment, Sports Illustrated is a 360-degree enterprise that delivers immersive content, innovative digital experiences, unforgettable events, and original products. Its award-winning media outlet brings powerful storytelling to life through probing profiles, up-to-date news and game-day stats on SI.com, social media and the monthly print magazine. For more information, visit SI.com.
About OpenSea
OpenSea is the world's leading peer-to-peer marketplace for NFTs. We make minting, purchasing and selling NFTs frictionless and friendly, and offer unmatched selection and multi-chain options for creators and collectors of all kinds. We're on a mission to build the world's most trusted and inclusive NFT marketplace with the best selection, and we're dedicated to empowering creators and communities of all kinds to achieve economic independence in a new digital economy.
Follow Sports Illustrated on Twitter, Instagram, and Facebook.
###
http://shorefire.com/roster/oneof
Contacts:
Chris Taillie, Erica Goldish and Greg Jakubik
Shore Fire Media
Michelle Ciciyasvili
Authentic Brands Group (ABG) and Sports Illustrated
mciciyasvili@authenticbrands.com
Jennifer Styles
OneOf, Inc.