Steve Aoki Shares New Single "New York" With Regard, Featuring Mazie
Aoki Announces 2023 HiROQUEST: GENESIS Tour Dates
Listen to "New York" (Steve Aoki & Regard, feat. mazie) Here
For Tour Dates, visit: steveaoki.com
January 6, 2022 (Los Angeles, CA) - 2x-Grammy-nominated artist and producer Steve Aoki, shares fiery new single "New York" with multi-platinum DJ and producer Regard, who has amassed a worldwide following since the release of his chart-topping 2019 hit "Ride It," and featuring alt-pop artist mazie. Together on "New York," the upbeat dance club jam joins mazie's dreamlike, twisted musical tendencies through a seamless combination of Regard's unmistakable production and Aoki's high-powered creativity for a song that arrives just in time to become the pop anthem to kick off the new year.
Coinciding with the new music, Aoki announces a string of winter U.S. dates for the HiROQUEST: Genesis Tour. This will be his first proper tour since the pandemic halted live shows and Regard will be joining him as a supporting act. The 12-city run kicks off on Feb 22 at Montreal's New City Gas and sees Aoki headline venues across North America in cities including Toronto, Los Angeles, San Francisco, Washington D.C., Chicago and several others. The tour wraps in New York on March 16 at Terminal 5. Complete tour routing can be found below. Ticket information can be found here.
The new music and tour announcement arrive on the heels of HiROQUEST: Genesis, Aoki's expansive world-building album which included an array of collaborations from Kane Brown to Taking Back Sunday and Georgia Ku, MOD SUN, Bryce Vine, Santa Fe Klan, Lil Xan, Goody Grace, and more. During a limited CD pre-sale for HiROQUEST: Genesis, trading cards were available as an insert and a staggering 27K+ CDs sold. Aoki also graced recent covers of Entrepreneur Magazine, Electronic Musician, and Adweek as their "Visionary of the Year."
The world Aoki is creating with his ongoing HiROQUEST brand is an ever growing extension of himself and his worldwide community, further cementing his reputation as a boundless creative artist who seeks connectivity through collaboration, welcoming all into his universe.
HiROQUEST: GENESIS TOUR DATES:
Wed, Feb 22 / Montreal / New City Gas
Thu, Feb 23 / Toronto / Rebel
Fri, Feb 24 / Chicago / Aragon
Sat, Feb 25 / Las Vegas / Hakkasan
Wed, Mar 1 / Washington DC / Echostage
Thu, Mar 2 / Austin / Stubb's
Fri, Mar 3 / Dallas / Factory at Deep Ellum
Fri, Mar 3 / Las Vegas / Omnia
Thu, Mar 9 / Denver / Mission Ballroom
Fri, Mar 10 / Los Angeles / Shrine Expo
Sat, Mar 11 / San Francisco / Bill Graham
Sat, Mar 11 / Las Vegas / Omnia
Wed, Mar 15 / Boston / Big Night Live
Thu, Mar 16 / New York / Terminal 5
Sat, Mar 18 / Las Vegas / Omnia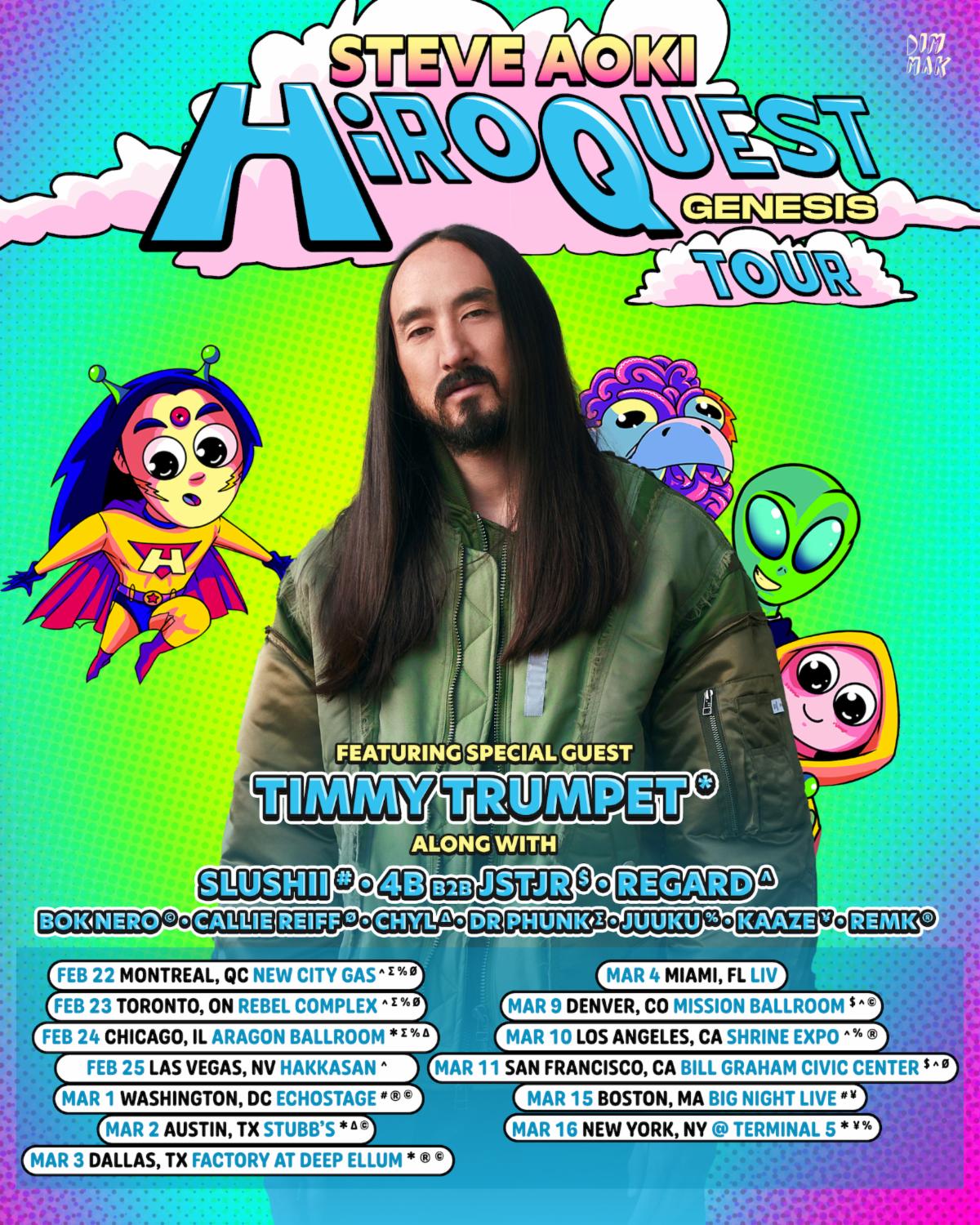 ABOUT STEVE AOKI:
Counting nearly 3 billion music streams to his name, Steve Aoki is a true visionary. Billboard described the 2x-GRAMMY-nominated music producer, artist, fashion designer, entrepreneur, NFT futurist and Dim Mak Records founder as "one of the most in-demand entertainers in the world." A Guinness World Record holder for the "Most Traveled Musician in a Single Calendar Year," Aoki has performed at nearly every top festival around the world, including Coachella, Ultra Music Festival, Lollapalooza, Fuji Rock Festival, Tomorrowland and Electric Daisy Carnival.
As a globally successful cross-genre solo artist, Aoki has collaborated with an impressive list of varied artists, including BTS, Maluma, Snoop Dogg, Linkin Park, blink-182, One Direction's Louis Tomlinson, Machine Gun Kelly, Lil Uzi Vert, 2 Chainz and Daddy Yankee, on top of having released three Platinum singles, six Gold singles, and over ten Top 10 radio records. After unveiling four Neon Future albums, Aoki recently released HiROQUEST: Genesis, featuring collaborations with Taking Back Sunday, Mod Sun, Kane Brown and more.
Aoki approaches each new endeavor with the same sense of dedication he's put into his past achievements, including the Grammy-nominated Netflix documentary I'll Sleep When I'm Dead(2016) and his memoir BLUE: The Color of Noise (2019). In 2012, he also founded THE AOKI FOUNDATION to support organizations in brain science and its research. His influential record label Dim Mak, which celebrated its 25th anniversary in 2021, is known for being a launching pad for the careers of prominent acts like Bloc Party, The Chainsmokers, Bloody Beetroots, The Kills, Zedd and Diplo. Most recently, Aoki created the A0K1VERSE, an NFT membership community, powered by the Passport, that welcomes his fans to both virtual and real-world experiences. Aoki is also executive producer for "American Hiro," a series in development with FX Networks directed by Jon M. Chu, chronicling the life of his father, Hiroaki "Rocky" Aoki, the legendary entrepreneur and daredevil businessman who created the Benihana empire. In whatever space Steve Aoki enters, the multi-hyphenate innovator continues to set trends and inspire creativity on a global level.
About Regard
It was by accident that Regard found his stage name. The word, 'regardé' came to the DJ during French class in high school. 'To See' became the core behind Regard's music. For Regard, his deep house mixes consist not only of sound, but also of sight. Kosovan DJ and producer Regard garnered global attention with his debut single 'Ride It' which became an international hit with over 2 Billion streams! The track took the internet and TikTok by storm and Regard quickly followed it up with his second hit single and BRIT nominated 'Secrets' featuring South London singer RAYE. He has gone on to achieve over 10x Top 10 single chart placements globally. In the UK, 'Ride It' has sold over 1.7 million records (2x Platinum), while 'Secrets' is now certified Platinum with over 500 million global streams. 'You' with Troye Sivan and Tate McRae has achieved 480 million global streams, was the #1 TikTok sound in the UK and was the longest running #1 on the US Billboard Hot Dance / Electronic Songs chart in 2021 plus saw Regard on his US debut TV performance on Jimmy Fallon. Regard has had five #1 US Dance Airplay hits and over 5 billion combined career streams and 15 million worldwide single sales.
mazie:
Pairing fatalistic lyrics with shiny alt-pop arrangements that are as infectious as they are unpredictable has seen the quick ascension of 23-year old Baltimore native mazie. Her single "dumb dumb," which appears on her debut EP "the rainbow cassette," is a perfect embodiment of mazie's multilayered, psychedelic twist on pop that's Stepford Wives meets Lisa Frank. It's ironic, it's iconic, and to date the track has over 70+ million cumulative streams following its use in Netflix's hit show "Do Revenge."
mazie fell in love with singing at an early age and spent most of her childhood studying classical and jazz vocals. By the time she hit her teenage years living outside of Baltimore, she was writing her own music and recording it with her neighbor, Elie Rizk (Remi Wolf, Keshi, Bella Poarch), who was teaching himself to engineer and produce in his basement studio. The two spent years experimenting and collaborating before they landed on "no friends," mazie's breakout debut. Clocking in at less than two minutes, the utterly addictive single exploded online, earning widespread acclaim and quickly racked up millions of streams. "We were in total shock," says mazie. "That song really defined the project for us, and when it started going crazy, everything just accelerated.
mazie's debut album "blotter baby" is coming out in 2023.