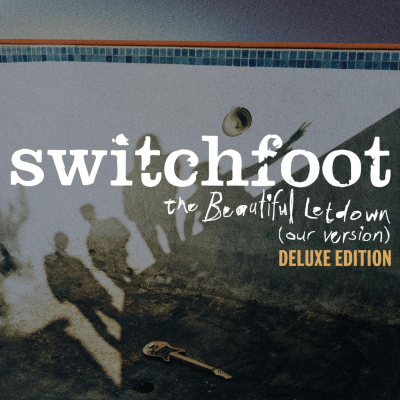 Switchfoot Releases Star-Studded 'The Beautiful Letdown (Our Version) [Deluxe Edition]'
Includes New Versions Of Songs From Switchfoot's Iconic 2003 LP 
Featuring OneRepublic's Ryan Tedder, Jonas Brothers, Twenty One Pilots' Tyler Joseph, Jon Bellion, Ingrid Andress + More
Stream HERE
Today, beloved GRAMMY-winning rock band Switchfoot has finally unveiled 'The Beautiful Letdown (Our Version) [Deluxe Edition]', a massive 25-track reimagining of 2003's breakthrough album 'The Beautiful Letdown'.
Featuring 12 newly recorded covers of songs from 'The Beautiful Letdown', the Deluxe Edition features noted Switchfoot fans OneRepublic's Ryan Tedder,Jonas Brothers, Twenty One Pilots' Tyler Joseph, Jon Bellion, Ingrid Andress, Owl City, Dayglow, and more, in addition to Switchfoot's re-recorded version of the album and new unreleased B-sides. Full tracklist below.
Stream 'The Beautiful Letdown (Our Version) [Deluxe Edition]' HERE
Originally released in 2003, Switchfoot's 'The Beautiful Letdown' catapulted the San Diego-based rock group to international fame, and cemented their status as underdogs in the music industry whose grassroots approach to music making was a breath of fresh air.
This impressive 25-track collection is a celebration of that album's lasting influence on generations of musicians from across all genres and backgrounds. From the subtle country twang of Ingrid Andress' new rendition of "On Fire" and Jon Bellion's orchestral reimagining of the iconic single "Meant To Live", to up-and-comer Dayglow's propulsive new recording of "Adding To The Noise", 'The Beautiful Letdown (Our Version) [Deluxe Edition]' is a worthy and heartfelt tribute to an album that has meant so much to so many over the past 20 years.
Stream latest single "The Beautiful Letdown (Jonas Brothers Version)" HERE
Speaking about the release, Switchfoot's Jon Foreman noted: "It feels amazing to finally have 'The Beautiful Letdown (Our Version) [Deluxe Edition]' out in the world! This project is really a dream come true - it's such an honor to have so many of our friends and heroes dive in and recreate these songs. When we started this whole thing we really had no idea where it would go or what it would look like, we just knew we had to do it. Music is about community, these songs aren't just ours alone and this project is the perfect example of that."
Quotes From The Artists Involved:
Ryan Tedder from OneRepublic:
"Switchfoot, those guys are legends. When they came out with The Beautiful Letdown I was living in Nashville and was contemplating what to do with my life. There were really only a couple bands in that time period that had a massive impact on me and continue to long after I moved to LA and started OneRepublic. When we got the call about working on this celebration of an album it was an instantaneous yes, let's do it, let's go. I hope I did it justice. I tried to live up to the high bar you (Jon Foreman) set vocally and it's an honor and privilege and thanks for having us on this journey."
Tyler Joseph from Twenty One Pilots:
One of my favorite albums of all time is The Beautiful Letdown by Switchfoot. I remember listening to that record over and over again, and then I was fortunate enough to have my own musical career that crossed paths with Jon and the guys from the band. When Jon reached out about being a part of the re-release of this album..I thought absolutely… of course, and I remember one of the first songs I mentioned was Twenty-Four. Twenty-Four is one of my favorite tracks on that album and probably has influenced me in ways that I still haven't figured out entirely. So it really is an honor to be a part of the release. Thanks for having me.
Jonas Brothers:
"We grew up listening to their album The Beautiful Letdown and Meant To Live was a huge influence for us. We've seen them a ton of times live and we always wanted to work with their music producer (John Fields). Twenty-Four was the first song that me (Joe) and Kevin ever played together. This album has incredible significance for us on an emotional level but also sonically it was a big part of our sound. We worked with John Fields who produced The Beautiful Letdown and it was a dream come true for us. And the guys in the band have always been so supportive of us. Thank you for inspiring us and we are so happy to be part of this project singing one of our favorite songs, The Beautiful Letdown."
Jon Bellion:
"First of all, in my lowly opinion I think it's one of the best written songs of all time. That song (Meant To Live) is actually one of the reasons I got into music. I have these specific memories of music that came on the radio when I was on my way to school, I remember, just the energy on the song that was so healing, so honest, I felt like a human being, I felt like 'wow this is probably how all humans probably feel'. That song opened a lot of insight for me on how to write records where you can connect with me. I thought, 'if it doesn't connect with me like Switchfoot Meant to Live connected with me when I was a kid then I shouldn't be writing it'. If you would have told me 15 years ago that I would be covering this song cause the band would be approaching me for one of my favorite songs of all time to reimagine the song in a way I saw fit I'd be completely honored cause again I think that is one of the top 5 songs ever written in my lowly songwriting opinion."
Owl City:
"I discovered TBL when I was 17 years old. The album had just come out and I bought it right away, put it in my new car's CD player and played it non stop for quite some time. It was an influential album during such an important chapter of my life. Now all these years later when I listen (to it) I am filled with profound memories from really an important time in my life. Every time I listen to it it makes me smile cause of all those memories I made listening to the album all those years ago. I feel incredibly honored to be involved in this project because of how much The Beautiful Letdown meant to me years ago and continues to mean to me today. I feel so grateful to have been given the opportunity to take a stab at putting my own spin on a song on an album that was so influential to me and itself played such a pivotal role in myself and in my own musical journey as an artist. And it's amazing to think that I went on a musical journey of my own and sort of bumped into this album again from a different perspective. I feel totally honored to have been led to this point and feel like it's come full circle in a really cool way. So honored to be involved, so grateful to be involved and it's so cool for me."
Relient K:
"My favorite song on TBL was a song called Ammunition and then full circle we are part of this cover album for TBL. It was a pop/punk song for them (Switchfoot) and it was fun to make it even more pop/punk and give it the Relient K treatment."
Noah Gundersen:
"I have the honor of being part of the project reimagining the songs from The Beautiful Letdown. My Producer Andy Park and I did the song "This Is Your Life". Switchfoot's music meant a lot to me as a teenager. It's timeless songs that feel current now. It was an honor to be a part of it, thank you Jon and Switchfoot for allowing us to give our spin to your music."
Monica Martin:
"Happy 20 years of The Beautiful Letdown. It's surreal that it's been 20 years, it's surreal that I had the privilege of being on this special release. I sang the song "More Than Fine", I love the song and totally align with the feeling of trying to find a deeper meaning, trying to be more expansive about how I'm connecting with people I know, my art. It was so fun, I made the song with Jake Sherman. It's just surreal, thanks for having me, thanks for bringing so many people joy and peace for so long."
Ingrid Andress:
"I am so honored and excited to be a part of this The Beautiful Letdown anniversary celebration album. I used to sing "On Fire" all the time as a teenager and always thought it was so beautiful, so the fact that Jon asked me to join him and the band on this record is beyond special to me."
Dayglow:
"I never would have thought in my wildest dreams of my youth that I would be on a Switchfoot album let alone a 20th Anniversary re-release of The Beautiful Letdown. This album is timeless and formative to me in my youth and my starting to be a musician. So to be part of this celebration is so cool. I am so incredibly honored. Thanks to Switchfoot for having me. Congrats to 20 years of a stellar record. Hope everyone likes the jams."
Colony House:
"We are honored to be a part of the 20th Anniversary release of The Beautiful Letdown which is an iconic record for so many people and a game changer for us. I remember being in PE class in middle school and remember telling all my friends "hey do you know who Switchfoot is?", they'd say "no" and I'd say "you will"…. This record changed the game for us. It was a huge changer for us wanting to be in a band together and here we are 20 years later. I remember listening to Meant To Live and thinking I want to do that… and attribute much of me learning the electric guitar listening to that album. Thanks to Switchfoot for inspiring us and always supporting us. We feel so honored to be a part of something so big and monumental."
Sleeping At Last:
"The Beautiful Letdown" is a deeply meaningful and formative record in my life for so many reasons. It's a rare time-travel record for me- when I listen, I am transported to such a pivotal year in my life, personally and musically and those songs were a deep source of comfort and inspiration. That same year, 2003, Switchfoot generously invited Sleeping At Last to join them on their US tour of this record, which was the very first tour I ever played. What a gift to be shown the ropes at such a young age by some of the kindest people making music. Forever grateful for the guys and who they are. It is such an honor to get to sing on this anniversary album!"
'The Beautiful Letdown (Our Version) [Deluxe Edition]' Track List:
1. Meant To Live (Jon Bellion Version)
2. This Is Your Life (Noah Gundersen Version)
3. More Than Fine (Monica Martin Version)
4. Ammunition (Relient K Version)
5. Dare You to Move (Ryan Tedder from OneRepublic Version)
6. Redemption (Colony House Version)
7. The Beautiful Letdown (Jonas Brothers Version)
8. Gone (Owl City Version)
9. On Fire (Ingrid Andress Version)
10. Adding To The Noise (Dayglow Version)
11. Twenty-Four (Tyler Joseph from Twenty One Pilots Version)
12. Monday Comes Around (Sleeping At Last Version)
13. Meant To Live (Our Version)
14. This Is Your Life (Our Version)
15. More Than Fine (Our Version)
16. Ammunition (Our Version)
17. Dare You to Move (Our Version)
18. Redemption (Our Version)
19. The Beautiful Letdown (Our Version)
20. Gone (Our Version)
21. On Fire (Our Version)
22. Adding To The Noise (Our Version)
23. Twenty-Four (Our Version)
24. Monday Comes Around (Our Version)*
25. In My Blood (Our Version)*
*Unreleased B-Side
Jonas Brothers appears courtesy of Republic Records, a division of UMG Recordings, Inc.
Ingrid Andress appears courtesy of Warner Music Nashville
Ryan Tedder of OneRepublic appears courtesy of Mosley Music/Interscope Records
Tyler Joseph of Twenty One Pilots appears courtesy of Fueled By Ramen LLC
The Beautiful Letdown (Our Version): Deluxe Edition follows the release of The Beautiful Letdown (Our Version), a new LP featuring re-recordings of chart topping hits like "Meant To Live" (160M streams), "Dare You To Move" (235M streams) and more. From hearing their songs on the radio all over the world, to debuting videos with MTV and Late Night TV – 'The Beautiful Letdown' put Switchfoot on the map and solidified them as one of the most iconic 2000s alternative bands.
Stream The Beautiful Letdown (Our Version) HERE
Switchfoot has kicked off their massive 40+ date tour of North America. This run of shows sees the band performing 'The Beautiful Letdown' from front to back in its entirety in major markets like Chicago, Boston, Orlando, Detroit, Seattle, Los Angeles and more. Numerous shows on the tour are already sold out such as The Wiltern in Los Angeles, CA, The Ryman Auditorium in Nashville, TN, House of Blues in Chicago, IL, and The Bluestone in Columbus, OH. See full tour routing below.
SWITCHFOOT TOUR ROUTING:
Friday, September 15, 2023 - Fayetteville, AR - JJ's Live
Saturday, September 16, 2023 - Tulsa, OK - Hard Rock Hotel and Casino
Sunday, September 17, 2023 - Houston, TX - The Heights Theatre
Wednesday, September 20, 2023 – Austin, TX – Paramount Theatre
Thursday, September 21, 2023 – Dallas, TX – AT&T PAC - Strauss Square
Friday, September 22, 2023 – Houston, TX – The Heights Theater - SOLD OUT
Saturday, September 23, 2023 – San Antonio, TX – The Espee
Sunday, September 24, 2023 – Oklahoma City, OK – Tower Theatre - SOLD OUT
Wednesday, September 27, 2023 – Chicago, IL – House Of Blues - SOLD OUT
Thursday, September 28, 2023 – Nashville, TN – The Ryman - SOLD OUT
Friday, September 29, 2023 – Columbus, OH – The Bluestone - SOLD OUT
Saturday, September 30, 2023 - Greeneville, TN - Niswonger Performing Arts Center
Sunday, October 1, 2023 – Chattanooga, TN – The Signal
Tuesday, October 3, 2023 – Charleston, SC – Charleston Music Hall
Friday, October 6, 2023 – Ft. Lauderdale, FL – The Parker Playhouse
Saturday, October 7, 2023 – St. Petersburg, FL – Jannus Live
Sunday, October 8, 2023 – Orlando, FL – House of Blues - SOLD OUT
Monday, October 9 – Charlotte, NC – Knight Theatre
Tuesday, October 10, 2023 – Durham, NC – Fletcher Hall - SOLD OUT
Thursday, October 12, 2023 – Wilmington, NC – Greenfield Lake Amphitheater
Friday, October 13, 2023 – Richmond, VA – The National
Saturday, October 14, 2023 – Norfolk, VA – The NorVa
Sunday, October 15, 2023 – Washington, DC – Warner Theatre
Wednesday, October 18, 2023 – Montclair, NJ – Wellmont
Thursday, October 19, 2023 – Huntington, NY – The Paramount
Friday, October 20, 2023 – Atlantic City, NJ – The Concert Venue at Harrah's Resort
Saturday, October 21, 2023 – Mashantucket, CT – Foxwood Resort & Casino
Sunday, October 22, 2023 – Boston, MA – Wilbur Theatre
Wednesday, October 25, 2023 – Grand Rapids, MI – 20 Monroe - SOLD OUT
Thursday, October 26, 2023 – Detroit, MI – The Fillmore
Friday, October 27, 2023 – Clear Lake, IA – Surf Ballroom
Saturday, October 28, 2023 – Omaha, NE – Steelhouse
Thursday, November 2, 2023 – Denver, CO – Ogden
Saturday, November 4, 2023 – Salt Lake City, UT – The Complex
Tuesday, November 7, 2023 – Seattle, WA – The Moore Theatre - SOLD OUT
Wednesday, November 8, 2023 – Portland, OR – Roseland - SOLD OUT
Friday, November 10, 2023 – Sacramento, CA – Ace of Spades - SOLD OUT
Saturday, November 11th, 2023 – Bakersfield, CA – Fox Theater
Sunday, November 12, 2023 – Los Angeles, CA – The Wiltern - SOLD OUT
ABOUT SWITCHFOOT:
Switchfoot has sold over 10 million copies worldwide of their thirteen studio albums (including their 2003 triple-platinum breakthrough The Beautiful Letdown and 2009's Grammy Award-winning Hello Hurricane), racked up a string of Alternative radio hit singles, and performed sold-out tours with over 5 million concert tickets sold in over 40 countries around the world. Through their unique blend of emotionally intelligent and uplifting brand of alternative rock, Switchfoot has earned a devoted and loyal global fan base. Switchfoot has raised over $2.5 million dollars to aid kids in their community through their Bro-Am Foundation. Switchfoot consists of Jon Foreman (vocals, guitar), Tim Foreman (bass), Jerome Fontamillas (keys, guitar) and Chad Butler (drums).