Talkhouse Caps Banner Year Uniting More Artists, Collaborators & Podcast Listeners Than Ever Before
The Launch of Acclaimed New Music Series Includes Björk: Sonic Symbolism, Santigold's Noble Champions, Kimbra's Playing With Fire, Listening, That's How I Remember It with Craig Finn, Plus New Seasons of Aquarium Drunkard's Transmissions, Emil Amos' Drifter's Sympathy, Sing For Science, Talkhouse Podcast & The Politics of Everything
A Little Bit Culty, Jokermen & SHEROES Mark Latest Additions To Network Roster
From Björk exploring her discography's emotional landscapes on the chart-topping Sonic Symbolism, to Santigold talking motherhood with Olivia Wilde and Black Music with Questlove on Noble Champions, Jokermen cross-examining White Lotus star Michael Imperioli on his Lou Reed encounters, Kimbra breaking down primordial chaos with Mitski on Playing With Fire, Korn's Jonathan Davis discussing embalming techniques on Sing For Science, and the Tweedy Family turning their surroundings into song for Listening, 2022 saw the Talkhouse Podcast Network unite more artists, listeners and ideas than ever before. In a banner year, fans spent nearly 200 million minutes with dozens of shows across the platform, further cementing its place as the go-to partner, producer and distributor of creator-centric stories from the first-person perspective.
"We're so proud and grateful to work with so many singular, brilliant artists and we're excited to continue building the most creative and artist-centric slate in podcasting and beyond," says Ian Wheeler, Founder of Talkhouse Creative Studio. "We can't wait for people to hear what's in store for next year."
Built on a foundation of conversations rooted in authenticity, credibility and creativity, the Webby Award-winning podcast network serves as an entrance to its audience's favorite musicians, filmmakers, actors and other trailblazing, multi-talented visionaries. Over the past twelve months, Talkhouse simultaneously launched several of the year's most acclaimed music series, while unveiling anticipated seasons of flagship programs such as the Signal Awards-nominated Talkhouse Podcast, Aquarium Drunkard's Transmissions, Emil Amos' Drifter's Sympathy, Sing For Science, The New Republic's The Politics of Everything and a multitude of shows across Open Mike Eagle's Stony Island Audio, as well as forming new relationships with network additions like A Little Bit Culty, Jokermen and SHEROES.
Brand New Series
In collaboration with Mailchimp Presents, Talkhouse introduced Listening and Björk: Sonic Symbolism to immediate praise. Dissecting how some of the most inventive and beloved musicians hear and process the world around them, Listening featured Jeff, Spencer and Sammy Tweedy, Katie Crutchfield of Waxahatchee, Mdou Moctar, Neko Case, Laraaji, JLIN, Magnetic Fields' Stephin Merritt, Vagabon, MC Taylor of Hiss Golden Messenger and Björk. "Part podcast, part album," as The Guardian described, each of the series' 10 episodes invited the artist to create a composition that allows others to intimately experience a particular point in their lives, opening up their sonic diaries to not only discuss the transformation of various sounds into a unique, musical portrait, but the enriching art of deeper listening at large.
Named one of the "Best Podcast Interviews of The Year (So Far)" (Vulture), Björk: Sonic Symbolism went #1 on both the Apple and Spotify music charts, as it delivered an intimate and immersive reflection on the moods, timbres and tempos that characterize each album in her expansive catalog. Sharing "invigorating anecdotes and memories" (Pitchfork), many of which had never been told before, Björk offered "a road map to the creative life" (GQ) and "rare chance to listen in as one of the most mysterious and mystical artists working today explains herself" (The New Yorker).
In addition to Björk, Talkhouse expanded the worlds and entered the minds of Santigold, Kimbra and Craig Finn. Week after week, the very first season of each artist-hosted podcast set new standards in both quality of conversation and caliber of guest. On Santigold's Noble Champions, a modern-day salon, she sits down with some of today's leading artists, authors, activists and thinkers who stand up for important causes, in an effort to make sense out of our world and push culture forward. She has covered spirituality with Yasiin Bey and Sanford Biggers, Black Music with Questlove, Angela Yee and Tunde Adebimpe, motherhood with Olivia Wilde and Rebecca Walker, climate change with Saul Williams and Mary Annaïse Heglar, cancel culture with Idris Elba and Dan Kovalik, and more that's coming out every Monday.
Kimbra's Playing With Fire has focused on all aspects of transcendence with musicians, authors, actors, priests, best friends and more - including Mitski, Jacob Collier and others thus far - and on That's How I Remember It with Craig Finn, the recording artist and songwriter examined the connection between memory and creativity with the likes of Counting Crows' Adam Duritz, Emily Haines, Allison Moorer, The Mountain Goats John Darnielle, Nick Lowe, Fred Armisen, Billions' Brian Koppelman and more.
Major Guests & Next Seasons
Guests continued to push boundaries across other Talkhouse Network shows, with more still to come before the end of the year. Jokermen guided listeners through a new journey focused on the storied solo careers of Lou Reed and John Cale, as well as the entire Velvet Underground catalog and extended universe with help from Dean Wareham, Greil Marcus, Michael Imperioli, Naomi Fry, Ratso Sloman, Steve Gunn, Tim Heidecker, Tom Scharpling, Will Menaker and more. On the fourth season of Sing For Science, host Matt Whyte cultivated new connections between Arlo Guthrie, mxmtoon, Nick Kroll, Margo Price, Modest Mouse's Isaac Brock, Weezer's Rivers Cuomo and Korn's Jonathan Davis with experts of nutritional anthropology, ethnobotany, pediatric endocrinology, reproductive healthcare, mycology, computer programming and mortuary science. The flagship Talkhouse Podcast paired Ramy Youssef, Nigel Godrich, Rhett Miller, Hamilton Leithauser, and Sofi Tukker with Dina Amer, Travis' Fran Healy, Busy Philipps, Ethan Hawke, The Knocks and many more, while Aquarium Drunkard's Transmissions spoke to Blondie's Clem Burke, Joan Shelley, Kurt Vile, Destroyer, Cate Le Bon and dozens of others, and Emil Amos' Drifter's Sympathy capped off its fifth season with Stephen Malkmus.
Network Additions
In addition to Jokermen, all-new roster additions of A Little Bit Culty hosted survivor-centric conversations with fellow former cult members, clinicians and experts, while SHEROES amplified womxn's voices in song and conversation through an ongoing commitment to diversity and inclusivity, showcasing a wide range of guests like Angel Olsen, Aroof Aftab, Natalie Merchant, Bonnie Raitt, Low's Mimi Parker, Karen O, Maya Hawke, Natalia Lafourcade, Tegan and Sara, Danielle Ponder and more.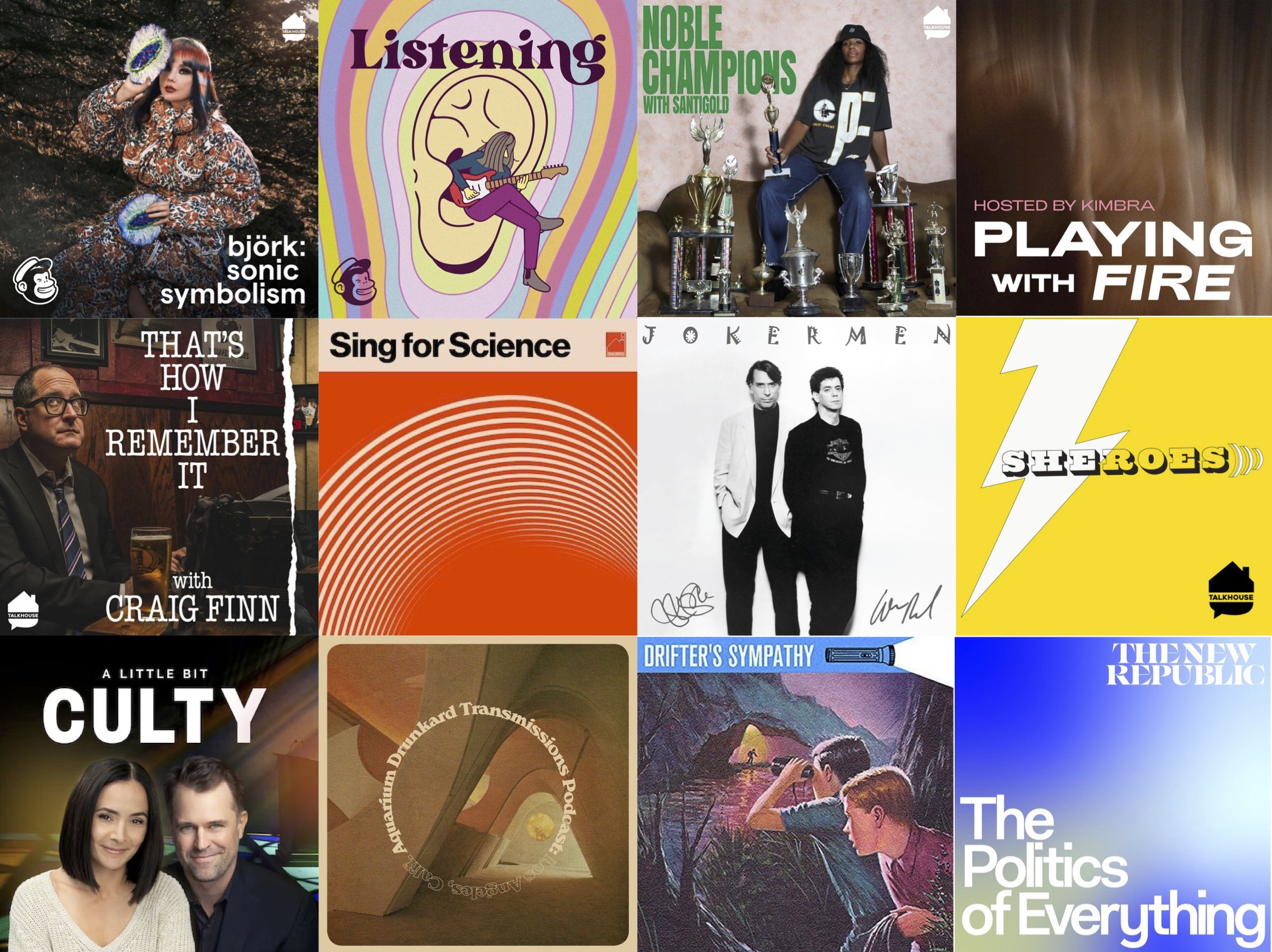 About Talkhouse
Talkhouse is a Webby-Award-winning first-person media company and outlet for musicians, actors, filmmakers, and others in their respective fields. Artists write essays and criticism from firsthand perspectives, speak one-on-one with their peers via the Talkhouse Podcast and Talkhouse Live events, and offer readers and listeners unique insight into creative work of all genres and generations. Talkhouse is writing and conversations about music and film, from the people who make them. Recently launched series include Santigold's Noble Champions and Kimbra's Playing With Fire, as well as Listening, an unprecedented new program featuring Jeff Tweedy, Neko Case and more that The Guardian describes as "part podcast, part album," and Björk: Sonic Symbolism, which GQ praises as "a road map to the creative life," delivering what The New Yorker calls "a rare chance to listen in as one of the most mysterious and mystical artists working today explains herself."
Our audience has come to understand and cherish the fact that we serve as a platform for getting them inside the minds of their favorite artists and filmmakers. As one of the only "first-person" media outlets, Talkhouse allows musicians, actors and filmmakers to reach fans directly, in their own words. By working directly with creators from the worlds of music and film, Talkhouse has built a media brand that is firmly rooted in authenticity, credibility, and creativity - and, through branded content initiatives and special projects, we aim to bring those values to life together with like-minded partners. Follow Talkhouse at Instagram, Twitter and Facebook.
For more information, contact Matt Hanks, Greg Jakubik or Annie Mickum at Shore Fire Media, (718) 522-7171