Talkhouse Premieres Season Two of That's How I Remember It with Craig Finn, Examining Memory & Creativity Alongside Amanda Shires, Archers of Loaf's Eric Bachmann, Death Cab for Cutie's Ben Gibbard, George Saunders & More
Live Tapings of That's How I Remember It Featuring Kevin Morby, Plus SHEROES with Valerie June Coming to On Air Fest This Month
Listening Earns Best Music Nomination at 2023 iHeartRadio Podcast Awards, Talkhouse Renews Santigold's Noble Champions
Today, with the season two debut of That's How I Remember It with Craig Finn, Talkhouse kicks off another prolific year as the most artist-first platform in podcasting, first-person storytelling and beyond. On the heels of a banner 2022, which saw fans spend nearly 200 million minutes with its dozens of shows, Talkhouse Podcast Networkcontinues to cement its place as the go-to partner, producer and distributor for creative voices across a variety of mediums. In addition to That's How I Remember It, Talkhouse has announced the renewal of Santigold's Noble Champions, which Variety named one of the Best Music Business Podcasts of 2022. Premiering later this year, Noble Champions' second season will further push culture forward alongside leading artists, activists and thinkers, building on an inaugural slate of salon-style conversations that ranged from urgent topics like spirituality with Yasiin Bey and Sanford Biggers, to Black Music with Questlove, Angela Yee and Tunde Adebimpe, motherhood with Olivia Wilde and Rebecca Walker, climate change with Saul Williams and Mary Annaïse Heglar, cancel culture with Idris Elba and Dan Kovalik, and more.
Hear an in-depth interview with award-winning writer George Saunders on That's How I Remember It with Craig Finn's season two premiere, out now:
"Working with Craig on the first season of his show was an absolute privilege and we were totally thrilled with how well the show was received by listeners and advertisers," says Talkhouse Executive Editor, Josh Modell. "Craig has unsurprisingly amassed a really special and dedicated fanbase over the years – us included. We are so excited for fans and new listeners to hear what Craig has put together for the second season."
With new episodes of the Top 5-charting music podcast out every Wednesday, That's How I Remember It will see Finn examine the connection between memory and creativity through exclusive conversations with guests like Amanda Shires, Archers of Loaf's Eric Bachmann, Death Cab for Cutie and The Postal Service's Ben Gibbard and more, exploring the different ways their remembered life experiences reveal stories about themselves and the world. On Friday, February 24th, Talkhouse will also bring That's How I Remember It to On Air Fest, where Craig Finn will host a taping of the show with special guest Kevin Morby, live from the Podcast Penthouse stage of Brooklyn's Wythe Hotel.
Talkhouse will have SHEROES at On Air Fest, as well, for a live taping between host Carmel Holt and Grammy-nominated musician Valerie June. In March, Talkhouse heads to the iHeartRadio Podcast Awards, where its groundbreaking Listening series is up for Best Music Podcast. The Webby-winning network recently took home two inaugural Signal Awards for Best Music Episode (Talkhouse Podcast) and Best News & Politics Episode (The Politics of Everything), and received heaps of critical praise for Björk: Sonic Symbolism, delivering not only "invigorating anecdotes and memories" (Pitchfork), but "a road map to the creative life" (GQ) and "rare chance to listen in as one of the most mysterious and mystical artists working today explains herself" (The New Yorker).
Stay tuned for much more coming soon, and in the meantime check out all of the Talkhouse Podcast Network's offerings, including A Little Bit Culty, Aquarium Drunkard's Transmissions, Björk: Sonic Symbolism, Emil Amos' Drifter's Sympathy, Jokermen, Kimbra's Playing With Fire, Listening, Santigold's Noble Champions, SHEROES, Sing For Science, Talkhouse Podcast, The New Republic's The Politics of Everything, and a multitude of shows on Open Mike Eagle's Stony Island Audio here.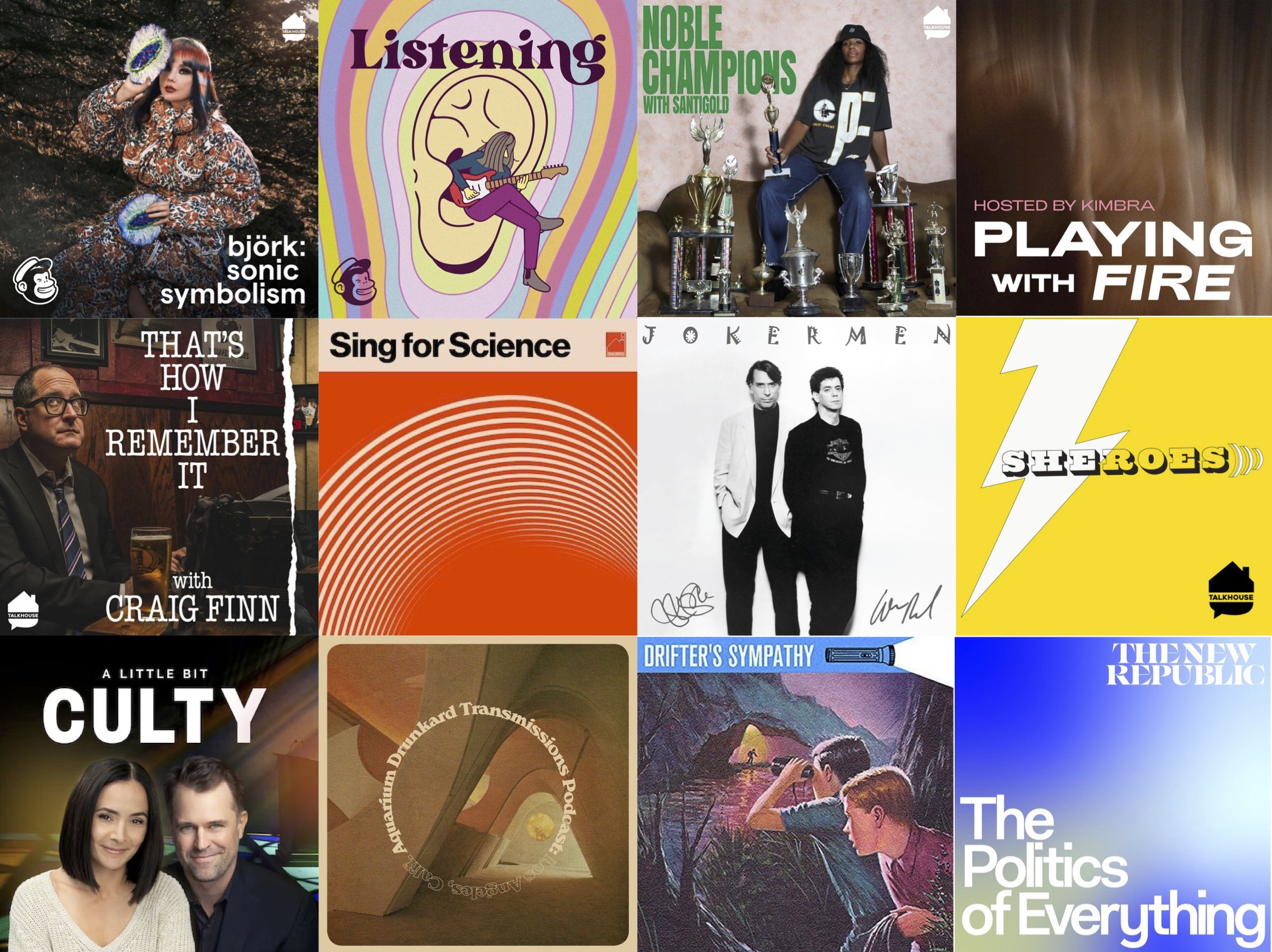 About Talkhouse
Talkhouse is a Webby-Award-winning first-person media company and outlet for musicians, actors, filmmakers, and others in their respective fields. Artists write essays and criticism from firsthand perspectives, speak one-on-one with their peers via the Talkhouse Podcast and Talkhouse Live events, and offer readers and listeners unique insight into creative work of all genres and generations. Talkhouse is writing and conversations about music and film, from the people who make them. Recently launched series include Santigold's Noble Champions and Kimbra's Playing With Fire, as well as Listening, an unprecedented new program featuring Jeff Tweedy, Neko Case and more that The Guardian describes as "part podcast, part album," and Björk: Sonic Symbolism, which GQ praises as "a road map to the creative life," delivering what The New Yorker calls "a rare chance to listen in as one of the most mysterious and mystical artists working today explains herself."
Our audience has come to understand and cherish the fact that we serve as a platform for getting them inside the minds of their favorite artists and filmmakers. As one of the only "first-person" media outlets, Talkhouse allows musicians, actors and filmmakers to reach fans directly, in their own words. By working directly with creators from the worlds of music and film, Talkhouse has built a media brand that is firmly rooted in authenticity, credibility, and creativity - and, through branded content initiatives and special projects, we aim to bring those values to life together with like-minded partners. Follow Talkhouse at Instagram, Twitter and Facebook.
For more information, contact Matt Hanks, Greg Jakubik or Annie Mickum at Shore Fire Media, (718) 522-7171