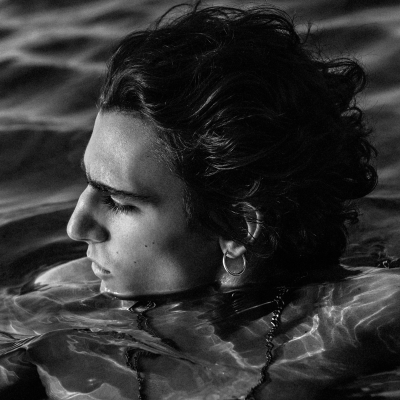 Tamino Announces New Deluxe Album Details + Shares New Song "Crocodile"
'Amir' Deluxe To Be Released October 18th 2019 On Arts & Crafts/Communion 
North American Fall Tour Kicks Off Sept. 11th At Brooklyn's National Sawdust
"vibrant and intoxicating...his voice; it's inescapable." – NPR
Today, Tamino announces the deluxe release of his mesmerizing and acclaimed debut album 'Amir,' out October 18th 2019 on Arts & Crafts/Communion. The album will feature two brand new songs "From Every Pore" and "Crocodile" - listen to "Crocodile" here: https://tamino.lnk.to/Crocodile-st
The deluxe album will also feature two new live recordings performed alongside the stunning Nagham Zikrayat Orchestra who are also featured on the original album, two demo recordings of "Chambers" and "Tummy," and two stark live recordings from a show at La Cigale in Paris from this past spring.
The news arrives just ahead of Tamino's North American tour, which kicks off on September 11th at Brooklyn's National Sawdust and includes shows in Los Angeles, San Francisco and more. Full tour routing below.
'Amir' was produced by PJ Maertens and Jo Francken, and recorded at both Maertens' house in Belgium and at Audiworkx Studios in Holland.
Watch Tamino perform live on NPR's Tiny Desk Session HERE
It's been a breakthrough year for 22-year-old Tamino Moharam Fouad, the Antwerp based musician of Egyptian and Lebanese heritage, with his voice infiltrating the far corners of North America, Europe and beyond building a fanatical fanbase around his startling, visceral, and stirring emotive sound.
'Amir' is a record that is proving a real word-of-mouth success, finding support from NPR, BBC, The Line of Best Fit and more. It's not just the media that have been picking up on Tamino's power, but fellow musicians too. This year Tamino has performed with Lana Del Rey at her request, and he counts Radiohead's Colin Greenwood as a bandmate now (Greenwood plays on 'Amir' and performed during Tamino's recent NPR Tiny Desk Concert).
Although the majority of the playing heard on "Amir" is Tamino himself, he is joined by a collective of Arabic musicians based in Brussels called "Nagham Zikrayat". The Firka (orchestra) is predominantly made up of professional musicians from the Middle East, most of which have refugee status having predominantly fled from Iraq, Morocco, Tunisia and Syria. Members of the orchestra are long-standing fans of Tamino's late grandfather, a famous actor-musician in the golden age of Egyptian cinema. They contacted Tamino to request his performance at a concert in honor of his late grandfather. Not being a native speaker, Tamino politely declined but invited the orchestra to assist him in the making of "Amir".
Tamino will make a very special, first trip out to the Middle East and North Africa in October, taking in debut shows in Egypt, Morocco, Tunisia, and Turkey. The demand for his arrival out there is testament to the word of mouth momentum that Amir has already accumulated outside the typical touring countries that he's already made his name within.
Over the course of "Amir," Tamino captures a range of emotions from romance to desolation, and almost everything in between. It's mood music, painted in a number of different shades. This deluxe release will act as a timely reminder of what makes Tamino such a special young artist, and shows the progression he has soon made from those initial demo recordings right through to his stunning live sound of today.
'Amir' Deluxe Track List
Disc 1
1. Habibi
2. Sun May Shine
3. Tummy
4. Chambers
5. So It Goes
6. Indigo Night
7. Cigar
8. Each Time
9. Verses
10. W.o.t.h
11. Intervals
12. Persephone
Disc 2 (Bonus)
1. Crocodile
2. Every Pore
3. Chambers – Demo
4. Tummy – Demo
5. Intervals - Live at Jet Studio ft. Nagham Zikrayat Orchestra
6. Every Pore - Live at Jet Studio ft. Nagham Zikrayat Orchestra
7. w.o.t.h - Live at La Cigale
8. Intro (La Javanaise) - Live at La Cigale
9. Verses - Live at La Cigale
Tamino Fall 2019 Tour Dates
September 11th – National Sawdust, Brooklyn
September 12th – Imperial (St-Roch-XP), Quebec City
September 13th – Théâtre Le Patriote, Ste-Agathe
September 14th – Cityfolk Music & Arts Festival, Ottawa
September 17th – The Drake Hotel, Toronto
September 18th – Schubas Tavern, Chicago
September 20th – The Moroccan Lounge, LA
September 22nd – The Chapel, San Francisco
October 12th – Jazz Club 610, Cairo
October 17th – Milyon Performance Hall, Ankara Turkey
October 18th – Zorlu Center for Performing Arts, Istanbul
October 19th – Soldout Performance Hall, Izmir Turkey
October 25th – Rialto Cinema, Casablanca Morocco
November 12th – Doornroosje, Nijmegen
November 14th – Muziekgieterij, Maastricht
November 16th – Lotto Arena, Antwerp
November 19th – Olympia, Paris
November 20th – den Atelier, Luxembourg
November 21st – Doornroosje, Nijmegen
November 23rd – Paard, Den Haag
November 29th – Silent Green, Berlin
December 2nd – Button Factory, Dublin
December 3rd – YES (Pink Room), Manchester
December 4th – Scala, London
December 6th – Luxor, Cologne
December 7th – Mascotte, Zurich
December 8th – Les Docks, Lausanne
December 9th – Santeria Toscana 31, Milan
December 10th – Monk, Rome
December 13th – Festival Mil.Lenni – La (2) de Apolo, Barcelona
December 14th – Café Berlin, Madrid
December 15th – Metronum, Toulouse
More Info on Tamino