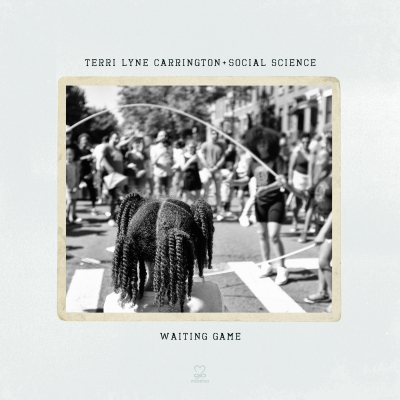 Terri Lyne Carrington & Social Science Boldly Confront A Spectrum Of Social Justice Issues On Collaborative Double Album Waiting Game (November 8/Motéma Music)
SOCIAL SCIENCE IS
TERRI LYNE CARRINGTON (drums, vocals); AARON PARKS (piano);
MATTHEW STEVENS (guitars); KASSA OVERALL (MC/DJ); DEBO RAY (vocals); MORGAN GUERIN (multi-instrumentalist)
SPECIAL GUESTS INCLUDE RAPSODY, MARK KIBBLE (TAKE 6), NICHOLAS PAYTON, MALCOLM-JAMAL WARNER, MESHELL NDEGEOCELLO, ESPERANZA SPALDING, MAIMOUNA YOUSSEF AND RAYDAR ELLIS
Terri Lyne Carrington has announced an ambitious double album, Waiting Game, out November 8 on Motema Music and recorded with her new band Social Science. The multi-GRAMMY® award-winning drummer, producer and educator boldly confronts a wide spectrum of social justice issues over the course of this double LP. Social Science is built around the friendship and collaboration of Carrington, pianist/keyboardist Aaron Parks (Terence Blanchard, Kurt Rosenwinkel) and guitarist Matthew Stevens (Christian Scott, Esperanza Spalding), along with multi-instrumentalist Morgan Guerin, vocalist Debo Ray, and MC/DJ Kassa Overall.
Adding to the multi-dimensional sound of Waiting Game is an impressive host of guests including rappers Rapsody, Kokayi, Raydar Ellis and Maimouna Youssef (aka Mumu Fresh), trumpeter Nicholas Payton, bassists Derrick Hodge and Esperanza Spalding, vocalist Mark Kibble of Take 6 and spoken word contributions from Meshell Ndegeocello and Malcolm-Jamal Warner.
The second half of the double album is a compelling improvised suite, with Esperanza Spalding (bass) joining Carrington, Parks and Stevens for an adventurous excursion musing on the idea of personal and musical freedom.
Today (August 21), the first two tracks from Waiting Game have been released: "Bells (Ring Loudly)" addressing racial profiling and police brutality, featuring Malcolm-Jamal Warner and Debo Ray, and an excerpt from the improvised suite, "Dreams And Desperate Measures."
Listen to "Bells" here:
Listen to excerpt of "Dreams and Desperate Measures" here: https://youtu.be/HixyM59aXW0
A host of issues are confronted on Waiting Game, from mass incarceration ("Trapped in the American Dream"), police brutality ("Bells (Ring Loudly)"), homophobia ("Pray the Gay Away"), the genocide of Native Americans ("Purple Mountains"), political prisoners ("No Justice"), and gender equity ("If Not Now" and "The Anthem"). Galvanized by seismic changes in the social and political landscape, Terri Lyne founded the Berklee Institute of Jazz and Gender Justice and simultaneously formed this band, while also being inspired in particular by the work that Black Youth Project 100 is doing, a youth organization founded in the wake of George Zimmerman's acquittal for the killing of Trayvon Martin.
"In previous projects I've hinted at my concerns for the society and the community that I live in," Carrington says. "But everything has been pointing in this direction. At some point you have to figure out your purpose in life. There are a lot of drummers deemed 'great.' For me, that's not as important as the legacy one leaves behind."
Terri Lyne will tour extensively this fall, with Social Science and other projects, including a special New York show celebrating the release of Waiting Game on November 30. See below for a full list of dates.
Waiting Game is available in double CD, digital and double vinyl LP formats: terrilynecarrington.lnk.to/waitinggamePR
Track List
Album 1
1. Trapped In The American Dream feat. Kassa Overall
2. Bells (Ring Loudly) feat. Malcolm-Jamal Warner and Debo Ray
3. Pray The Gay Away feat. Raydar Ellis and Nicholas Payton
4. Purple Mountains feat. Kokayi
5. Waiting Game (acapella) feat. Mark Kibble
6. Anthem feat. Rapsody
7. Love feat. Debo Ray
8. No Justice (for Political Prisoners) feat. Meshell Ndegocello
9. Over And Sons
10. If Not Now feat. Maimouna Youssef
11. Waiting Game feat. Debo Ray
Album 2
1. Dreams And Desperate Measures (part 1)
2. Dreams And Desperate Measures (part 2)
3. Dreams And Desperate Measures (part 3)
4. Dreams And Desperate Measures (part 4)
TOUR DATES:
@ 8/24 - Chicago, IL - Pearl Fest 25th Anniversary
@ 9/13 - Ithaca, NY - Cornell University, Bailey Hall
@ 9/18 - Boston, MA - Berklee College, Boston (panel)
9/19 - Ft Worth, TX - Fort Worth Central Library
9/25 - Cincinatti, OH - Gallagher Student Center Theater
@ 10/10 - San Paolo, Brazil - Sesc Pompeia
@ 10/12 - San Paolo, Brazil - Sesc Guarulhos
10/30 - Boston, MA - Event for Berklee Institute of Jazz and Gender Justice
* 10/17 - Washington, DC - Nat King Cole at 100 @ Kennedy Center
* 10/18 - Washington, DC - Nat King Cole at 100 @ Kennedy Center
* 10/19 - Washington, DC - Nat King Cole at 100 @ Kennedy Center
* 10/28 - Cambridge, MA - Radical Commitments Conference @ Harvard University, Knafel Center / Radcliff Institute
@ 11/16 - London, UK - London Jazz Fest @ Kings Place, Hall 2
@ 11/17 - London, UK - London Jazz Fest @ Kings Place, Hall 2
@ 11/30 - New York, NY - Le Poisson Rouge
@= performing with Social Science
* = Terri Lyne Carrington music direction
https://www.terrilynecarrington.com/