The Art Students League Of New York Announces Art We Need Now
In Partnership With Chashama & Made Possible Through The League's Exhibition Outreach Program; November 11th - December 16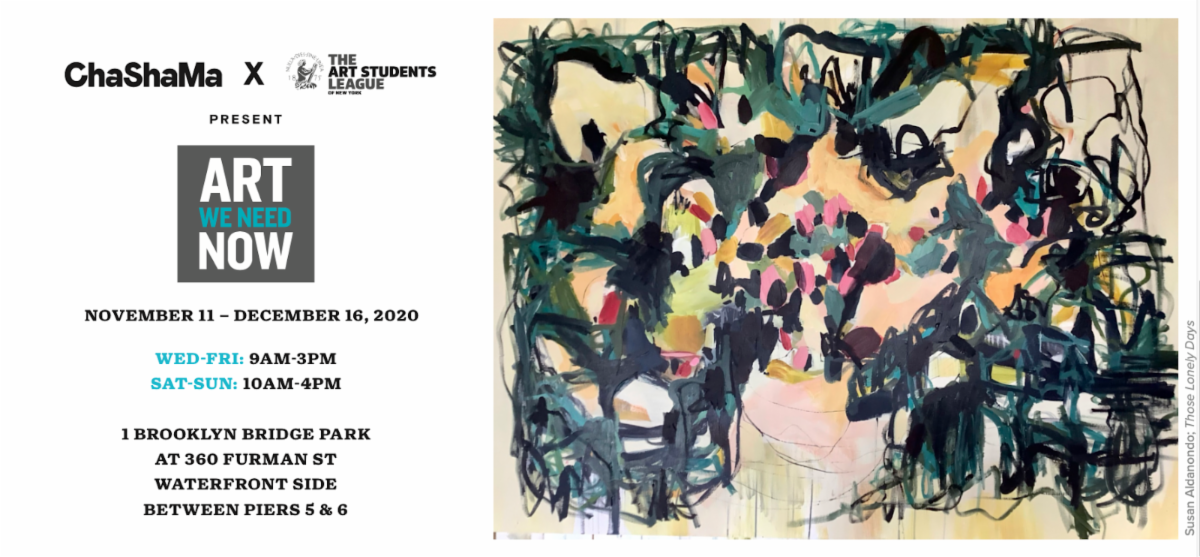 In a continued partnership with ChaShaMa, The Art Students League of New Yorkannounces Art We Need Now, a new exhibition driven by the question "what art do we need now?" The artists who took up the call to action approached it courageously, inviting the audience into their practices of working through lockdown, experimenting with unexpected forms, and in many cases, hanging on to optimism. The show explores themes of urgency in a changing world, isolation in a chaotic city, and hope for a future with a bit more beauty and love in it.
Art We Need Now will open November 11th at 1 Brooklyn Bridge Park (360 Furman St, Waterfront Side, Between Piers 5 & 6) and will be on display until Wednesday, December 16th (*certain works will remain on view from the windows through Tuesday, January 12*). The gallery's operating hours are Wednesday - Friday (9 am - 3 pm ET) and Saturday-Sunday (10 am-4 pm ET).
The exhibition is also available online here: https://theartstudentsleague.org/exhibition/eor-art-we-need-now-2020/
Featured Artists:
Susan Aldanondo, Rachell Barkai, Lesley Bodzy, Pin Hsin Chu, John Cunningham, Amy Decker, Ryoko Endo, Holley Flagg, Katia Gerasimov, David Marchi, Michael Murton, Anna Kuchel Rabinowitz, and Sarah White
About ChaShaMa:
For over two decades, ChaShaMa has played a central role in sustaining New York's vibrant artistic community and increasing access to the arts for all. ChaShaMa supports artists by partnering with property owners to transform unused real estate into space to create and present work and provides free art classes for NYC communities. Annually ChaShaMa operates 137 subsidized studios, presents 200 free exhibitions and performances, and provides 300 free art classes for 3,500+ participants in the Bronx, Washington Heights, and Sunset Park, and awards $9 million worth of real estate to artists. www.chashama.org
About the Art Students League's Exhibition Outreach Program:
The League's Exhibition Outreach (EO) initiative displays the work of League artists in venues throughout the tri-state area for viewing by hundreds and thousands of people. Students gain experience entering their work in competition, preparing their work for display, and marketing their work for sale. Since its inception in 2006, EO has placed works by more than 800 artists in more than 200 exhibitions.
About The Art Students League of New York:
The League was founded in 1875 by students breaking away from the National Academy of Design. That independent spirit remains at The League today, where students pursue their work unconstrained by dogma, politics, or burdensome tuition. We educate students in the language and process of making art in an environment where anyone who wishes to pursue arts education can realize his or her full potential. The League fulfills this mission by offering affordable, high-quality education and instruction in painting, drawing, printmaking, sculpture, and assemblage. Artists who have studied at the League include Georgia O'Keeffe, Romare Bearden, Jackson Pollock, Carmen Herrera, Robert Rauschenberg, Adrian Piper, Louise Bourgeois, Alexander Calder, James Rosenquist, and Ai-Weiwei, among others. www.theartstudentsleague.org
The Art Students League of New York on the web:
https://shorefire.com/roster/art-students-league-of-new-york
https://theartstudentsleague.org/
https://www.facebook.com/aslnyc/
https://www.instagram.com/aslnyc/
For More Information:
Mikaela Duhs
Rebecca Shapiro