The Art Students League Of New York Announces Harvey Dinnerstein Drawings, Pastels, Prints: A Retrospective Exhibition 
Launches October 16th And Celebrates Dinnerstein's 40th Anniversary Of Teaching At The League
In Conjunction With Dinnerstein's Exhibition At Gerald Peters Gallery
Today, the Art Students League of New York announces Harvey Dinnerstein Drawings, Pastels, Prints: A Retrospective Exhibition, a virtual show and benefit sale presented on LINEA, the League's online journal. This exhibition, on view beginning October 16, celebrates Dinnerstein's 40th anniversary of teaching at the League. The show includes 33 artworks (drawings, pastels, and prints) that reflect Dinnerstein's creative process and sensitive observation in rendering the human form, which has cemented him as one of America's most respected painters and teachers in figurative art today.
Dinnerstein's work documents what he calls "the powerful visual language of this cultural legacy" in images that "combine aspects of naturalism, or incidental observation, with classical elements of form and structure."
View the exhibition on October 16th here:
https://artstudentsleague.square.site/harveydinnerstein
"Harvey's legacy is the encouragement of a personal response to the world around us, specific to New York City in its multicultural richness," personal friend to Dinnerstein and fellow League instructor Jerry Weiss says. "The ability to listen is analogous to the art of observation. In the forty years I've known him, Harvey's curiosity in people—in our shared humanity—has never wavered. He is still listening to us. What he has heard shines through in this extraordinary selection of works on paper."
"Harvey Dinnerstein encompasses the very essence of what The League means to so many artists — the quest to delve into the meaning of art and humanity," Board President of The Art Students League of New York, Robin Lechter Frank says. "Through his profound work, Harvey captures the human spirit in a moment of time and continues to touch the lives of countless artists. We are proud to present this retrospective on his fortieth anniversary as an instructor at The League."
Twenty percent of the proceeds from sales of work in this exhibit will support the Harvey Dinnerstein Grant for Realist Art. This grant is a welcome addition to the League's robust financial aid program that includes over 30 merit-based tuition scholarships and 13 larger grants that support the work and international travel of League students.
To further celebrate Dinnerstein's contributions to this storied institution, the League has purchased his pastel At the Window, and Dinnerstein donated a self-portrait from 1997 entitled 69th Summer, both of which have been added to the League's permanent collection of over 4,000 works of art.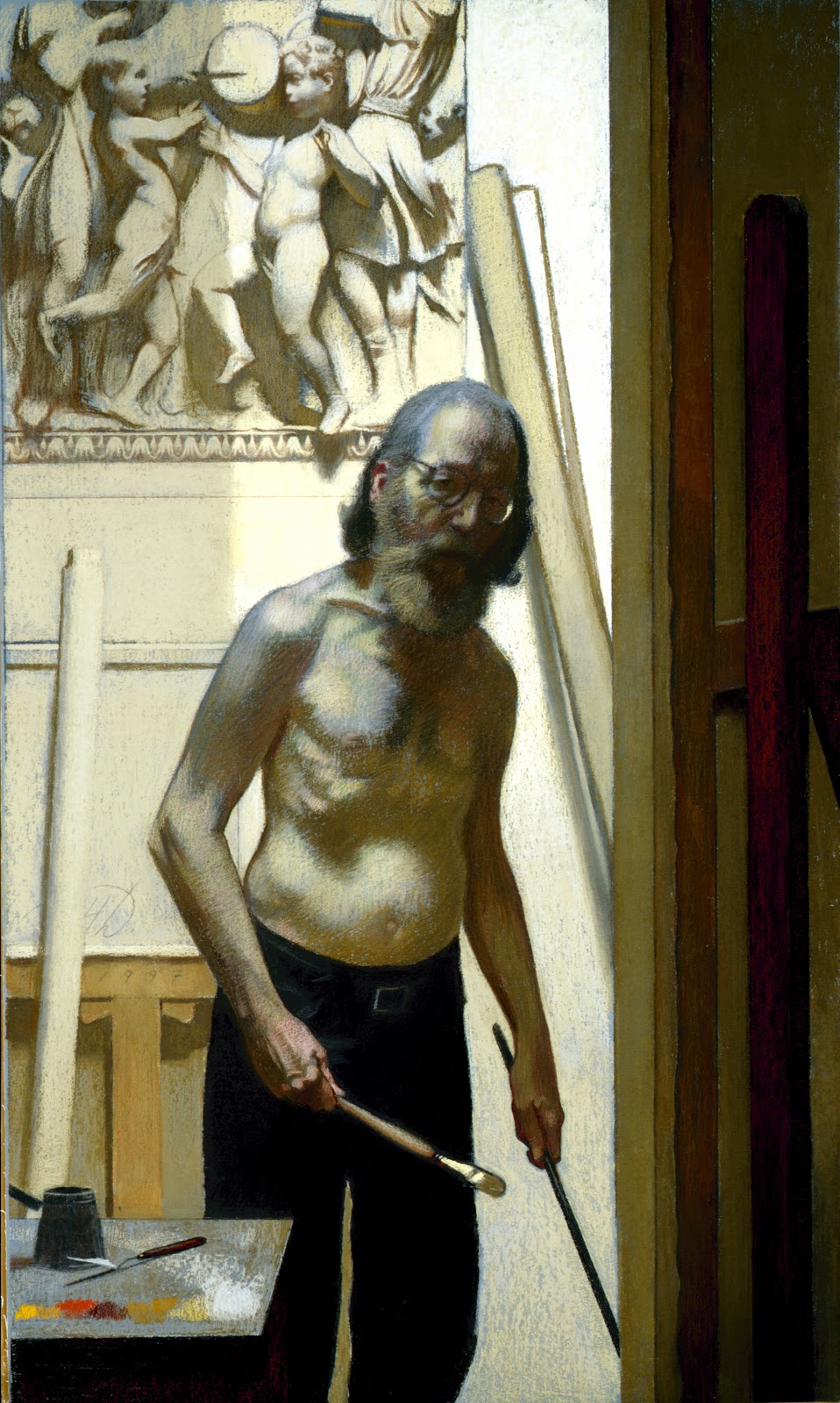 Harvey Dinnerstein, 69th Summer, pastel on board, 56 ½ x 33 ¼ in.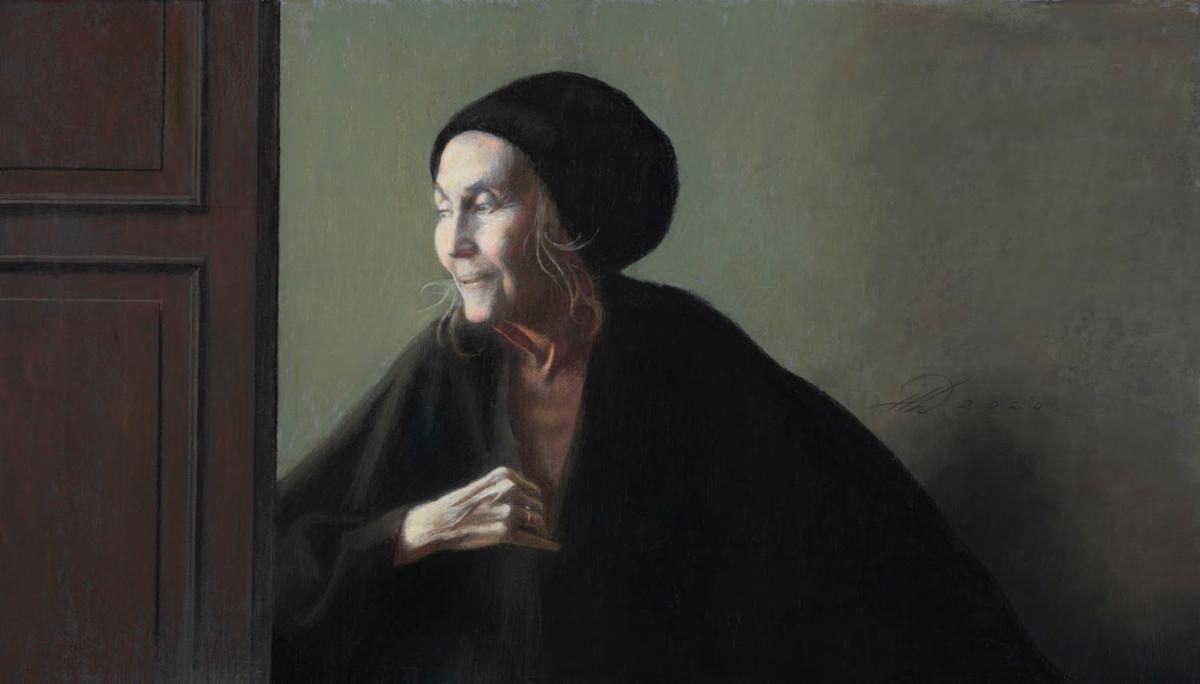 Harvey Dinnerstein, At the Window, pastel on board, 15 3/4 x 27 1/4 in.
Photo: Matt Flynn
In addition, Gerald Peters Contemporary Gallery will present an exhibition of works by Dinnerstein starting October 16th as well. This retrospective exhibition examines Dinnerstein's storied career as an interpreter of and commentator on contemporary life through his figurative works of the late 1960s through the present day. Many of these works adapt the tradition of "grand manner" painting to the modern age, providing an unexpected view which celebrates Dinnerstein's distinctly countercultural world. This exhibition is available to view electronically and by appointment at 24 East 78th Street in New York.
ABOUT HARVEY DINNERSTEIN:
Harvey Dinnerstein has been painting and exhibiting for the past seven decades. He has taught generations of students dedicated to the figurative tradition.
His book, Harvey Dinnerstein: Artist at Work, with text by the artist, was published by Watson-Guptill in 1978. Chronicle Books published a new monograph on his work, Underground Together: The Art and Life of Harvey Dinnerstein, with an introduction by Raman Frey and Wendi Norris, and essays by Pete Hamill and Gabriel P. Weisberg, in 2008.
In 1994, Mr. Dinnerstein was honored with a retrospective exhibition at the Butler Institute of American Art, Youngstown, Ohio. In 1998, he received an Honorary Doctorate from the Lyme Academy of Fine Arts in Old Lyme, Connecticut. Mr. Dinnerstein's numerous awards include Louis Comfort Tiffany Foundation Grants, 1948 and 1961; National Academy of Design, Ranger Purchase Award, 1976; Allied Artists Gold Medal, 1977; Audubon Artists President's Award, 1978; American Academy of Arts and Letters Purchase Award, 1974, 1978, 1987; and Classical America, Arthur Ross Award, 1983. In 1974, he was elected a member of the National Academy of Design.
His work is in many private, corporate, and museum collections, including the Lehman Collection of the Metropolitan Museum of Art; the New Britain Museum of American Art; the Martin Luther King Jr. Labor Center; the University of Texas; the Palm Springs Desert Museum; Chase Manhattan Bank; Keyspan Energy; and the Whitney Museum of American Art. He is represented by Gerald Peters Gallery, New York.
ABOUT THE ART STUDENTS LEAGUE OF NEW YORK:
The League was founded in 1875 by students breaking away from the National Academy of Design. That independent spirit remains at The League today, where students pursue their work unconstrained by dogma, politics, or burdensome tuition. We educate students in the language and process of making art in an environment where anyone who wishes to pursue arts education can realize his or her full potential. The League fulfills this mission by offering affordable, high-quality education and instruction in painting, drawing, printmaking, sculpture, and assemblage. Artists who have studied at the League include Georgia O'Keeffe, Norman Rockwell, Jackson Pollock, Robert Rauschenberg, Louise Bourgeois, Alexander Calder, James Rosenquist, and Ai-Weiwei, among others.
ABOUT LINEA:
LINEA is the online journal of the Art Students League of New York, an open community of art practitioners at all skill levels. LINEA offers a slice of the knowledge and esprit de corps of the League's legendary studios with artists interviews, posts on artists' tools, and inspirational advice.
THE ART STUDENTS LEAGUE ON THE WEB:
https://shorefire.com/roster/art-students-league-of-new-york
https://theartstudentsleague.org/
https://www.facebook.com/aslnyc/
https://www.instagram.com/aslnyc/
FOR MORE INFORMATION:
Mikaela Duhs
Rebecca Shapiro