The Art Students League Presents: The Grant Winners' Exhibition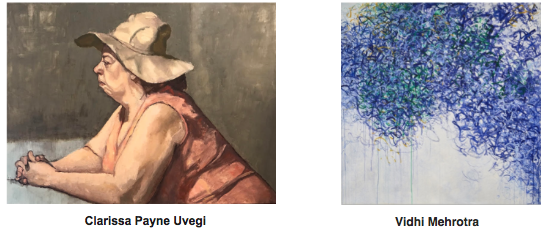 (New York, NY): The Art Students League is pleased to present the culmination of an annual competition which awards $200,000 in the form of grants and scholarships to students.
This exhibition showcases the recent work of twenty-three exceptional artists who earned these prestigious grants in 2017 and 2018 awarded by an invited jury of professional artists, critics and gallerists. Grants offer full-time study at the League, inspirational travel and expansion of artistic practice, made possible by generous donations.
Free and Open to the Public
Exhibition Dates: October 9–23, 2019
Opening Reception: October 10, 6–8 p.m
The Art Students League of New York
Phyllis Harriman Mason Gallery, 2nd Floor
New York, NY 10019
Gallery Hours
Mon-Fri, 9:00 am - 8:30 pm
Sat- Sun, 9:00 am - 4:30 pm
Grant Recipients:
Santiago Apolo (Nessa Cohen Grant, 2017)
Janet Bolton (Will Barnet Grant, 2017)
Ezra Bookstein (Ann & Bruno Lucchesi Grant (2017) and Nessa Cohen Grant (2018)
Nelsena Burt-Spano (Lloyd Sherwood Grant, 2018)
Sergio Cabrera (Nessa Cohen Grant, 2017)
Alecia Chenoa (Marianne Brody Gaston Grant, 2017)
Robert Esmay (Xavier Gonzalez and Ethel Edwards Travel Grant, 2018)
Chin Yin Katz (Edward G. McDowell Travel Grant, 2017)
Seonyoung Kim (Gregory Lysun Grant, 2018)
Mi Jung Kwon (Donn Russell Grant, 2018)
Elizabeth Latella (Fantasy Fountain Fund Travel Grant - Paris, 2017)
Michelle Lim (Roux Family Grant, 2018)
Christopher LoPresti (Fantasy Fountain Fund Travel Grant - Paris, 2017)
Vidhi Mehrotra (Xavier Gonzalez and Ethel Edwards Travel Grant, 2017)
Laura Monteiro (Fantasy Fountain Fund Travel Grant - Paris, 2017)
Joseph Mounaji (Roux Family Grant, 2017)
Yasuaki Okamoto (Kuniyoshi Award for Printmaking, 2018)
Satoko Takahashi (Phyllis H. Mason Grant, 2018)
Jessie Taylor (Kuniyoshi Award for Printmaking, 2017)
Hipolito Torres (Nessa Cohen Grant 2018)
Clarissa Payne Uvegi (Doreta Kesson Masterton Grant, 2017)
Gabriela Vargas (Marilyn Laurie Grant, 2017)
Preeti Varma (Kuniyoshi Award for Painting, 2018)
About The Art Students League of New York:
The League was founded in 1875 by students breaking away from the National Academy of Design. That independent spirit remains at The League today, where students pursue their work unconstrained by dogma, politics or burdensome tuition. We educate students in the language and process of making art in an environment where anyone who wishes to pursue arts education can realize his or her full potential. The League fulfills this mission by offering affordable, high-quality education and instruction in painting, drawing, printmaking, sculpture and assemblage. Artists who have studied at the League include Georgia O'Keeffe, Norman Rockwell, Jackson Pollock, Robert Rauschenberg, Louise Bourgeois, Alexander Calder, James Rosenquist and Ai-Weiwei, among others. www.theartstudentsleague.org