The Cinematic Orchestra Announce 1st US Tour In Over A Decade, Including Special Performances At LA's Walt Disney Concert Hall, NYC's Brooklyn Steel + More
Watch The Cinematic Orchestra's New Live Video For "Lessons," Directed By Brian B+ Cross In Joshua Tree
WATCH "LESSONS" HERE: https://tco.lnk.to/lessons
The Cinematic Orchestra have announced their first US tour in over a decade, an extensive nationwide run that includes - in addition to a very special, already announced show at LA's Walt Disney Concert Hall on November 23rd - stops at NYC's Brooklyn Steel, DC's 9:30 Club, and many more. Full tour routing below.
The Cinematic Orchestra - led by Jason Swinscoe and Dom Smith - will tour with a 7-piece band of virtuosic performers who are all long-standing members of the revered electronic group. The announcement follows a 3-night run of hometown shows at London's Roundhouse, which the Times of London called "atmospheric...transporting."
To celebrate the announcement, The Cinematic Orchestra have released a live video for "Lessons," a cut from their new album and first in 12 years 'To Believe,' out now on Domino/Ninja Tune. "Lessons" was shot in Joshua Tree, CA and directed by Brian B+ Cross, and provides a small taste of what fans can expect from the band's hypnotizing live show. CoolHunting praised the video's sweeping approach, and said that it "commands attention." Watch the video for "Lessons" here: https://tco.lnk.to/lessons
"The desert has been an important reference for Jason and Dominic during the creation of this project," says B+. "It was wonderful to go back out to Joshua Tree and hear the music performed live by the full band...to capture the energy in the room."
On the instrumental 'Lessons', a melodic, melancholy meditation is built around Luke Flowers' drums, driving the track's ebbs and flows of energy. The saxophonist is the ever-present band member Tom Chant, who in many ways embodies the evolving symbiosis of the band: a friend-of-a-friend turned studio partner turned bedrock of the band's live formation over two decades.
'To Believe' has earned praise from NPR Music, who dubbed the album "soaring, rich," saying, "there's an incredible range to this record," and The Guardian, who called it "heartbreakingly brilliant." Uncut said, "never more cinematic, nor more orchestral...no-one else combines dignified grandeur and soulful romance so effectively." See below for The Cinematic Orchestra's full international tour routing.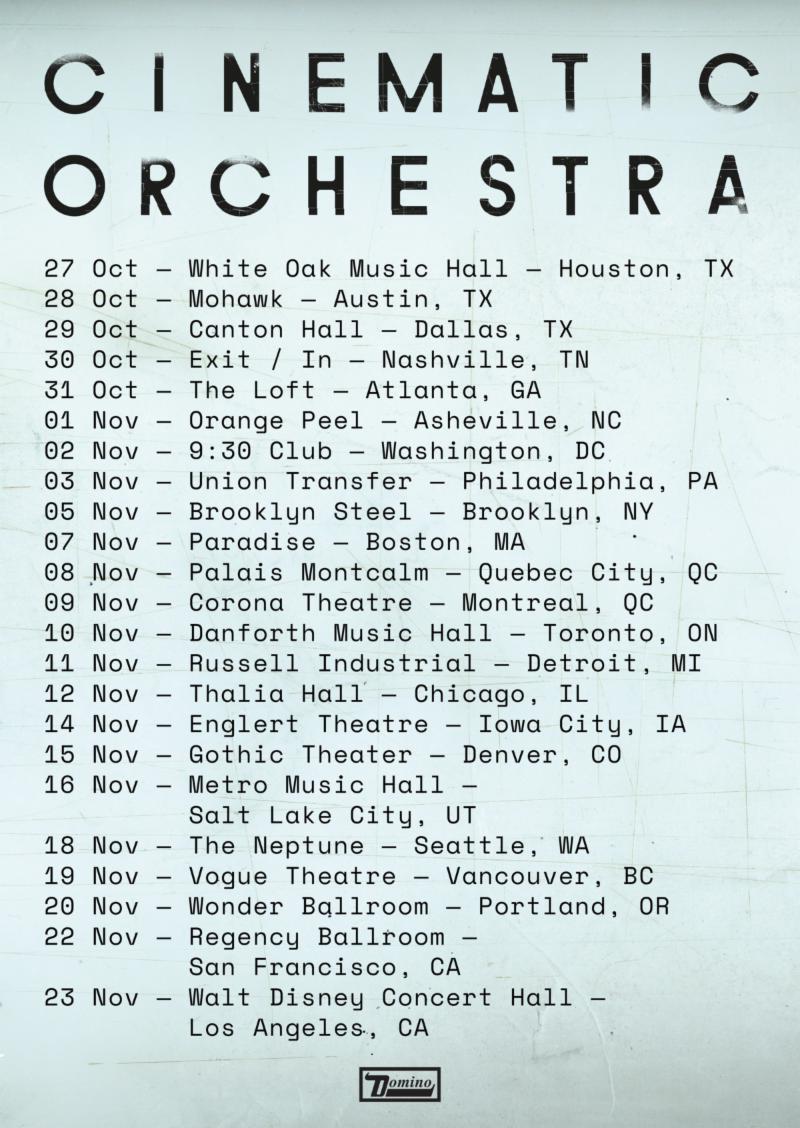 BUY/STREAM 'TO BELIEVE'
http://smarturl.it/TCOToBelieveMart
THE CINEMATIC ORCHESTRA 2019 TOUR DATES
March 15th - Philharmonie - Luxembourg City, Luxembourg
March 16th - Paradiso - Amsterdam, Netherlands
March 18th - Casino de Paris - Paris, France
March 20th - Roundhouse - London, UK
March 21st - Roundhouse - London, UK
March 22nd - Roundhouse - London, UK
March 25th - Vicar Street - Dublin, Ireland
March 26th - Royal Concert Hall - Glasgow, UK
March 27th - Sage Gateshead - Newcastle, UK
March 29th - O2 Institute - Birmingham, UK
March 30th - Manchester Academy, UK
April 18th - Sankei Hall Breeze - Osaka, Japan
April 19th - Hitomi Memorial Hall - Tokyo, Japan
May 17th - A2- Wroclaw, Poland
May 18th - Studio - Krakow, Poland
May 19th - Stary Manez - Gdansk, Poland
May 20th - Palladium - Warsaw, Poland
May 21st - Sala Ziemi - Poznan, Poland
May 23rd - Astra - Berlin, Germany
May 24th - Music Hall - Cologne, Germany
May 26th - Les Docks - Lausanne, Switzerland
Oct 27th - White Oak Music Hall - Houston, TX
Oct 28th - Mohawk - Austin, TX
Oct 29th - Canton Hall - Dallas, TX
Oct 30th - Exit / Inn - Nashville, TN
Oct 31st - The Loft - Atlanta, GA
Nov 1st - Orange Peel - Asheville, NC
Nov 2nd - 9:30 Club - Washington, DC
Nov 3rd - Union Transfer - Philadelphia, PA
Nov 5th - Brooklyn Steel - Brooklyn, NY
Nov 7th - Paradise - Boston, MA
Nov 8th - Palais Montcalm - Quebec City, QC
Nov 9th - Corona Theater - Montreal, QC
Nov 10th - Danforth Music Hall - Toronto, ON
Nov 11th - Russell Industrial - Detroit, MI
Nov 12th - Thalia Hall - Chicago, IL
Nov 14th - Englert Theatre - Iowa City, IA
Nov 15th - Gothic Theater - Denver, CO
Nov 16th - Metro Music Hall- Salt Lake City, UT
Nov 18th - The Neptune - Seattle, WA
Nov 19th - Vogue Theatre - Vancouver, BC
Nov 20th - Wonder Ballroom - Portland, OR
Nov 22nd - Regency Ballroom - San Francisco, CA
Nov 23rd - Walt Disney Concert Hall - Los Angeles, CA
MORE INFO ON THE CINEMATIC ORCHESTRA