The Goffin & King Foundation Announce Iso Booth: A Quarantine Cover Contest
Louise Goffin, Chuck D, John Paul White, Nicole Atkins, Jodi Marr, and Spike Edney to award 13 standout covers of Goffin & King
Contest announced on brand new Facebook community, The GKF Songwriters Lounge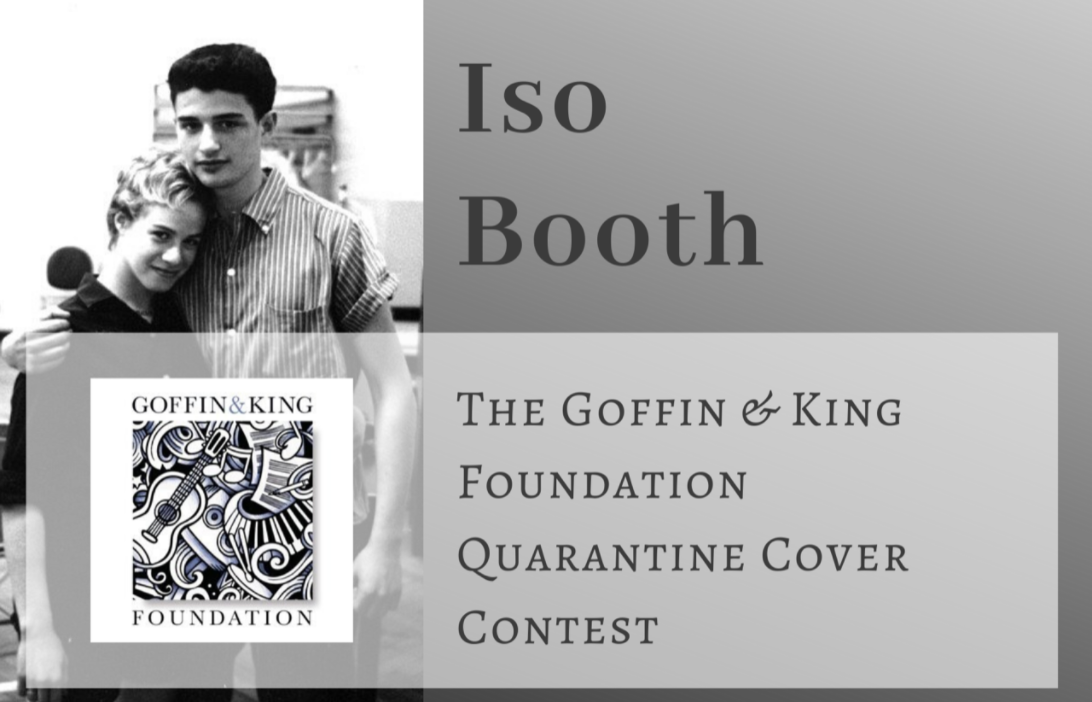 Additional contest info available, HERE
The Goffin & King Foundation has announced Iso Booth: The Goffin & King Foundation Quarantine Cover Contest, an online-only series for musicians to arrange, record and submit their own versions of songs from mind-boggling Goffin & King catalog. In partnership with the launch of the foundation's new virtual community -- The GKF Songwriter Lounge on Facebook -- the contest allows creatives to put their own spin on classics.
Gerry Goffin and Carole King wrote over 200 Billboard charting hits in the 1960s, a group of songs that range from their earliest hits such as "Will You Love Me Tomorrow", "Up on the Roof," "Some Kind of Wonderful" and "The Loco-Motion" to late 60s smashes like "Don't Forget About Me," "Porpoise Song" and "(You Make Me Feel Like a) Natural Woman."
In order to submit, interested participants must:
Contest submissions are open today (Wed., April 29th). Musicians can join The GKF Songwriters' Lounge and submit videos of their own renditions by Friday, May 15th.
Thirteen (13) contest winners will be announced on Friday, May 22nd at 3pm ET / 12pm PT via The GKF Songwriters Lounge Facebook Page.
Submissions will be judged by a panel that includes Goffin & King Foundation's creative director Louise Goffin, rapper/activist Chuck D, singer/songwriter John Paul White (of The Civil Wars), songwriter/producer Jodi Marr, singer/songwriter Nicole Atkins and musician Spike Edney (of Queen).
The thirteen standouts will each be awarded prizes donated by the Foundation's partners, including: ADAM Audio, Eventide, IK Multimedia, iZotope, Leapwing Audio, PreSonus, Sonarworks, Telefunken. All prize info can be found, HERE.
The GKF Songwriters Lounge and Quarantine Cover Contest is a continuation of the not-for-profit organization's mission to empower and enrich songwriters. As creative director of The Goffin & King Foundation, singer/songwriter, multi-instrumentalist and producer Louise Goffin is working to preserve the legacy of her parents, Carole King and Gerry Goffin, while paving the way for the next generation of musicians through educational workshops and artist retreats.
For more information on The Quarantine Cover Contest, or The Goffin & King Foundation, visit: thegoffinkingfoundation.org
ABOUT THE GOFFIN & KING FOUNDATION:
The Goffin & King Foundation is a not-for-profit 501(c)(3) entity dedicated to empowering songwriters. We foster collaborative creativity among exceptional artists from a wide variety of social backgrounds, experience levels, and financial means: our diverse community is united by the common thread of extraordinary musical narrative. With the help of our fundraising partners, we strive to build truly free creative exchanges, wherein each artist finds individual inspiration, and around which host communities are elevated.
Follow The Goffin & King Foundation here:
Website: thegoffinkingfoundation.org
Facebook: facebook.com/GoffinKingFoundation
Instagram: instagram.com/goffin_king_foundation
Follow Louise Goffin here:
Website: louisegoffin.com
Facebook: facebook.com/louisegoffinmusic
Twitter: twitter.com/LouiseGoffin
Instagram: instagram.com/louisegoffinmusic