The Messi Store Taps Mr. Flower Fantastic For Custom Football-Themed Planter
Launching Exclusively on NTWRK, North America's Premiere Livestream Shopping Platform on December 27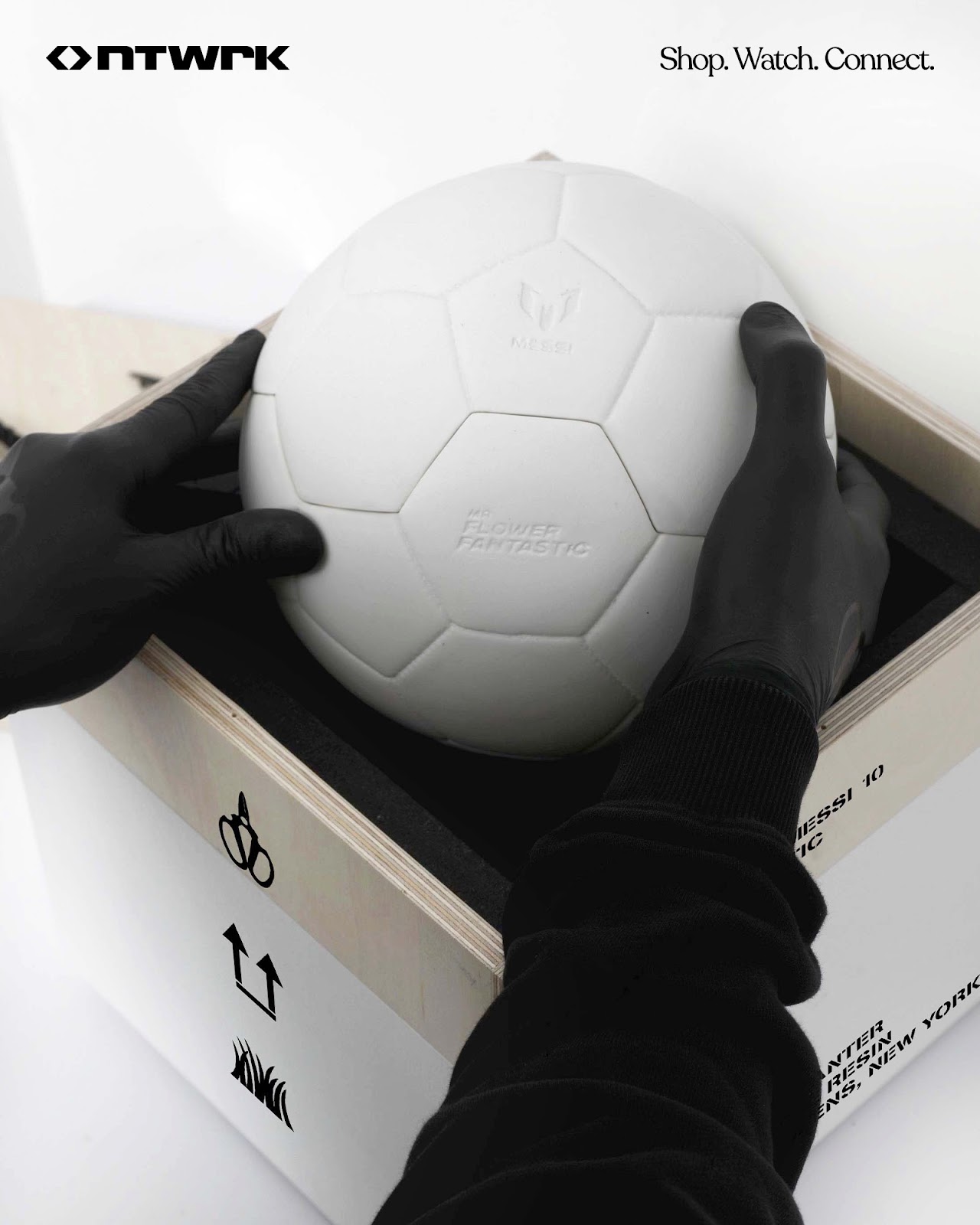 There are few sports figures who've made as colossal an impact as La Pulga himself, Lionel Messi. Arguably the best footballer of all time, Messi has been in the spotlight since he was just a child with a big dream, handling himself with grace and class both on and off the pitch. The Messi Store is the physical manifestation of that elegance, featuring a full range of performance apparel, accessories, and home goods for the next generation of dreamers.
In that spirit, The Messi Store has teamed up with world-renowned floral display artist Mr. Flower Fantastic to release the Handle With Care Messi 10, a football-shaped planter, dropping exclusively on Monday, December 27th via NTWRK. Designed to grow all things botanical, including succulents and flowering plants, each edition is hand crafted from cast marble. Contents of each planter include bilingual planting instructions in English and Spanish, signed certificate of authenticity, commemorative Messi Brand t-shirt , and custom wood crate housing.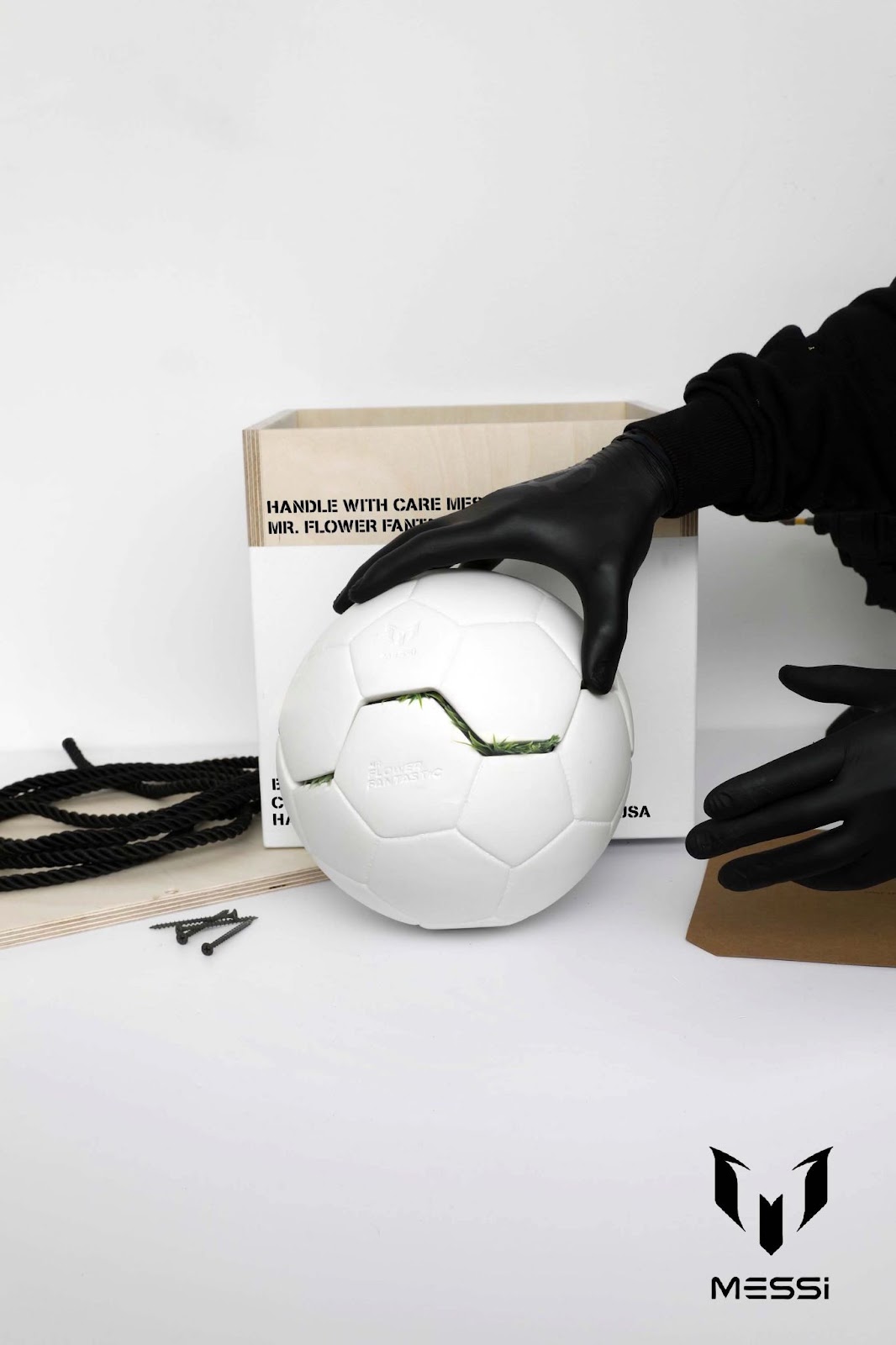 NTWRK, the culture-focused livestream shopping platform boasts a diverse, passionate audience, has attracted A-list investors, and spurred countless partnerships with iconic brands, making it the perfect place to host this unique planter.
About Lionel Messi & The Messi Brand
755 goals, 941 appearances, 38 titles, 49 hat tricks, 1 Olympic gold medal, 7-time Ballon d'Or winner, 6 Golden Boots. This is the story of a boy who wasn't supposed to grow much at all—but he grew bigger than anyone else in the world. A story that continues with each goal, each dribble, each statement and each kind gesture that he makes. But, above all, a story of a legacy that will continue forever through anyone who has been touched by his talent and his values, his humility and sportsmanship, his search for excellence and perfection without fanfare.
The Messi Brand is an homage to that legend—and more. It represents excellence. It is the reflection of Leo's vision and his sportsmanship, from the pitch to the apparel. A tribute to his elegance and greatness, on and off the pitch. We're here to inspire and dress the next generation of dreamers. We want to dress the masters of their craft, whatever that craft may be. Footballers, freestylers, musicians and artists. Inspired and inspiring. After all, there will always be a new Messi about to emerge, forging his dream in secret.
The term "humility" comes from the Latin word humilitas, meaning "grounded" or "from the earth". You can buy a jersey, a trophy, or a photo of the world's greatest soccer player. But in honor of Messi the man—Mr. Flower Fantastic has created a soccer ball planter called the Handle With Care Messi 10. It honors his love for the game, always rooted in humility. Inside each planter will be three packages of soil: one from Argentina, Barcelona, and France. Each represents a significant part of Messi's journey and his love for the land. For what he carries with him, wherever he plays, are the millions of lives touched, and his character.
About Mr. Flower Fantastic
Mr. Flower Fantastic was tapped as a visionary, tasked with creating a one-of-a-kind floral sculpture that attempts to capture a glimpse into what The Messi Brand has come to mean in culture.
Inspired by the brand and legacy, Mr. Flower Fantastic put his unique floral twist on a custom, handmade piece, which juxtapose florals opulence with a subtle grittiness, gesturing toward the often complicated but always beautiful experience of finding beauty through struggle.
ABOUT NTWRK:
Named one of Fast Company's "Brands That Matter" and "Most Innovative Companies" as well as Ad Age's "Hottest Brands," NTWRK is the premier North American livestream shopping platform where "entertainment meets e-commerce" (Forbes). Built on a digitally-innovative model of daily product drops, livestream shopping festivals, and exclusive partnerships with world-renowned brands and creators, NTWRK has fostered an organic global community of artists and fans since its launch in 2018. Under the motto "Shop, Watch, Connect" NTWRK provides a curated digital shopping experience that resonates with Gen-Z and millennial consumers.