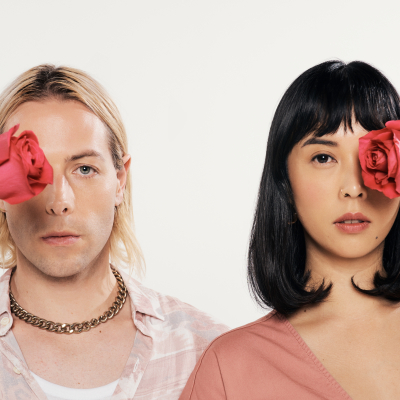 The Naked and Famous Bloom Proudly In New Modern Art Masterpiece 
Frank Nitty-Directed "Come As You Are" Video OUT TODAY - WATCH HERE
The Naked and Famous have created some of the past decade's most memorable synth-pop, be it their breakout smash "Young Blood" or their recent "Bury Us" which NYLON said will "instantly transport you to pop bliss". Their latest release "Come As You Are" (a cut off their forthcoming album 'Recover', out July 24) serves as a rallying anthem for individuality and self-pride in all the ways we are uniquely one-of-a-kind, and today they have released the ground-breaking music video for the song.
Directed by surrealist visual and video artist Frank Nitty, the video for "Come As You Are" is a fitting metaphor for the track's message, an expertly crafted piece of moving art that includes images of band members Alisa Xayalith and Thom Powers being morphed, geometrically manipulated and fused with beautiful blooming roses.
"What began as a personal love song turned into a mission statement. Come as you are, with all your layers and complexities. This song is about the importance of welcoming and accepting people from all walks of life—an anthem of inclusivity," said Alisa and Thom. "The music video is a playful visual metaphor for how we are, as humans. Working with Frank Nitty allowed us to explore this idea through his lens."
The Naked and Famous' forthcoming album is an autobiographical record rooted in the human spirit. Each song is carefully crafted with important messages ranging from the sentiment of survival ("Death"), touching on topics of self-identity ("Well-Rehearsed"), resilience ("Recover"), mortality ("(An)Aesthetic" written by Thom about his near death experience with blood poisoning) and the things that affect our lives in ways we never anticipated ("Sunseeker").
THE NAKED AND FAMOUS ONLINE
WEBSITE | FACEBOOK | TWITTER | INSTAGRAM | YOUTUBE