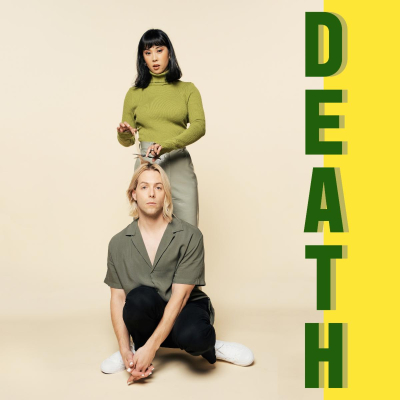 The Naked And Famous Ponder Life's Fragility With New Single "Death" Out Now
New Album RECOVER out July 24th
Today (May 22), The Naked And Famous (Alisa Xayalith and Thom Powers) release "Death," the somber yet touching latest single from the duo's forthcoming album, Recover out July 24 via Somewhat Damaged/AWAL. "Death" is a minimal, ocean-green synth-pop track that's perfect for slow dancing, even as it wrestles with the sentiment of survival and mortality - and more specifically, how finite our time really is with one another.
"There will be a last time / that we see each other"
"There will be a last time / you slow dance with me / to every heartbeat"
"And I just can't decide which is worse / the thought that you or I might go first"
The sentiment of the song feels even more poignant with the current state of the world, but has an air of hope surrounding it to live fully and be grateful for the moment. "Mortality has always fascinated me," says Powers of the new song, "but it's becoming more of a tangible concept as my family gets older. Age and experience have brought me some perspective on just how fragile life is. Nothing is permanent, and we take a lot for granted. Nowhere is this more salient than in the haunting awareness that our loved ones will one day be gone. More and more, I think about the limited time I have to share with the precious people that luck has introduced me to. 'Death' is a sober and loving reminder to value the life around us and stay appreciative and connected to those we cherish ... this mentality feels especially important during the times we're currently in."
Watch the "Death" lyric video here, which juxtaposes the song's words with colorful animations and shots of Xayalith and Powers singing along.
The forthcoming Recover is an autobiographical record rooted in the many and complex sides of the human spirit. The album's other singles also explore self-pride ("Come As You Are"), Embracing unexpected love ("Bury Us"), and the things that affect our lives in ways we never anticipated ("Sunseeker").
The Naked and Famous
The Naked and Famous are an L.A.- based indie duo by way of Auckland, New Zealand. First making a mark with platinum-selling breakthrough hit "Young Blood" from full-length debut Passive Me • Aggressive You, the group's founding members Xayalith and Powers are gearing up to release Recover. The duo's most sonically-diverse record yet sees the group stretching their musical boundaries from the synth pop that put them on the map, evident in effervescent guitar-driven lead single "Sunseeker." The Laurel Canyon transplants have racked up several accolades, including seven prizes at the New Zealand Music Awards, toured internationally, and their music has climbed the Billboard 200. Past work includes Billboard Top 50-charting album In Rolling Waves, which features hit single "Hearts Like Ours," and 2016's well-received Simple Forms.
THE NAKED AND FAMOUS ONLINE
WEBSITE | FACEBOOK | TWITTER | INSTAGRAM | YOUTUBE