The Naked And Famous Return To Road After 3 Years With The Recover Tour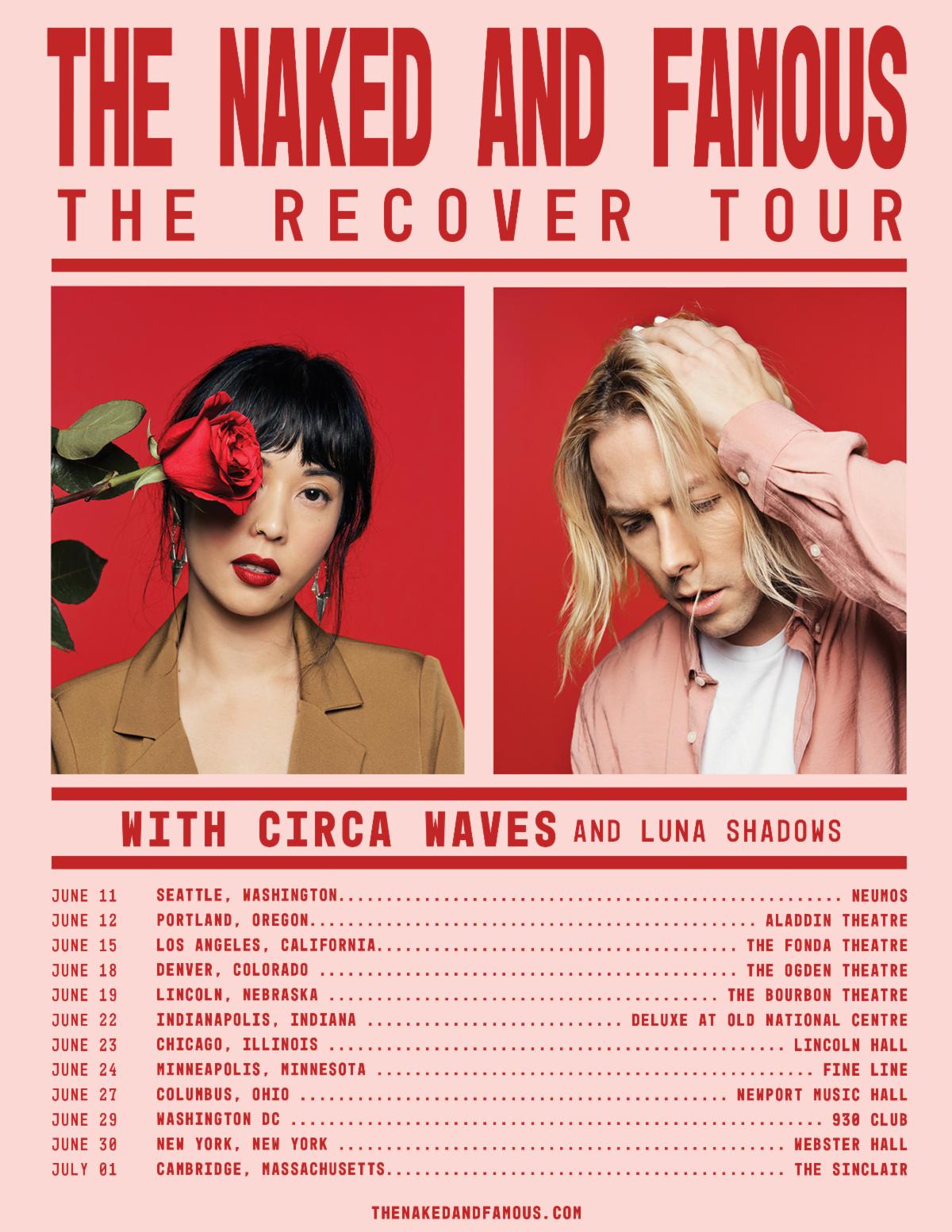 Indie-pop trailblazers The Naked and Famous helped pave the indie synth pop road of the 2010s with monster hits like "Young Blood" and "Punching In a Dream", and on June 11th they will bring these bops on the road alongside cuts from their already buzzing forthcoming album as part of The Recover Tour. The 14-date US tour, their first run of shows in over three years, will follow the July 24th release of their new album 'Recover', and will include stops in NYC, LA, Chicago, and Seattle. The Naked and Famous were also just added to the Sonoma Harvest Music Festival lineup on September 13th.
Remerging as a duo on the new album, founding members Alisa Xayalith and Thom Powers said that "our new album 'Recover' has lead us to many changes in our personal and professional lives over the last few years, but here we are, 12 years a band, and deeply grateful to still be. We're eager to share this new album with fans. 'Recover' is a fresh sound for TNAF, but this hasn't changed our DNA: all of our songs are alive and kicking... patiently waiting to be performed. Loudly."
The Naked and Famous have currently released three tracks off their highly anticipated album 'Recover,' combining their thoughtful and personal songwriting with fizzy pop effervescence. Most recent release "Come As You Are" is a call for equality and acceptance of people from all walks of life, lead single "Sunseeker" was inspired by a life-changing bond that came into her life when she least expected it (Xayalith's dog), and "Bury Us" was described by NYLON as a "perfect dancefloor track that'll instantly transport you to infectious pop bliss, all the while telling the story of embracing unexpected love." Each song off 'Recover' is carefully crafted with important messages ranging from the sentiment of survival ("Death"), touching on topics of self-identity ("Well-Rehearsed"), resilience ("Recover"), and mortality ("(An)Aesthetic", written by Thom about his near death experience with blood poisoning).
The Recover Tour
6/11 Seattle, WA Neumos
6/12 Portland, OR Aladdin Theater
6/15 Los Angeles, CA Fonda Theatre
6/18 Denver, CO Ogden Theatre
6/19 Lincoln, NE The Bourbon Theatre
6/22 Indianapolis, IN Deluxe at Old National Centre
6/23 Chicago, IL Lincoln Hall
6/24 Minneapolis, MN Fine Line Music Cafe
6/27 Columbus, OH Newport Music Hall
6/29 Washington DC The 930 Club
6/30 New York, NY Webster Hall
7/1 Cambridge, MA The Sinclair
*more dates to be announced
**Fans can gain early access to tickets beginning on Tuesday March 10 at 10am PT by pre-ordering the album "Recover" at the link above. They will be emailed a code to access the tour pre-sale that begins Wednesday March 11 at 10am Local time through Thursday March 12 11:59pm Local time. General On-sale is Friday March 13.
All dates/ticket links can be found at: www.thenakedandfamous.com/tour
ABOUT THE NAKED AND FAMOUS
Originally from New Zealand, The Naked and Famous made their full-length debut with Passive Me, Aggressive You, which featured their breakthrough hits "Young Blood" and "Punching In A Dream." The album climbed the Billboard 200 chart and earned countless accolades and Platinum-certifications around the world. As a five-piece band, The Naked and Famous toured across the globe playing sold out headline shows and the biggest festival stages. They finally landed in LA, living together in Laurel Canyon and releasing their sophomore album In Rolling Waves which was boosted by the hit single "Hearts Like Ours." Their third LP, Simple Forms, released in 2016, is often recognized as their most complex and compelling work to date.
THE NAKED AND FAMOUS ONLINE
WEBSITE | FACEBOOK | TWITTER | INSTAGRAM | YOUTUBE