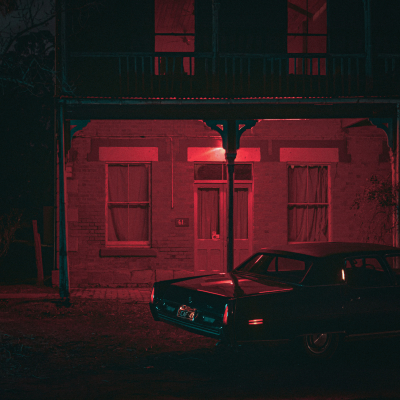 The Paper Kites Defy The Odds From The Australian Wilderness On New Album 'At The Roadhouse' (September 1 / Nettwerk Music Group)
Indie-Folk Groundbreakers Announce 2023 North American Tour Including 1,000-Capacity Rooms In Nashville, Boston, Toronto & More
Australian indie gems The Paper Kites deliver a commitment to vulnerability and craftsmanship that allows them to continuously win over new fans one at a time with remarkable results: a certified Platinum record in the US, over a billion streams on Spotify, and live audiences that regularly top 1,000 on three continents. While removed from the typical pageantry that accompanies those types of accolades, the five-piece's upcoming album 'At The Roadhouse' (out September 1 via Nettwerk Music Group) is the living embodiment of their DIY ethos - leaning into the deep fan connections that have established them as one of indie music's great underdog stories.
Long before the release of 'At The Roadhouse,' The Paper Kites brought this new music to diehard fans in a uniquely unannounced and unadvertised residency. Taking place in the remote Australian village of Campbells Creek (pop. 2,071), they worked together to hand-convert an old gold-mining supply shop into the music venue of their dreams - affectionately dubbed "The Roadhouse." Away from the pressures of daily life, the group joyfully filled The Roadhouse with music around the clock for weeks on end: creating new songs by day, performing them to a growing fan community at night, and recording right there the next morning. "The Roadhouse was really something from a collective dream that we had to try and manifest into a real place," explains The Paper Kites' Sam Bentley. "It was a venue that we'd talked about over the years, a place for people to come and hear music. We wanted it to be a combination of all the greatest dive bars you'd ever been to, late-night watering holes, smoky taverns, biker bars - but it didn't exist, so we had to build it, and then we had to try and fill it."
Pre-order 'At The Roadhouse' here: https://thepaperkites.lnk.to/AtTheRoadhouse
Download images here: https://drive.google.com/drive/folders/121aA-FF5tDtBIzwV6z7Z509vDYloqkee
With the release of 'At The Roadhouse,' the group have also shared the enthralling ballad "Hurts So Good," and an accompanying performance video captured at the venue - shot by 2023 Sundance Film Festival award-winner Keiren Watson-Bonnice. The group have previously unveiled similar looks at album standouts "The Sweet Sound Of You" and "'Till The Flame Burns Blue." Taking their inspiration from Campbells Creek's red earth and bushfire moons, the sixteen songs of 'At The Roadhouse' ultimately form a touching ode to what waits for us on the winding roads of love, loss, acceptance and wanderlust.
Listen to "Hurts So Good" here: https://youtu.be/LIirfCBfHxE
The Paper Kites have also announced new 2023 North American tour dates which will see them play to some of their largest audiences ever in the US and Canada. A full list of dates is below.
THE PAPER KITES - AT THE ROADHOUSE TRACKLIST:
Midnight Moon
Till The Flame Turns Blue
Black & Thunder
Marietta
Rolling On Easy
Hurts So Good
Burn The Night Away
Good Nights Gone
June's Stolen Car
Maria, It's Time
Green Valleys
The Sweet Sound Of You
I Don't Want To Go That Way
Pocket Full Of Rain
Mercy
Darkness At My Door
THE PAPER KITES NORTH AMERICAN TOUR DATES:
July 29 - Prince's Island Park - Calgary, AB
August 1 - Bo's Bar & Grill - Red Deer, AB
August 4 - Kaslo Jazz Festival - Kaslo, BC
August 5 - Kaslo Jazz Festival - Kaslo, BC
August 7 - Fawcett Hall - Tacoma, WA
August 8 - Wild Buffalo House of Music - Bellingham, WA
August 9 - Capital Ballroom - Victoria, BC
October 25 - Danforth Music Hall - Toronto, ON
October 26 - Grand Theatre - Kingston, ON
October 27 - Corona Theatre - Montreal, QC
October 28 - Levon Helm Studios - Woodstock, NY
October 30 - The Wilbur Theatre - Boston, MA
October 31 - Racket - New York, NY
November 2 - Howard Theatre - Washington, D.C.
November 3 - World Cafe Live - Philadelphia, PA
November 4 - Motorco Music Hall - Durham, NC
November 6 - Brooklyn Bowl - Nashville, TN
November 7 - Terminal West - Atlanta, GA
November 8 - House of Blues - New Orleans, LA
November 10 - Granada Theatre - Dallas, TX
November 11 - 3TEN Austin City Limits - Austin, TX
November 12 - Heights Theatre - Houston, TX
THE PAPER KITES
Sam Bentley (Lead Vocals, Guitars, Harmonica & Mandolin)
Christina Lacy (Backing Vocals, Pianos, Wurlitzer, Rhodes, Guitars)
David Powys (Backing Vocals, Guitars, Banjo)
Samuel Rasmussen (Bass)
Josh Bentley (Drums)
WITH THE ROADHOUSE BAND:
Hannah Cameron (Backing Vocals, Organs, Piano & Percussion)
Chris Panousakis (Backing Vocals, Guitars, Percussion)
Matt Dixon (Pedal Steel, Guitars)