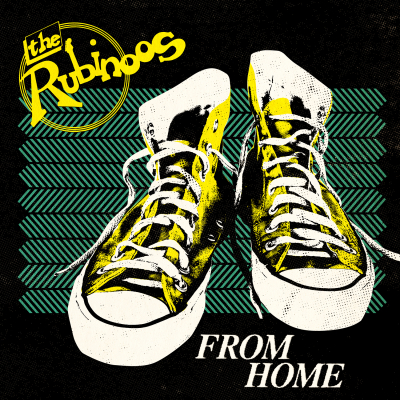 The Rubinoos' Classic Line-Up Joins Forces With Bay Area Producer Chuck Prophet To Record New Album From Home (Yep Roc Records / August 23)
Power Pop Icons Ask "Do You Remember" On First New Song
Exactly forty years after The Rubinoos capped their original and unlikely rise to fame with the Beserkley Records classic Back To The Drawing Board!, the definitive line-up featuring Jon Rubin, Tommy Dunbar, Donn Spindt and Al Chan are back in action on new album From Home, out August 23 on Yep Roc Records. After forming in 1970 when no one in the band was old enough to drive a car, the Bay Area rockers earned hero status in the late 1970s over an incredible three-year stretch (1977-1980) which saw them release two albums, chart on the Billboard Hot 100, perform on American Bandstand and Old Grey Whistle Test, back Jonathan Richman, grace the pages of Tiger Beat, and tour with Elvis Costello. The Rubinoos have toured and recorded in different incarnations in the intervening decades, but From Home represents a true return to the original spirit of the group.
This new album is thanks in part to fellow SF artist Chuck Prophet, a self-avowed superfan who saw the Rubinoos dozens of times as a teenager. From Home sees this magnificently unconventional four-piece return with all of the "Beach Boys backed by a garage band" intensity and impeccability of their 70s breakout. Listen to quick-witted standout "Do You Remember" via Billboard: https://www.billboard.com/articles/columns/rock/8511493/the-rubinoos-do-you-remember
From Home was recorded with Chuck Prophet and engineer Paul Q Kolderie (The Pixies' Surfer Rosa, Radiohead's Pablo Honey) at San Francisco's Hyde Street Studios, the same legendary room where The Rubinoos cut their first single for Beserkley in the mid-70s. During those early years, the group's embrace of Top 40 and doo-wop sounds largely left them as outsiders in hippie-hangover San Francisco, but their devoted hometown following - including Prophet and Jonathan Richman - helped them break out on a national stage. The band's thrashy, quirky take on Tommy James and the Shondells' "I Think We're Alone Now" scaled the Billboard Hot 100 in 1977, and their 1979 hit "I Wanna Be Your Boyfriend" remains a radio staple to this day.
This early magic was rekindled by the group's newly-formed songwriting team of Prophet and Tommy Dunbar during the earliest From Home sessions, as the two bonded over shared touring experiences ("Rocking In Spain") and undersung musical heroes ("Honey From The Honeycombs"), all while creating a universe of oddballs ("Masochist Davey," "Miss Alternate Universe") only fitting of a new Rubinoos record. In addition to the new album, the group will bring From Home on the road later this year, with a full list of dates to come.
FROM HOME TRACKLIST
Do You Remember
January
Do I Love You
Phaedra
How Fast
Heart For Sale
Honey From The Honeycombs
Rocking In Spain
Masochist Davey
Miss Alternate Universe
Pretty Close
Watching The Sun Go Down