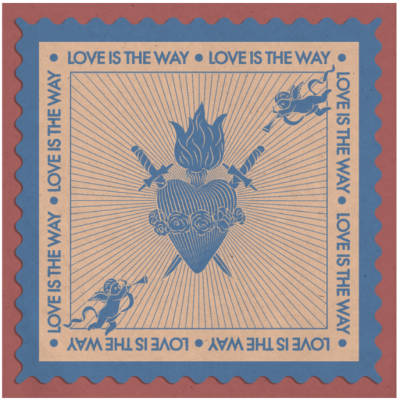 Thee Sacred Souls Release New Single "Love Is The Way"
Watch Concert Performance on Bandcamp October 27 at 7pm PT / 10pm ET
October 20, 2022 - Thee Sacred Souls - the young soul band born out of the San Diego retro soul scene and catching fire this year - have released a new single today. "Love Is The Way" is available now digitally, and is the b-side to a 45 b/w "Easier Said Than Done" to be released later this fall on Daptone Records.
"Love is the Way" finds lead singer Josh Lane exploring love's many stages with a sweet, soaring falsetto that has audiences swooning. "Love has no limits and it has no name, it has no gender and it has no creed," Lane sings, with a Mayfield-esque warmth. Listen to "Love is the Way" HERE.
"Love is the way. Whether it's romantic love or love for your neighbor it's all love," says lead singer Josh Lane. "Inspired by Toni and the hearts and the Stax sound, this uptempo A side will be sure to inspire a two step out of even the coldest of hearts."
Thee Sacred Souls released their self-titled debut album in August to raves ("music of terrifyingly high quality," says UNCUT). They are a must-see band this fall on tour, with sell-out shows in NYC, LA, the UK and Europe. Second shows were added in some cities due to demand. They also just headlined two sold-out nights (1800 capacity) for the Penrose Records showcase in Riverside, CA this past weekend. They've hit 50+ million streams globally so far and their official videos now have over 11 million views and counting. See below for the full itinerary, with highlights including The Bowery Ballroom in NYC on November 14 and multiple shows in the Los Angeles area including Hollywood Forever Cemetery on October 29.
Thee Sacred Souls will also host a full concert performance on Bandcamp next Thursday, October 27th, at 10pm ET / 7pm PT. Tune in at https://theesacredsouls.bandcamp.com.
Thee Sacred Souls were formed by Sal Samano and Alex Garcia when they were just 23 years old in Chula Vista, CA, and inspired by everything from trailblazing East LA band Thee Midniters to Italian library music. They met Lane on Instagram, who was studying classical voice at the time. The band was rolling tape with Daptone's Gabe Roth just three days after Roth saw one of their first gigs, in 2019. Their all-analog yet distinctly modern debut weaves together hints of Chicano, Philly, Chicago, Detroit and even Panama soul. The album has been celebrated and spotlighted by NPR Music, a WFUV live performance session, KCRW, No Depression, Grammy.com, MOJO and the list of co-signs from top artists includes Leon Bridges, Alicia Keys, Princess Nokia, Black Pumas, Timbaland and Gary Clark, Jr. continues to grow. While on tour with St. Paul and the Broken Bones and Belle and Sebastian earlier this year, they received standing ovations and encore demands from The Beacon Theater to The Greek.
Praise for Thee Sacred Souls
"Thee Sacred Souls transports us to a timeless scene of amorous yearning" - NPR
"Daptone's New Hope: incontestable evidence of an important new act...music of terrifyingly high quality...you'll hear heart-grabbing brilliance" - Uncut, 8 out of 10 stars
"Devastatingly beautiful…Thee Sacred Souls culls universal stories for a beautiful, accessible introduction to sweet soul revival" - Grammy.com
"Jumpstart The Lowrider! Thee Sacred Souls Hotwire Chicano Soul for the 2020's" - MOJO
"One of the most pleasing debut albums to come out in quite some time" - No Depression
"Fans of retro soul need to get onboard Thee Sacred Souls train immediately as the group has tapped directly into that classic sound with precision and grace on their debut self-titled offering" - Glide
"A Sultry slow jam with gorgeous horn stabs and a spoken passage that is so perfect it's almost daft" - Narc Magazine
More information here: https://shorefire.com/roster/thee-sacred-souls
Tour Dates:
Oct-27 - Austin, TX - Mohawk
Oct-29 - Los Angeles, CA - Hollywood Forever Cemetery
Nov-1 - Brussels, BE - AB Club
Nov-2 - Massy, FR - Les Primeurs
Nov-3 - Paris, FR - New Morning
Nov-5 - Amsterdam, NL - Tolhuistuin
Nov-6 - Hamburg, DE - Knust
Nov-7 - Berlin, DE - Frannz
Nov-9 - London, UK - Islington Assembly Hall
Nov-14 - New York, NY - The Bowery Ballroom
Nov-16 - Philadelphia, PA - Underground Arts
Nov-17 - Washington, DC - Black Cat
Dec-8 - Santa Ana, CA - The Observatory
Dec-9 - Los Angeles, CA - Garibaldina Hall
Dec-10 - Los Angeles, CA - Garibaldina Hall
Dec-15 - San Diego, CA - The Observatory North Park
Dec-17 - San Diego, CA - The Observatory North Park