The Future Is Now…Seeker Music Acquires Future Cut's Full Catalog
UK Production Duo that Helped Launch Lily Allen to Stardom Partners with Songwriter-Led Music Company
Read more at Music Business Worldwide HERE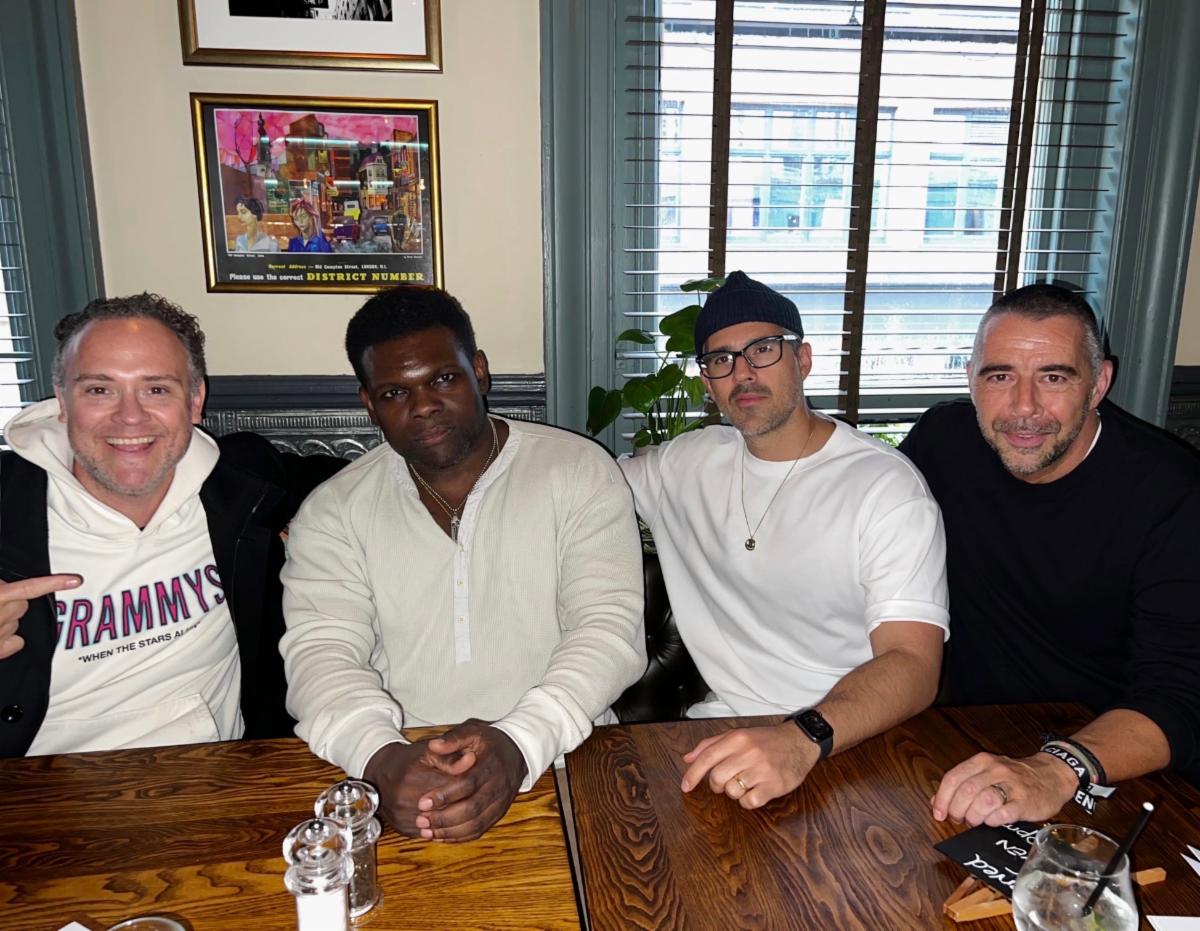 Left to right: Seeker Music CEO Evan Bogart, Future Cut, and Seeker Music Head of Creative Steven Melrose / Photo Credit: Dennis White
Seeker Music, the new music rights, publishing and record company, has acquired chart-topping UK production duo Future Cut's publishing catalog. The moniker for producers Tunde Babalola and Darren Lewis, Future Cut rose to global prominence in 2006, when they produced and penned much of Lily Allen's 3x platinum debut album, Alright, Still, which launched her to stardom. Their songwriting and production has resulted in over 35-million in album sales, three #1 hits, and countless international chart-toppers.
Future Cut began their music careers as promoters within the Manchester dance and rave scene in the mid-nineties before putting out their first releases on the legendary UK dance label Metalheadz. They signed to Warner Bros. Records in 2002, not knowing that they'd soon meet a then-unknown singer-songwriter named Lily Allen, and transform from kings of the underground drum 'n' bass scene to curators of some of the pop world's biggest hits. The writing and production sessions that began with Allen in a Manchester basement studio in 2004 eventually turned into the mega-hits "Smile" and "LDN" (and several other tracks) on Alright, Still.
Since establishing themselves as the force behind Allen's signature sound, Future Cut has accomplished a rare feat in the industry: scoring major hits with some of the world's biggest mainstream pop acts (Rihanna, Shakira, MIA, Little Mix, Tom Jones' "Give A Little Love") while remaining well-respected, active figures in the underground drum 'n' bass scene where they started out, collaborating with acts like Ulterior Motive and René LaVice in 2022. Lewis has said, "The general public don't know who we are … But they've definitely heard us."
That sense of unbridled creative integrity is part of what drew Seeker Music's creator-led executive team to Future Cut's catalog.
Seeker CEO Evan Bogart - a chart-topping songwriter in his own right (Beyonce's "Halo," "Rihanna's" SOS, etc) - said of the acquisition: "At Seeker, we exclusively align ourselves with music that we are passionate about and actively 'seek' out groundbreaking, cutting-edge and inspirational songwriting - and With Future Cut, what I love is that you get the music industry's 'best of both worlds'. Darren and Tunde have made some of the most recognizable songs of the last two decades. These guys are always killing it, while still innovating, constantly changing the game and breaking new artists, a balance and achievement that I personally connect with and admire. It's a true honor for Seeker to have the opportunity to be working with them."
And Future Cut added of the deal: "As a songwriter himself, Evan understands what it means to be constantly evolving, musically and creatively. We don't want our songs sitting on a shelf - we want them to be worked in fresh, creative ways that are still in line with our artist-driven focus and 'brand.' Not a lot of publishers get that, but Evan, and Seeker, do. We also want to thank the Seeker team for making this deal happen and our attorney Marvin Katz for introducing us to Seeker and representing us in the transaction as well as Korda Marshall."
Future Cut's catalog joins other Seeker acquisitions including: the full works of Charlotte Caffey (The Go-Gos, "We Got the Beat") and Christopher Cross, Run the Jewels' first three albums, the catalogs of top modern songwriters Jon Belllion, John Ryan, Mozella, RuthAnne, Sam Watters and Teddy Geiger (via the Bunettas' Family Affair), and classic copyrights performed by the likes of Miley Cyrus, Beyoncé, Rihanna, Drake, Eminem, SWV, One Direction, DMX, Nelly, 2Pac and many more.
Watch this space for more news to come from Seeker Music, and contact Hannah Schwartz for more information: hschwartz@shorefire.com
About Seeker
Seeker Music is a modern day music company bringing a creator-led business model and perspective to the worlds of publishing, records and management. Founded in 2020 in Los Angeles by chart-topping songwriter Evan "Kidd" Bogart ("Halo"), Seeker follows a creative-first focus in everything it does, focusing on catalogs and music creators that most inspire Bogart and his creative team.
After nearly three years in business, Seeker has already amassed a catalog of over 13,000 highly curated copyrights and master recordings, including Christopher Cross' full catalog, Run the Jewels' first three albums, and classic copyrights performed by the likes of Miley Cyrus, Beyoncé, Rihanna, Drake, Eminem, SWV, One Direction and many more.
Alongside Bogart, the company is led by an executive team consisting of CFO Jennifer Scher, COO Rob Guthrie, CRO Jennifer Blakeman, and Head of Creative Steven Melrose, and works with a Board chaired by John Smith and representing key investors M&G.