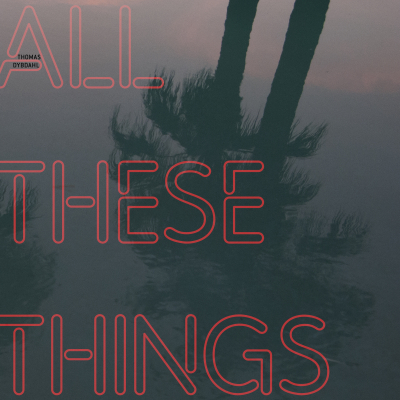 Thomas Dybdahl's 'All These Things' Out October 12 On V2
Reunites With Grammy-Winning Producer Larry Klein
WATCH THE VIDEO FOR "LOOK AT WHAT WE'VE DONE": https://tdybdahl.lnk.to/LAWWD/youtube
To record his new album, Thomas Dybdahl traveled from his homeland of Norway to balmy Los Angeles, and over just three days cut a freshly written collection of nine original songs live at Sunset Sound with producer Larry Klein and a jaw-dropping cast of musicians. The result is 'All These Things,' a mysterious and sensual swirl of gorgeously crafted songs that linger like smoldering embers. This is Thomas' second U.S. release of new, original songs, and a continuing partnership with GRAMMY-winning producer and legendary bassist Larry Klein (Herbie Hancock, Joni Mitchell). The album also features a duet appearance (and backing vocals) by musician/songwriter Lera Lynn (HBO's True Detective), and was mixed by Tchad Blake. 'All These Things' will be released October 12 on V2.
Today Thomas released the music video for "Look At What We've Done," featuring Thomas with his studio band and Lera Lynn performing the album stand-out live at the famous Village Studio in LA: https://tdybdahl.lnk.to/LAWWD/youtube
Thomas and Larry Klein quickly realized their kindred spirit relationship while assembling 2011's 'Songs' (Decca), which received glowing reviews from the NY Times, NPR and beyond. They joined forces again for 2013's 'What's Left Is Forever,' which nabbed Thomas his first GRAMMY nomination. James Gadson (drums – The Temptations, Bill Withers), Dean Parks (guitars – Steely Dan, Michael Jackson), Patrick Warren (keys – Bob Dylan, Bruce Springsteen), Dan Lutz (bass), Brian MacLeod (drums – Madonna, Sheryl Crow) and David Baerwald (guitar – Sheryl Crow, Joni Mitchell) comprise the main band on 'All These Things.'
'All These Things' clicks into high gear from the downbeat of the title track. A tight drum and bass groove and Thomas' bedroom whisper, colored with pops of grimacing blues guitar and Hammond B3 squelches. The album ranges from the tear-jerking twang of "When I Go" to the delicately wistful rock n' roll of "Lifeline" and "Can I Have It All," always intimate and airy. Atmosphere is central to the experience – "The Longest Night" even starts with the chirp of crickets and a match being lit.
Dybdahl is a pop star in his home country and has released a string of radio hits and #1 albums there. He's been referred to as "Norway's answer to Nick Drake" (NME), praised by Elvis Costello, compared to Bon Iver by the NY Times and profiled by the LA Times. The NY Times has said that "each song has the delicate suspense of a drawn breath," and the Washington Post deemed him "one of the best singers of the last 10 years." He's received years of support from KCRW and his music was included in the 'House of Lies' television series soundtrack.
Thomas will appear at Joe's Pub in New York on Feb 7, with many more 2019 U.S. dates to be announced shortly.
The previously released single "Can I Have It All" is streaming on YouTube and all DSPs: https://www.youtube.com/watch?v=PqIo0fss1u8
TRACKLIST FOR 'ALL THESE THINGS':
All These Things
Can I Have It All
Look At What We've Done
The Longest Night
What You Came For
When I Go – feat. Lera Lynn
Lifeline
Rescue Me
Stupid Heart
PRE-ORDER INFO HERE:
THOMAS DYBDAHL ON THE WEB: