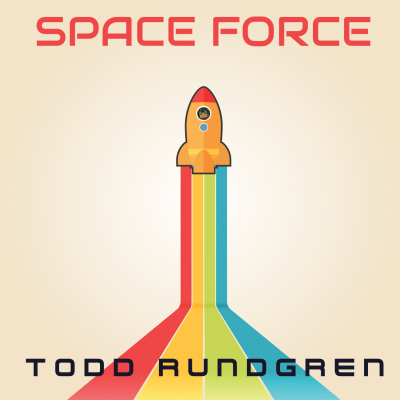 Todd Rundgren Assembles Musicians From Across Genres And Generations For 'Space Force'
New Collaborative Album Coming October 14 Via Cleopatra Records
Twelve-Song Collection Features Originals With The Roots, Rivers Cuomo, Sparks, The Lemon Twigs, Rick Nielsen, Neil Finn, Steve Vai, Thomas Dolby And More
Listen To "Puzzle" From 'Space Force' Featuring Adrian Belew Here: https://orcd.co/todd_rundgren_puzzle
More Dates Added To The Upcoming "Celebrating David Bowie" Fall Tour With Special Guests
Todd Rundgren has announced 'Space Force,' a new album of original collaborations with artists whose work spans wide-ranging corners of the musical universe. Expanding on the duets concept from his most recent studio album (2017's 'White Knight'), this time around the musical ideas derive primarily from Rundgren's collaborators, putting him back in the lauded producer's chair to help bring rarities and never-released material to life. This 'Space Force' of collaborators includes The Roots, Weezer's Rivers Cuomo, Cheap Trick's Rick Nielsen, The Lemon Twigs, Sparks, Steve Vai, rapper Narcy, Neil Finn (Crowded House, Fleetwood Mac), Adrian Belew (King Crimson, Frank Zappa), Alfie Templeman, Davey Lane and Thomas Dolby.
In conjunction with the announcement, Todd has unveiled the track "Puzzle," his collaboration with Adrian Belew. Listen here: https://orcd.co/todd_rundgren_puzzle
Rundgren and Belew have also announced more dates on their 2022 "Celebrating David Bowie" tour, which will feature Scrote, Jeffrey Gaines, Royston Langdon, Ron Dziubla, Angeline Saris and Travis McNabb.
Pre-order 'Space Force' here: https://orcd.co/todd_rundgren_space_force
Hall of Famer Rundgren has had a particularly eventful past few years, including the launch of his 'Clearly Human' geo-fenced, location-specific virtual tour during the pandemic. 'Clearly Human' was covered extensively from CNN to PBS Newshour, and was praised by everyone from Lori Lightfoot (Mayor of Chicago, the virtual shows' IRL host city) to Rolling Stone, who offered that it "could pave the way for the future of live performances." Rundgren's music has also been used to soundtrack pivotal scenes from the film and television world more than ever recently, including Oscar-nominated Licorice Pizza and Emmy-winning series Ozark. The most recent studio album from Rundgren, 'White Knight,' was praised as "a testament to his individuality in an industry that demands artists choose a lane and stay in it" by Pitchfork.
SPACE FORCE TRACKLIST
PUZZLE (with Adrian Belew)
DOWN WITH THE SHIP (with Rivers Cuomo)
ARTIST IN RESIDENCE (with Neil Finn)
GODIVA GIRL (with The Roots)
YOUR FANDANGO (with Sparks)
SOMEDAY (with Davey Lane)
I'M NOT YOUR DOG (with Thomas Dolby)
ESPIONAGE (with Narcy)
STFU (with Rick Nielsen)
HEAD IN THE OCEAN (with Alfie)
I'M LEAVING (with The Lemon Twigs)
ECO WARRIOR GODDESS (with Steve Vai)
TODD RUNDGREN TOUR DATES
with Daryl Hall:
Oct 1, 2022 - Tilles Center - Brookville, NY
"Celebrating David Bowie":
Oct 6, 2022 - Balboa Theatre - San Diego, CA
Oct 7, 2022 - Saban Theatre - Beverly Hills, CA
Oct 8, 2022 - San Jose Civic - San Jose, CA
Oct 9, 2022 - City National Grove of Anaheim - Anaheim, CA
Oct 13, 2022 - Mystic Lake Casino - Prior Lake, MN
Oct 14, 2022 - Copernicus Center - Chicago, IL
Oct 15, 2022 - The Goodyear Theater & Hall - Akron, OH
Oct 17, 2022 - Theatre Capitole - Quebec City, Quebec Canada
Oct 18, 2022 - L'Olympia (Montreal) - Montreal, Quebec Canada
Oct 20, 2022 - The Cabot Theater - Beverly, MA
Oct 21, 2022 - College Street Music Hall - New Haven, CT
Oct 22, 2022 - American Music Theatre - Lancaster, PA
Oct 23, 2022 - The Tarrytown Music Hall - Tarrytown, NY
Oct 24, 2022 - Sony Hall - New York, NY
Oct 25, 2022 - Sony Hall - New York, NY
Oct 27, 2022 - Union County Performing Arts Center - Rahway, NJ
Oct 28, 2022 - Penn's Peak - Jim Thorpe, PA
Oct 29, 2022 - The Concert Venue at Harrah's Resort Atlantic City - Atlantic City, NJ
Oct 30, 2022 - Keswick Theatre - Glenside, PA
Oct 31, 2022 - Rams Head On Stage - Annapolis, MD
Nov 1, 2022 - Rams Head On Stage - Annapolis, MD
Nov 3, 2022 - The Eastern - Atlanta, GA
Nov 4, 2022 - Taft Theatre - Cincinnati, OH
Nov 5, 2022 - Town Ballroom - Buffalo, NY
Nov 7, 2022 - Schermerhorn Symphony Center - Nashville, TN
Nov 9, 2022 - Orpheum Theatre (Wichita) - Wichita, KS
Nov 10, 2022 - Paramount Theatre - Denver, CO
Nov 11, 2022 - Kiva Auditorium - Albuquerque, NM
Nov 12, 2022 - Tucson Convention Center - Tucson, AZ
Nov 13, 2022 - Celebrity Theatre - Phoenix, AZ