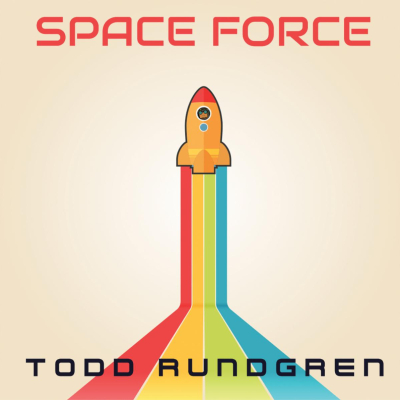 Todd Rundgren's 'Space Force' Takes Flight; New Album Out Today On Cleopatra Records
Collaborations Record Includes New Songs With The Roots, Rivers Cuomo, Sparks, The Lemon Twigs, Rick Nielsen, Neil Finn, Adrian Belew, Thomas Dolby, Narcy, Davey Lane, Alfie Templeman And Steve Vai
MORE INFO ON 'SPACE FORCE' VIA RUNDGREN'S FEATURE IN THE GUARDIAN TODAY: https://www.theguardian.com/music/2022/oct/13/todd-rundgren-its-hard-to-find-sincerely-musical-artists-nowadays-the-music-is-just-mediocre
Todd Rundgren's 'Space Force' has arrived today on Cleopatra Records, a new album of twelve collaborations from the Hall Of Famer that span genres and generations. Building on never-released and unfinished material that derives primarily from his counterparts, 'Space Force' finds Rundgren back in the lauded producer's chair from which he's helped shape half a century of American music. Drawing on relationships with collaborators that range from decades-long friendships to just-made internet connections, Space Force builds on and expands the concepts behind 2017's lauded White Knight, Rundgren's most recent previous studio album.
Listen to Space Force here: https://orcd.co/todd_rundgren_space_force
Order the album on CD/vinyl/cassette here: https://cleorecs.com/store/?s=todd+rundgren+space+force&post_type=product
Watch a special release day Q&A with Rundgren and his collaborators The Lemon Twigs here: https://youtu.be/rxlC5kYLdkw
Read a new feature in The Guardian with Rundgren around Space Force here: https://www.theguardian.com/music/2022/oct/13/todd-rundgren-its-hard-to-find-sincerely-musical-artists-nowadays-the-music-is-just-mediocre
Rundgren has been teasing the long-anticipated release of Space Force for much of the past few years, including work with The Roots ("Godiva Girl"), Weezer's Rivers Cuomo ("Down With The Ship"), Sparks ("Your Fandango"), guitar extraordinaire Adrian Belew ("Puzzle") and rapper Narcy ("Espionage"). Just last week, he shared the galvaning and groovy "I'm Not Your Dog," created with "She Blinded Me with Science" chart-topper turned music technology pioneer Thomas Dolby. Tracks available for the first time today include contributions from Steve Vai, Rick Nielsen of Cheap Trick, Crowded House's Neil Finn, Davey Lane, Alfie Templeman and The Lemon Twigs.
Rundgren will also be performing across North America through the end of the year - including a just-announced new leg of his year-long run with Daryl Hall, and the continuation of his cross-country "Celebrating David Bowie" tour with Space Force and Bowie collaborator Adrian Belew, among many other talented musicians. A full list of dates for each is below.
SPACE FORCE TRACKLIST
PUZZLE (with Adrian Belew)
DOWN WITH THE SHIP (with Rivers Cuomo)
ARTIST IN RESIDENCE (with Neil Finn)
GODIVA GIRL (with The Roots)
YOUR FANDANGO (with Sparks)
SOMEDAY (with Davey Lane)
I'M NOT YOUR DOG (with Thomas Dolby)
ESPIONAGE (with Narcy)
STFU (with Rick Nielsen)
HEAD IN THE OCEAN (with Alfie Templeman)
I'M LEAVING (with The Lemon Twigs)
ECO WARRIOR GODDESS (with Steve Vai)
"Celebrating David Bowie":
Oct 13, 2022 - Mystic Lake Casino - Prior Lake, MN
Oct 14, 2022 - Copernicus Center - Chicago, IL
Oct 15, 2022 - The Goodyear Theater & Hall - Akron, OH
Oct 17, 2022 - Theatre Capitole - Quebec City, Quebec Canada
Oct 18, 2022 - L'Olympia (Montreal) - Montreal, Quebec Canada
Oct 20, 2022 - The Cabot Theater - Beverly, MA
Oct 21, 2022 - College Street Music Hall - New Haven, CT
Oct 22, 2022 - American Music Theatre - Lancaster, PA
Oct 23, 2022 - The Tarrytown Music Hall - Tarrytown, NY
Oct 24, 2022 - Sony Hall - New York, NY
Oct 25, 2022 - Sony Hall - New York, NY
Oct 27, 2022 - Union County Performing Arts Center - Rahway, NJ
Oct 28, 2022 - Penn's Peak - Jim Thorpe, PA
Oct 29, 2022 - The Concert Venue at Harrah's Resort Atlantic City - Atlantic City, NJ
Oct 30, 2022 - Keswick Theatre - Glenside, PA
Oct 31, 2022 - Rams Head On Stage - Annapolis, MD
Nov 1, 2022 - Rams Head On Stage - Annapolis, MD
Nov 3, 2022 - The Eastern - Atlanta, GA
Nov 4, 2022 - Taft Theatre - Cincinnati, OH
Nov 5, 2022 - Town Ballroom - Buffalo, NY
Nov 7, 2022 - Schermerhorn Symphony Center - Nashville, TN
Nov 9, 2022 - Orpheum Theatre (Wichita) - Wichita, KS
Nov 10, 2022 - Paramount Theatre - Denver, CO
Nov 11, 2022 - Kiva Auditorium - Albuquerque, NM
Nov 12, 2022 - Tucson Convention Center - Tucson, AZ
Nov 13, 2022 - Celebrity Theatre - Phoenix, AZ
Tour Dates with Daryl Hall:
Nov 19, 2022 - Oncenter Crouse Hinds Theater - Syracuse, NY
Nov 21, 2022 - Michigan Theater - Ann Arbor, MI
Nov 23, 2022 - DeVos Performance Center - Grand Rapids, MI
Nov 25, 2022 - Riverside Theater - Milwaukee, WI
Nov 27, 2022 - Orpheum Theater - Madison, WI
Nov 29, 2022 - State Theater - Minneapolis, MN
Dec 1, 2022 - Stifel Theater - St. Louis, MO
Dec 3, 2022 - Old National Events Plaza - Evansville, IN