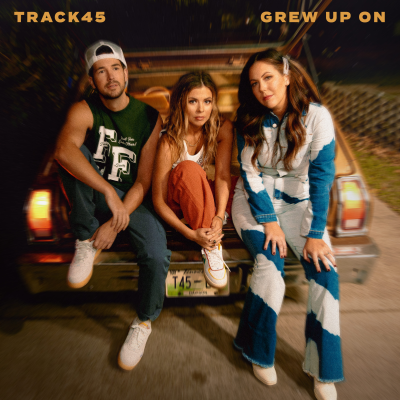 Track45 Explores Hometowns, Heartbreak And All The Things They 'Grew Up On' In New EP
Rising country music trio Track45 has lived a lifetime of memories together as siblings. On 'Grew Up On,' out today (7.14) via BBR Music Group / Stoney Creek Records, the trio made up of Ben, Jenna and KK Johnson, share the memories etched into their being from their upbringing, exploring young heartbreak, valuable life lessons and more while highlighting their blood harmony "perfection" (MusicRow).
Listen to 'Grew Up On,' here: track45.lnk.to/GrewUpOn
"We recorded this collection of songs as we were saying goodbye to many relationships in our lives," says Track45. "We always want to be honest about the highs and the lows of life and we hope you can hear that in the music. There are some breakup anthems, nostalgic retrospections and some feel good songs mixed in. It's a journal of us celebrating the experiences and people that have made us who we are and closing the chapter on situations that weren't right anymore."
The opening track "Drinkin' And Thinkin'" finds the band recklessly reminiscing on a lost love, while the title track opens a time capsule of memories from their youth and reflects on the traditions that made the trio who they are today. Track45 showcases its witty tongue-in-cheek songwriting on the breakup anthems "Hate Me" and "Last Man In Tennessee," the latter of which "packs a punch like a shot of sawdust and whiskey" (American Songwriter). "PCH" is a twangy windows-down ode to a vacation fling, while the final track "Family," a country version of a song that the siblings originally wrote for David Guetta and featured Bebe Rexha, Ty Dolla $ign and A Boogie Wit Da Hoodie, ends with a message of gratitude for bonds that transcend blood.
'Grew Up On' was produced entirely by Track45, who co-wrote the majority of the songs alongside some of Nashville's top songwriters including Michael Hardy, Ashley Gorley (Carrie Underwood, Jon Pardi), Jonathan Singleton (Luke Combs, Bonnie Raitt), Taylor Phillips (Jason Aldean, Brantley Gilbert) and more. The EP is a preview of more new music to come in the near future from the trio.
For more information, visit track45.com.
'Grew Up On' Tracklist
1. "Drinkin' And Thinkin'"
(Ben Johnson, Ashley Gorley, Hunter Phelps, Michael Hardy)
2. "Grew Up On"
(Ben Johnson, KK Johnson, Jenna Johnson, Ashley Gorley, Jonathan Singleton, Taylor Phillips)
3. "Last Man In Tennessee"
(Ben Johnson, Ashley Gorley, Geoff Warburton, Casey Smith)
4. "Hate Me"
(Ben Johnson, KK Johnson, Jenna Johnson, Hunter Phelps)
5. "PCH"
(Nicolette Hayford, Mikey Reaves, Ben Johnson)
6. "Family"
(Ben Johnson, KK Johnson, Jenna Johnson, Billy Mann)
###
For more on Track45, contact:
Management:
Missi Gallimore | T.R.U.T.H. Management | missi@truth-mgmt.com
Press:
Shore Fire Media | track45@shorefire.com
Camryn Scharnhorst | camryn@bbrmusicgroup.com