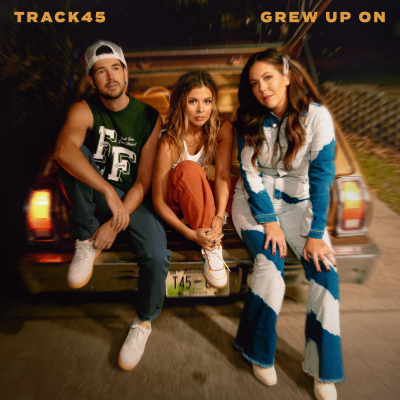 Track45 Unlocks A Time Capsule Of Teenage Memories On "Grew Up On," Out Now
As we get older, we realize more and more how our upbringings influence who we become later in life. On rising trio Track45's new song "Grew Up On," out today (6.16), siblings Ben, Jenna and KK Johnson look back on their youth and reflect the traditions that they'll never outgrow.
Listen to "Grew Up On," here: track45.lnk.to/GrewUpOnPR
"Grew Up On" was produced by the three members of Track45, who also co-wrote the song alongside Ashley Gorley (Carrie Underwood, Jon Pardi), Jonathan Singleton (Luke Combs, Bonnie Raitt) and Taylor Phillips (Jason Aldean, Brantley Gilbert). The siblings' blood harmonies, which MusicRow calls "perfection," are on full display on the nostalgia-driven track, which brings listeners back to their own younger years and evokes memories of late nights with friends, young love, bad decisions and good times.
"Grew Up On" follows the band's cheeky "Last Man In Tennessee," which "packs a punch like a shot of sawdust and whiskey" (American Songwriter). The group behind songs for top artists including Justin Timberlake, John Legend, Morgan Wallen, Kylie Morgan and more has had a jam-packed 2023 so far, having performed at MLS and NHL games, and the SEC Basketball Championship. Track45 previewed new music at CMA Fest in Nashville last week with more to be announced in the coming months.
For more information on Track45, visit track45.com.
For more on Track45, contact:
Management:
Missi Gallimore | T.R.U.T.H. Management | missi@truth-mgmt.com
Press:
Shore Fire Media | track45@shorefire.com
Camryn Scharnhorst | camryn@bbrmusicgroup.com