Trixie Mattel Announces 2020 North American Tour
29-DATE "TRIXIE MATTEL: GROWN UP" TOUR TO SLAY NORTH AMERICA NEXT FEBRUARY & MARCH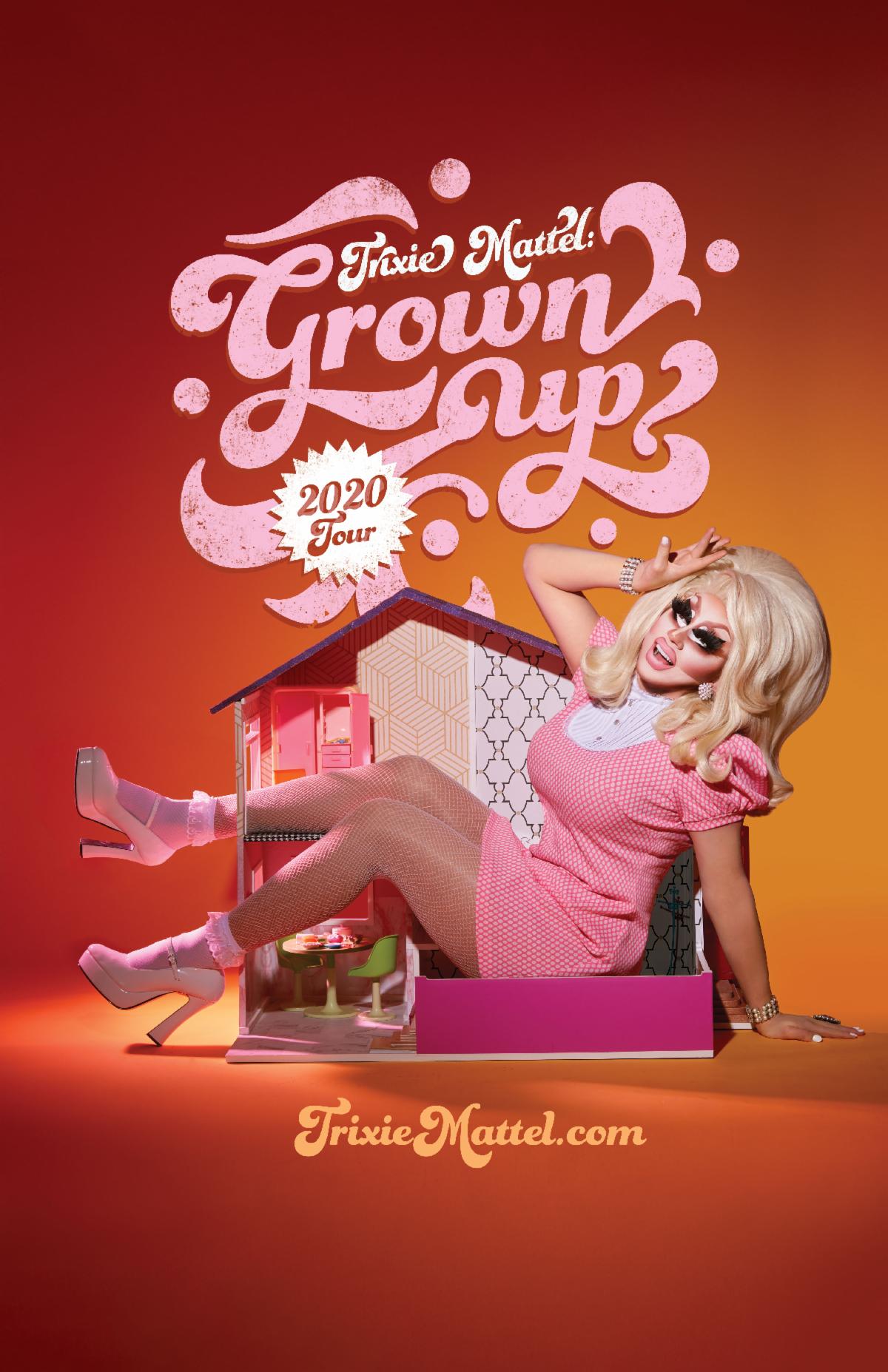 Today, Trixie Mattel has announced a massive 29-date 2020 AEG North American tour, "Trixie Mattel: Grown Up". The tour will take the pop culture icon, country music groundbreaker and winner of RuPaul's Drag Race All Stars across the continent including stops in New York, Boston, DC, San Francisco, Chicago, Philadelphia, Seattle, LA, and more next February & March.
"Trixie Mattel: Grown Up" will find Trixie reinventing the hilarious charm of her previous tours ("Ages 3 and Up", "Now With Moving Parts", "Super Bowl Cut" and "Skinny Legend"), creating an intoxicating mix of her unparalleled sense of deranged and perfectly delivered humor, with her serious musical chops, often including Trixie accompanying herself on guitar and autoharp.
This time around, Trixie will be joined for the first time by a full band, signaling a more plugged-in sonic shift for the global folk chart-topper that was first hinted at when her latest single "Yellow Cloud" dropped earlier this year. Rolling Stone said the song "leaps forth with bright strums of electric guitar, vintage garage-rock organ flourishes and instantly hummable, wordless melodies that recall peak period New Pornographers."
In an interview with Entertainment Weekly, Trixie said "Let's really do it on this next tour. We're doing ambitious reveals, costume changes, and wigs on wigs on wigs! I want people to leave and be like, 'That was hilarious and the guitar playing was great, and she did not have to do five costume changes in the first number, but she did!"
Watch the hilarious trailer for the tour HERE.
Today's tour announcement continues major momentum for an artist that has time and time again redefined what it means to be a drag queen in this day & age. Aside from her past touring success, she has released two albums 'Two Birds' & 'One Stone' (currently working on her third) and topped the Billboard Heatseekers Albums chart and the iTunes Singer/Songwriter chart. Trixie has turned her success as a hilarious stand-out and champion on RuPaul's Drag Race into pop culture gold, also co-creating and starring in the wildly successful comedy web show UNHhhh with fellow Drag Race alum Katya Zamolodchikova, which was later adapted into the Viceland program The Trixie & Katya Show. Trixie is the subject of the documentary Trixie Mattel: Moving Parts which premiered at the Tribeca Film Festival last spring, and she also recently released her new comedy special "Trixie Mattel: Skinny Legend". She is also the founder and CEO of her own cosmetics line Trixie Cosmetics, which aims to bridge the gap between a youthful fun irreverent spirit & high quality products.
Tickets available at www.trixiemattel.com. Presale begins Wednesday, October 23 at 10am with password BARBARA. General on sale begins Friday, October 25 at 10am.
TRIXIE MATTEL: GROWN UP North American Tour Dates
Wed, Feb 5 - Seattle, WA - Moore Theatre
Thu, Feb 6 - Portland, OR - Revolution Hall
Fri, Feb 7 - San Francisco, CA - Regency Ballroom
Sun, Feb 9 - Boulder, CO - Boulder Theater
Tue, Feb 11- Kansas City, KS - The Truman
Thu, Feb 13 - Detroit, MI - Royal Oak Music Theatre
Fri, Feb 14 - Cleveland, OH - The Agora
Sat, Feb 15 - Columbus, OH - Express Live
Sun, Feb 16 - Minneapolis, MI - Pantages Theatre
Tue, Feb 18 - Milwaukee, WI - Turner Hall Ballroom
Wed, Feb 19 - Chicago, IL - Park West
Fri, Feb 21 - Pittsburgh, PA - Stage AE
Sat, Feb 22 - Toronto, CA - Danforth Music Hall
Sun, Feb 23 - Albany, NY - The Egg
Tue, Feb 25 - Portland, ME - State Theatre
Wed, Feb 26 - Boston, MA - Royale
Fri, Feb 28 - New York, NY - Webster Hall
Sat, Feb 29 - Philadelphia, PA - Temple Performing Arts Center - Lew Klein Hall
Sun, Mar 01 - Washington DC - Lincoln Theatre
Tue, Mar 03 - Fort Lauderdale, FL - Broward Center for the Performing Arts - Amaturo Theater
Wed, Mar 04 - Orlando, FL - The Plaza Live
Fri, Mar 06 - Atlanta, GA - Variety Playhouse
Sat, Mar 07 - New Orleans , LA - Civic Theatre
Sun, Mar 08 - Houston, TX - Lillie and Roy Cullen Theater
Tue, Mar 10 - Austin,TX - The Paramount Theatre
Wed, Mar 11 - Dallas, TX - Bomb Factory
Fri, Mar 13 - Phoenix, AZ - Orpheum Theatre
Sat, Mar 14 - Los Angeles, CA - The Novo
Sun, Mar 15 - San Diego, CA - The Lyceum