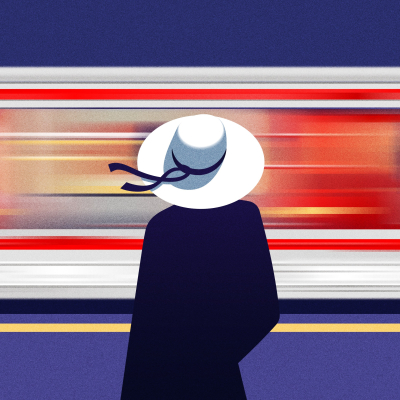 Twenty Thousand Hertz Goes Underground, Uncovers The Personas Behind The Most Recognizable Voices In Public Transit
Listen to The Latest Episode From 2022 Ambie Award Winner for Best Podcast Production & Sound Design:
The voices of subway and train announcements guide travelers every day, for years on end — and yet, while they are deeply ingrained in people's lives, hardly anyone knows who these voices belong to. In today's new episode from Twenty Thousand Hertz — the podcast's first release since winning the 2022 Ambie Award for Best Production & Sound Design last week — host Dallas Taylor and reporter Martin Austwick uncover the stories and identities behind two of the most iconic transit systems in the world: the New York City Subway, and the London Tube. Featuring NYC Subway announcer Charlie Pellett and Tube announcer Elinor Hamilton, "Mind The Gap" demonstrates the implicit humanity in our everyday experiences.
First stop, a conversation with Charlie Pellett. Originally from the UK, Pellett sought to bring the crystal clear announcements of the London Tube to the NYC Metro System — which at the time relied entirely on transit staff to deliver real time announcements to passengers. It was at his very first audition for the role of subway announcer that his now-famed utterance of "stand clear of the closing doors please" was recorded and immortalized. There was never any revision: nearly two decades later, his very first take is the one that continues to be broadcasted across every car on the NYC Subway.
While Pellett loves many of the voiceovers he's captured for the Metro, he goes on to express his disdain for a select few of his one-liners, citing those that sound slightly automated as his least favorite. But despite his perfectionism, his voice (and its famed "Bing Bong" pairing) are cherished by all NYC transit goers. From appearances on Conan to brushes with pop stardom as a featured vocalist on AJR's 2x platinum single, "Bang," Pellett has become a fixture in the canon of NYC's everyday life.
The episode continues with a ride across the pond to Elinor Hamilton, voice artist and wife of Phil Sayer. Hamilton and Sayer were something of a voiceover power couple, tag teaming advertisements and radio shows with ease. Not to mention, each played a key role in the legacy of the London Tube — Sayer is best known for the iconic line "mind the gap," and Hamilton's announcements are present in subway cars across London.
For Hamilton, her presence on the Tube is, interestingly enough, both a source of pride and pain. "There's definitely a feeling of satisfaction, not being famous and not wanting to be famous, but sitting quietly on a station platform and thinking: 'That's my voice that's coming out of that speaker and nobody knows,'" she says. But while satisfying, there's also a heart wrenching aspect to the experience — in 2016, her beloved husband and fellow subway announcer passed away from a difficult battle with cancer.
"It was just a really strange process because then it was as if he hadn't died at all," says Hamilton of hearing Sayer's voice across the subway. "I'd go to the tube from time to time... and make an effort to go to a station and hear him. And it was lovely. But every single time he was removed from a station, it made me sad, it made me really, really sad… I don't think people realize how much it hurt me." Luckily, for Hamilton, the experience has become easier with time.
These transit voices might seem anonymous, but what Twenty Thousand Hertz reminds us is that there are real people behind them, a whole heart and soul that's sometimes been torn apart and put back together again. For Hamilton and Pellett, being the voice of the transit isn't just a job. It's their passion, something special that they share with only a handful of people in the world. Even if they know that someday, their voices will probably get replaced, they consider themselves blessed for the opportunity to help guide and connect with so many people.
About Twenty Thousand Hertz
Twenty Thousand Hertz is a lovingly crafted podcast that reveals the stories behind the world's most recognizable and interesting sounds. With 20 million+ lifetime downloads, 125,000+ listeners per episode, and 3 Webby awards to its name, Twenty Thousand Hertz is the world's leading podcast about sound. Episodes of Twenty Thousand Hertz have been featured on Planet Money, 99% Invisible, Endless Thread, and Every Little Thing. The show has also been covered by The New York Times, Marketplace, Entertainment Weekly, Salon, Popular Science, and many others.
About Dallas Taylor
Dallas Taylor is the host and creator of Twenty Thousand Hertz, a lovingly crafted podcast revealing the stories behind the world's most recognizable and interesting sounds. Dallas is also the Creative Director of Defacto Sound, where he has led thousands of high-profile sound design projects - from blockbuster trailers and advertising campaigns, to major television series and Sundance award-winning films. Additionally, Dallas is a TED mainstage speaker, a regular contributor to major publications, and a respected thought leader on the narrative power of sound.
Follow Twenty Thousand Hertz