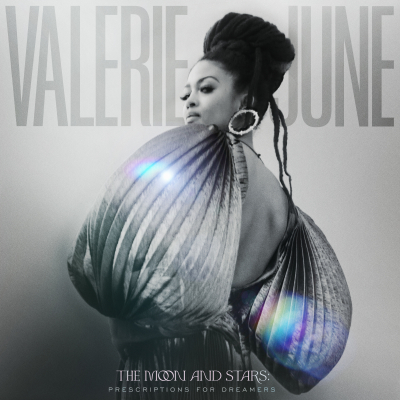 Valerie June's The Moon and Stars: Prescriptions For Dreamers OUT TODAY
Will Perform on Late Night With Seth Meyers March 15th
"This stunning song cycle of redemption and reclamation adds an orchestral-pop sheen to June's gorgeous blend of astral folk and meditative R&B." — Rolling Stone, 4/5 stars
"The Moon & Stars: Prescriptions for Dreamers, the introspective, quietly hopeful album she made more than a year ago, sounds just right in 2021." — The New York Times
"A psychedelic tour de force." — Uncut, 9/10 stars
Listen To The Moon & Stars: Prescriptions For Dreamers HERE
FOR IMMEDIATE RELEASE — March 12th, 2021 — Today, Valerie June shares her new album The Moon & Stars: Prescriptions For Dreamers, out now on Fantasy Records. It's the first new album from the celebrated genre-bending singer/songwriter since 2017's acclaimed The Order of Time. An uncompromising vision, The Moon & Stars: Prescriptions For Dreamers weaves a kaleidoscopic sonic tapestry from traditional roots music, modern R&B, Afrobeat rhythms, orchestral string arrangements, and experimental pop-infused psychedelia. Throughout, Valerie centers on the dreamer's path and fleshes out an insightful philosophical approach that feels vital in 2021.
Listen/Buy The Moon and Stars: Prescriptions For Dreamers HERE
On release day Friday, March 12th, June will host an audio-visual journey through the new album with noted video director and photographer Renata Raksha (who directed the album's long-form video) beginning @ 12pm ET at her YouTube channel HERE
The album is receiving high praise across the board, including glowing notices from theNew York Times, New York Magazine, Rolling Stone, Essence, Uncut, MOJO just to name a few. In a recent Sunday New York Times profile of Valerie June by Jon Pareles, she discusses the genesis of The Moon & Stars and her close collaboration with producer Jack Splash (Kendrick Lamar, Alicia Keys, John Legend). "She is simultaneously rural and cosmopolitan, historically minded and contemporary, idiosyncratic and fashionable, mystical and down-to-earth," Pareles wrote. "Above all, a willed and unblinking optimism courses through Valerie June's songs." Read it HERE
On March 15th, June is set to perform on NBC's Late Night With Seth Meyers. Watch Valerie perform a stripped down version of the album's first single "Call Me A Fool" for The Kelly Clarkson Show HERE and watch the track's official video HERE.
Praise For Valerie June and The Moon and Stars: Prescriptions For Dreamers
"One of Americana music's most gifted and eclectic performers...her inimitable style, captivating voice, and emotive writing make for an enticing blend."
— New York Magazine
"Well worth the wait—a magical, country-soul offering." — Essence
"Dylan touted Tennessean conjures up a country-soul fantasia."
— MOJO
"Call it what you want, but after a year of upheaval in a global pandemic, the arrival of her third album feels like a stroke of divine intervention. There couldn't be better timing." — The Line Of Best Fit
Though it is still the first quarter of 2021, there is little doubt that
The Moon and Stars will remain one of the year's best." — Black Grooves