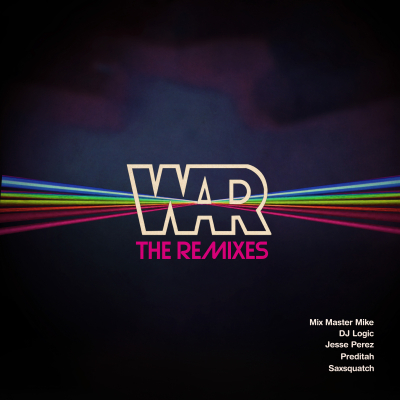 WAR Announce The Remixes EP Out May 12th on Avenue / Rhino Records, Featuring Mix Master Mike, DJ Logic, Jesse Perez, Preditah, & Saxsquatch
Legendary Band Celebrates 50 Years of The World is a Ghetto, The Top-Selling Album of 1973
Mix Master Mike Flips "The World is a Ghetto" & "Slippin' Into Darkness" On Lead Single:
With more than 20 gold, platinum and multi-platinum records, WAR have cemented their righteous strains of funk and soul in the fabric of global culture and consciousness. But in the 50 years since The World is a Ghetto made the Southern Californian street band a crossover sensation and became the best-selling album of 1973, the group's sound has continued to transcend genres and generations.
Today, to further mark the 50th Anniversary milestone of The World is a Ghetto, WAR announce a brand new collection called WAR: The Remixes. Out May 12th on Avenue / Rhino Records, the EP expands the influence of WAR's music on the worlds of contemporary hip-hop, as esteemed DJs, producers and musicians including Beastie Boys turntablist Mix Master Mike, DJ Logic, Jesse Perez, Preditah and Saxsquatchreimagine eternal hits like "The World is a Ghetto," "Spill The Wine," "Why Can't We Be Friends" and more that spans several of the band's magnum opuses.
Hear Mix Master Mike Remix "The World is a Ghetto" & "Slippin' Into Darkness" On The First Single Out Now: https://war.lnk.to/WarxMMM
Across WAR's six decades and counting, the band spread its messages of harmony and inclusion through songs that have soundtracked the anti-Vietnam movement, Watergate, the first Congressional Black Caucus, the first US-Soviet space mission and multiple Barack Obama summer playlists. Bolstered by the gold-selling success of the title track and the boundary-breaking power of "The Cisco Kid," The World is a Ghettotopped Billboard's pop and R&B charts, launching WAR's legacy not only of creative and commercial triumph, but of timely and timeless relevance. Music from The World is a Ghetto has been sampled by 2Pac, A$AP Mob, Cypress Hill, DJ Shadow, Janet Jackson, Method Man and Scarface, among others, while the likes of De La Soul, Kendrick Lamar, Shaggy and many more have honored and celebrated WAR throughout the years.
Led by Lonnie Jordan, WAR remains one of the busiest bands on the road today, and throughout 2023 they will headline dozens of shows, in addition to appearing at festivals like BottleRock Napa Valley and more to be announced soon. Stay tuned for additional news tied to the 50th Anniversary of The World is a Ghetto, and find upcoming performances here.
WAR: The Remixes Tracklist
"Slippin' Into Darkness" (Mix Master Mike Remix)
"The World is a Ghetto" (Mix Master Mike Remix)
"Why Can't We Be Friends" (Saxsquatch & Stephen Walking Remix)
"Spill The Wine" (Jesse Perez Remix)
"Galaxy" (Preditah Remix)
"Galaxy" (DJ Logic Remix)
Follow WAR
For more information, contact Matt Hanks, Greg Jakubik or Annie Mickum at
Shore Fire Media, (718) 522-7171