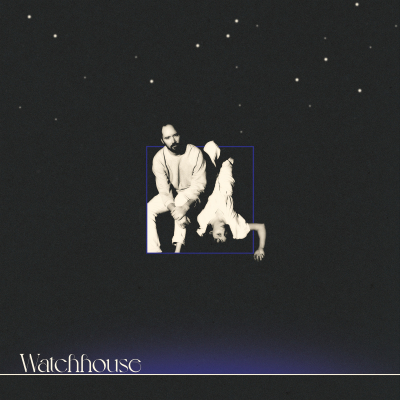 Watchhouse (FKA Mandolin Orange) Consider The Unintended Effects Of Industrialization On "Beautiful Flowers"
Listen HERE
Watchhouse Out August 13 (Tiptoe Tiger Music / Thirty Tigers)
Watchhouse Currently Touring, Including Dates at The Ryman, Red Rocks + Beacon Theatre — See Below
Today, Watchhouse shares "Beautiful Flowers," a slow-blooming elegy to a butterfly that takes an existential look at automotive expansion, the interconnectedness of nature, and the little-considered costs of industrialized society. Though the song's topics are ambitious, it's delivered in a thoughtful and poetic cadence by Watchhouse's Emily Frantz — a plainspoken reflection that exemplifies the ingenious songwriting of her bandmate Andrew Marlin and the duo's bewitching musical chemistry.
Listen to "Beautiful Flowers" here: https://www.youtube.com/watch?v=7tEiJ0vY7To
"Beautiful Flowers" comes from Watchhouse (out August 13 on Tiptoe Tiger Music / Thirty Tigers), the first record from the duo formerly known as Mandolin Orange. Produced by Andrew Marlin and Josh Kaufman (Bonny Light Horseman, The National), Watchhouseweaves Andrew Marlin's Appalachian-steeped songwriting into sonic patchworks that pull from American primitivism and ambient composition. Watchhouse is Andrew Marlin and Emily Frantz embarking on a new artistic journey into an uncharted wilderness — and finding a clarity of purpose through it all.
"We're different people than when we started this band," Marlin says, reflecting on all these shifts. "We're setting new intentions, taking control of this thing again." Pre-orderWatchhouse here: https://orcd.co/watchhouse
Alongside last month's album announcement, Watchhouse shared the music video for "New Star." Directed by Sylvan Esso's Amelia Meath, the video explores the communal rituals that color our existence and tie us to society. Watch "New Star" here:http://found.ee/WHNewStarVideo
And watch the gorgeous and geometric video for "Better Way" (directed by Lachlan Turczan), which accompanied the announcement of the group's name change, here:https://found.ee/WHBetterWayVideo
Watchhouse have "redefined roots music for a younger generation" (Washington Post) as over the past decade they've gone from playing coffee shops to headlining the Ryman and Red Rocks. Their 2019 album Tides Of A Teardrop was a runaway hit that lead to the band's first ever national TV performances on CBS Saturday and the TODAY Show as well as an NPR Tiny Desk. Rolling Stone says Tides is "compelling...a new step for the band, and one that's rewarding to hear."
See full Watchhouse tour dates below.
Watchhouse Tracklist
"Wondrous Love"
"Better Way"
"Belly of the Beast"
"New Star"
"Upside Down"
"Lonely Love Affair"
"Coming Down From Green Mountain"
"Beautiful Flowers"
"Nightbird"
Praise for Watchhouse and "Better Way"
"Under their new guise, their typical pristine acoustic picking collides with hazy, dream-like psychedelia in "Better Way," which comes to a lovely, droning coda in its final two minutes. Sometimes a little change (or a major one, in this case) is just the thing to recharge the creative batteries." — Rolling Stone
"The duo leans into the transportive quality in the arrangement, a soothing centerpiece to what may be their best work to-date." — American Songwriter
"Follows the smoke from outsider artists like Bitchin Bajas, Bing & Ruth and the Grateful Dead...the duo push their trusty stringband paraphernalia into an ethereal plane that extends beyond the traditional reach of their Old Time origins." — New Commute
Watchhouse Tour Schedule
6/17 - Telluride, CO - Telluride Bluegrass Festival
6/25 - Kansas City, MO - Bluegrass in the Bottoms
7/7 - Vienna, VA - Wolf Trap
7/9 - Wilmington, NC - Greenfield Lake Amphitheater
7/10 - Wilmington, NC - Greenfield Lake Amphitheater
7/17-7/18 - Whitefish, MT - Under the Big Sky Festival %
7/21 - Paradise Valley, MT - Pine Creek Lodge
7/22 - Paradise Valley, MT - Pine Creek Lodge
7/23 - White Sulphur Springs, MT- Red Ants Pants Music Festival
8/5 - Grand Rapids, MI - Meijer Gardens
8/7 - St. Louis, MO - Open Highway Festival
8/19- Salt Lake City, UT - Red Butte Garden
8/20- Boise, ID - Idaho Botanical Garden
8/27 - Fayetteville, AR - Fayetteville Roots Festival
8/29 - Greenfield, MA - Green River Festival
9/3 - Nashville, TN - Ryman Auditorium
9/4 - Nashville, TN - Ryman Auditorium
9/5 - Napa, CA - BottleRock
9/6 - Berkeley, CA - UC Theatre
9/15-9/18 - Owensboro, KY - ROMP %
9/16 - Lake Orion, MI - Wildwood Amphitheater
9/18- Indianapolis, IN - Holler on the Square
9/23-9/26 - Cumberland, MD - DelFest %
9/26 - North Adams, MA - FreshGrass
10/3 - Morrison, CO - Red Rocks Amphitheatre
10/16 - Austin, TX - Stubb's Waller Creek Amphitheater
11/10 - Knoxville, TN - Tennessee Theatre
11/11 - Atlanta, GA - The Eastern
11/12 - Athens, GA - Georgia Theatre
11/19 - Durham, NC - Durham Performing Arts Center
11/20 - Durham, NC - Durham Performing Arts Center
12/3 - Asheville, NC - Thomas Wolfe Auditorium
4/16/22 - New York, NY - Beacon Theatre
% - Festival performance. Exact date TBA
Follow Watchhouse:
Website: www.watchhouseband.com
Facebook: https://www.facebook.com/WatchhouseBand
Instagram: https://www.instagram.com/watchhouseband/
Twitter: https://twitter.com/watchhouseband