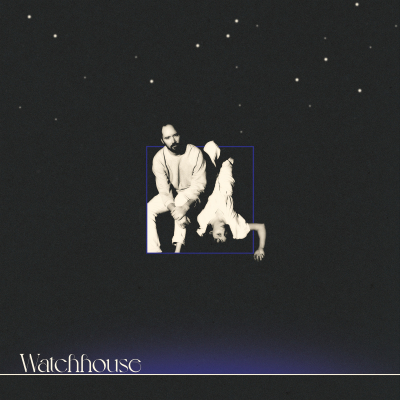 Watchhouse (FKA Mandolin Orange) Announce New Self-Titled Album Out August 13 On Tiptoe Tiger Music / Thirty Tigers
Watch Video For "New Star" (dir. by Amelia Meath of Sylvan Esso) HERE
Announces 2022 Headlining Show at Beacon Theatre
Today, Andrew Marlin and Emily Frantz of Watchhouse – the critically acclaimed roots music duo who until recently were known as Mandolin Orange – announce their new self-titled album Watchhouse, out August 13 on Tiptoe Tiger Music / Thirty Tigers. With the change of name comes an artistic rebirth: While still firmly rooted in poetic Appalachian folk, there's a sonic adventurousness informed by American primitivism and ambient soundscapes that gives Marlin and Frantz's songs a new, unknowable allure. Watchhouseis audacious, spectral music that wrestles with and finds magic in the relationships we build with our families, our society, our planet, and ourselves.
Alongside the album announcement, Watchhouse also share the music video for "New Star," a song about familial solidarity and self-sacrifice that is plain-spoken but vital. Directed by Sylvan Esso's Amelia Meath, the video centers on the almost instinctual rituals of our lives that tie us to our various communities: children playing, friends sharing a cigarette, families gathering for dinner. After a year that forced many of us apart, it's a reminder of the joys we are just beginning to return to and the strength we draw from each other.
Watch "New Star" here.
Produced by Andrew Marlin and Josh Kaufman — who has produced records for The National and Bonny Light Horseman, and also played on Taylor Swift's folklore andevermore — Watchhouse, as the name change suggests, is a reinvention. These nine songs are both personal and political, touching upon Marlin and Frantz's newfound parenthood as well as climate change and caustic online interactions as they parse out how to live a kinder, more decent life on their own terms.
"We're different people than when we started this band," Marlin says, reflecting on all these shifts. "We're setting new intentions, taking control of this thing again."
To create the album, Watchhouse decamped to Smith Mountain Lake, a sprawling hideaway at the foot of the Appalachians. Kaufman urged Marlin and Frantz to approach the process with new eyes and throw out their old conceptions about what their music sounds like. Alongside drummer Joe Westerlund, guitarist Josh Oliver, and bassist Clint Mullican, Marlin and Frantz broke loose, surprising themselves as they indulged in novel structures and textures. "Belly Of The Beast" is an astral waltz, while "Better Way" shifts from nimble harmonies to an acoustic drone. "Beautiful Flowers" is a particular highlight: A sparse elegy for a butterfly crushed by an car windshield that ponders industry and environmental degradation, it climaxes with funereal horns and Frantz's affecting vocal.
Watch the gorgeous and geometric video for "Better Way" (directed by Lachlan Turczan)here.
It's been a long road for Watchhouse, who have "redefined roots music for a younger generation" (Washington Post) as they've gone from coffee shops to the Ryman and Red Rocks. Their 2019 album Tides Of A Teardrop was a runaway hit that lead to the band's first ever national TV performances on CBS Saturday and the TODAY Show as well as an NPR Tiny Desk. Rolling Stone says Tides is "compelling...a new step for the band, and one that's rewarding to hear."
Watchhouse also have announced 2021 and 2022 tour dates, including a headlining show at the Beacon Theatre in April 2022. See full dates below.
Pre-order Watchhouse here.
Watchhouse Tracklist
"Wondrous Love"
"Better Way"
"Belly of the Beast"
"New Star"
"Upside Down"
"Lonely Love Affair"
"Coming Down From Green Mountain"
"Beautiful Flowers"
"Nightbird"
Praise for Watchhouse and "Better Way"
"Under their new guise, their typical pristine acoustic picking collides with hazy, dream-like psychedelia in "Better Way," which comes to a lovely, droning coda in its final two minutes. Sometimes a little change (or a major one, in this case) is just the thing to recharge the creative batteries." — Rolling Stone
"The duo leans into the transportive quality in the arrangement, a soothing centerpiece to what may be their best work to-date." — American Songwriter
"Follows the smoke from outsider artists like Bitchin Bajas, Bing & Ruth and the Grateful Dead...the duo push their trusty stringband paraphernalia into an ethereal plane that extends beyond the traditional reach of their Old Time origins." — New Commute
Watchhouse Tour Schedule
6/5 & 6/6 - The Caverns - Pelham, TN
6/17 to 6/20 - Telluride Bluegrass Festival - Telluride, CO %
6/25 to 6/26 - Bluegrass in the Bottoms - Kansas City, MO %
7/7 - Wolf Trap - Vienna, VA
7/9 & 7/10 - Greenfield Lake Amphitheater - Wilmington, NC +
7/17 to 7/18 - Under the Big Sky Festival - Whitefish, MT %
7/21 & 7/22 - Pine Creek Lodge - Livingston, MT +
8/7 - Open Highway Festival - St. Louis, MO
8/27 - Fayetteville Roots Festival, Fayetteville, AR
8/29 - Green River Festival, Greenfield, MA
9/3 & 9/4 - Ryman Auditorium - Nashville, TN
9/3 to 9/5 - BottleRock - Napa Valley, Napa, CA %
9/15 to 9/18 - ROMP - Owensboro, KY %
9/23 to 9/26 - DelFest - Cumberland, MD %
9/24 to 9/26 - FreshGrass Music Festival - North Adams, MA %
10/3 - Red Rocks Amphitheatre - Morrison, CO
10/16 - Stubb's Austin - Austin, TX +
11/10 - Tennessee Theatre - Knoxville, TN +
11/11 - The Eastern - Atlanta, GA
11/12 - Georgia Theatre - Athens, GA +
11/19 & 11/20 - Durham Performing Arts Center - Durham, NC +
12/3 - Thomas Wolfe Auditorium - Asheville, NC +
4/16/22 - Beacon Theatre - New York, NY +
% - Festival appearance. Exact performance date announced later
+ - New headlining show. Fan pre-sale on Monday, May 24
Follow Watchhouse:
Website: www.watchhouseband.com
Facebook: https://www.facebook.com/WatchhouseBand
Instagram: https://www.instagram.com/watchhouseband/
Twitter: https://twitter.com/watchhouseband