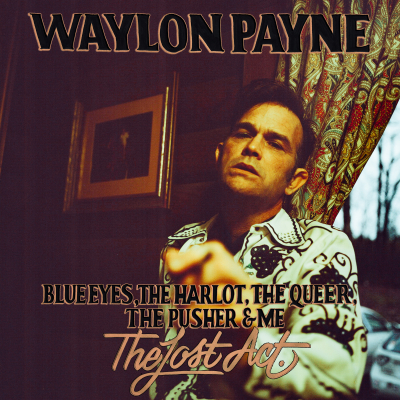 Waylon Payne Shares Three New Songs Via 'The Lost Act,' Out Now
Listen to 'The Lost Act,' here: music.empi.re/728waylon
Following the release of his "timeless… extraordinary" (NPR) album 'Blue Eyes, The Harlot, The Queer, The Pusher & Me,' Waylon Payne shares three new songs, each a personal reflection of his harrowing life journey, via 'The Lost Act,' available everywhere today, Friday, October 15th. Listen here: music.empi.re/thelostact.
In the first track "7:28" (Payne, Wade Bowen, Angaleena Presley) Payne recalls the moment he lost his late mother, the great GRAMMY-winning country artist Sammi Smith ("Help Me Make It Through The Night"). "Do You Feel It Too," which he wrote with Dean Person, Terri Jo Box and Roger Hodges, questions the reciprocation of love. Listeners may recognize Payne's self-penned song "Sunday" from Lee Ann Womack's GRAMMY-nominated album 'The Lonely, The Lonesome & The Gone.' Originally an idea from his mother Sammi Smith, "Sunday" reflects on feelings of abandonment when help is needed the most.
"7:28" is featured on several playlists including Spotify's Indigo, Fresh Folk and The Pulse of Americana, Pandora's This Year In Americana and New Americana Now, and Apple Music's Southern Craft and New In Country.
Payne is currently on tour with Elizabeth Cook. He performed at Hollywood's The Hotel Cafe this past Wednesday (10.13), and he'll open a run of shows for Jack Ingram in his home state of Texas this December. For tickets and more information, visit waylonpaynemusic.co/shows.
'The Lost Act' Tracklist:
1. 7:28 (Waylon Payne, Wade Bowen, Angaleena Presley)
2. Do You Feel It Too (Waylon Payne, Dean Person, Terri Jo Box, Roger Hodges)
3. Sunday (Waylon Payne)