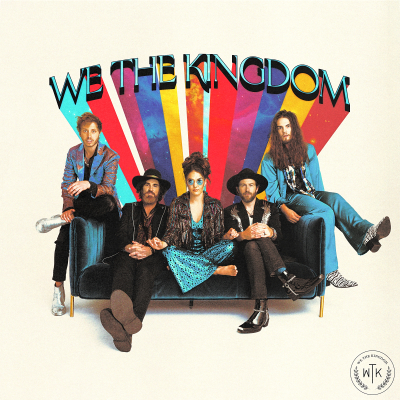 We The Kingdom Announces Self-Titled Sophomore Album due September 16 via Capitol Christian Music Group
Album Pre-order + "Left It In The Water" Track Available Now (7.29)
Performed on Fox & Friends' Summer Concert Series Today (7.29)
Ryman Auditorium Headline Debut (11.5) Officially Sold-Out
Two-time GRAMMY nominated band We The Kingdom announces its self-titled sophomore album, due September 16 via Capitol Christian Music Group. The group revealed the exciting news on live TV earlier today (7.29), performing on Fox & Friends' All-American Summer Concert Series — watch the interview HERE. Available for pre-order today, the 13-track project, which is a genre-transcending blend of rock, country and gospel, was all written and recorded in group member Ed Cash's home studio and on tour.
The debut single from the forthcoming album, which is the group's current radio single, "Miracle Power" (released 5.27) is already a streaming powerhouse landing on the cover of multiple playlists, including Spotify's Sing A New Song, Amazon Music's Fresh Christian, and Pandora's Christian Contemporary. The second sample of the project — a dynamic, rock-infused singalong — "Left It In the Water," debuted on streaming services and national TV today (7.29). Watch the performance on Fox & Friends' All-American Summer Concert Series HERE.
The eclectic collection of tunes draws inspiration from genres — and eras — across the musical spectrum, with nostalgia-driven influences steeped heavily in standouts "Deep End," which embodies a rock & roll power anthem, and "Mine," a track reminiscent of a harmonious, Fleetwood Mac-leaning ballad.
The album closes with the simple, yet powerful, "Family," an autobiographical tune in many ways, as the group details the ups and downs that come with navigating life — and a career — together, as a family unit.
Known for the Billboard Music Award-nominated and chart-topping 2019 album debut 'Holy Water,' We The Kingdom, who was named Contemporary Christian Artist of the Year at the 2021 Dove Awards, is comprised of brothers Ed Cash and Scott Cash, Ed's children Franni Rae Cash Cain and Martin Cash, and close family friend Andrew Bergthold, who all came together as musicians during a life-changing Young Life experience.
A band that has become synonymous with dynamic live performances, We The Kingdom is set to hit the road just days after their sophomore album arrives, embarking on a headline trek, We The Kingdom LIVE with Cory Asbury, which kicks off on September 29. The 23-date trek includes an already SOLD-OUT show at Nashville's famed Ryman Auditorium, where the group will be making their headline debut, along with plans to stop in cities including Los Angeles, Dallas, Atlanta and more through November. For more information, visit wethekingdom.com.
'We The Kingdom' Tracklist:
1. Left It in the Water*
2. Mine
3. Jesus Does^
4. God is on the Throne+
5. Deep End
6. Miracle Power
7. Tabernacle
8. Life is Good
9. Count the Stars (Be There for You)
10. If I Gave You My Heart
11. The Veil
12. Family
13. Left It In the Water (Edit)*
All songs written by Ed Cash, Scott Cash, Franni Rae Cash Cain, Martin Cash, Andrew Bergthold
*Additional writer Jeremy Gifford
^Additional writer Kyle Briskin
+Additional writer Glynn Dollison
WE THE KINGDOM LIVE TOUR DATES:
Thu., Sep. 29 | Countryside Christian | Tampa, FL
Fri., Sep. 30 | Northland Church | Orlando, FL
Sat., Oct. 1 | FBC Fort Lauderdale | Fort Lauderdale, FL
Sun., Oct. 2 | Florida Theater | Jacksonville, FL
Fri., Oct. 7 | Texas Trust CU Theatre | Dallas, TX
Sat., Oct. 8 | Berry Center | Houston, TX
Sun., Oct. 9 | Tobin Center | San Antonio, TX
Thu., Oct. 13 | Skyline Church | San Diego, CA*
Fri., Oct. 14 | CrossCity Christian Church| Fresno, CA
Sat., Oct. 15 | Capitol Christian Center | Sacramento, CA
Sun., Oct. 16 | Calvary Community Church | Los Angeles, CA
Thu., Oct. 20 | Lake City Church | Spokane, WA
Fri., Oct. 21 | Rolling Hills Community | Portland, OR
Sat., Oct. 22 | Eugene FBC | Eugene, OR
Sun., Oct. 23 | Overlake Church Redmond | Seattle, WA
Thu., Oct. 27 | Hoyt Sherman Place | Des Moines, IA
Fri., Oct. 28 | Willow Creek | Chicago, IL
Sat., Oct. 29 | The Lerner | Elkhart, IN
Sun., Oct. 30 | Wings Event Center | Kalamazoo, MI
Thu., Nov. 3 | Ovens Auditorium | Charlotte, NC
Fri., Nov. 4 | Alabama Theater | Birmingham, AL
Sat., Nov. 5 | Ryman Auditorium | Nashville, TN — SOLD-OUT
Sat., Nov. 6 | Coca-Cola Roxy | Atlanta, GA
*Tickets On-Sale 8.1 at 10AM PST
ALL UPCOMING TOUR DATES:
Sun., July 31 | Indiana State Fair | Indianapolis, IN
Mon., Aug. 1 | Ohio State Fair | Columbus, OH
Fri., Aug. 5 | Soul Fest 2022 | Gilford, NH
Sun., Aug. 7 | The FEST 2022 | Wickliffe, OH
Mon., Aug. 8 | Wisconsin State Fair | West Allis, WI
Sun., Aug. 14 | Colorado Rockies Faith Day | Denver, CO
Mon., Aug. 22 | Kentucky State Fair | Louisville, KY
Sun., Sep. 4 | Choctaw Nation Labor Day Festival | Tuskahoma, OK
Tue., Sep. 20 | Grand Ole Opry | Nashville, TN
Sat., Sep. 24 | Favored Women 2022 | Gatlinburg, TN
Thu., Sep. 29 | Countryside Christian | Tampa, FL
Fri., Sep. 30 | Northland Church | Orlando, FL
Sat., Oct. 1 | FBC Fort Lauderdale | Fort Lauderdale, FL
Sun., Oct. 2 | Florida Theater | Jacksonville, FL
Fri., Oct. 7 | Texas Trust CU Theatre | Dallas, TX
Sat., Oct. 8 | Berry Center | Houston, TX
Sun., Oct. 9 | Tobin Center | San Antonio, TX
Thu., Oct. 13 | Skyline Church | San Diego, CA*
Fri., Oct. 14 | CrossCity Christian Church| Fresno, CA
Sat., Oct. 15 | Capitol Christian Center | Sacramento, CA
Sun., Oct. 16 | Calvary Community Church | Los Angeles, CA
Thu., Oct. 20 | Lake City Church | Spokane, WA
Fri., Oct. 21 | Rolling Hills Community | Portland, OR
Sat., Oct. 22 | Eugene FBC | Eugene, OR
Sun., Oct. 23 | Overlake Church Redmond | Seattle, WA
Thu., Oct. 27 | Hoyt Sherman Place | Des Moines, IA
Fri., Oct. 28 | Willow Creek | Chicago, IL
Sat., Oct. 29 | The Lerner | Elkhart, IN
Sun., Oct. 30 | Wings Event Center | Kalamazoo, MI
Thu., Nov. 3 | Ovens Auditorium | Charlotte, NC
Fri., Nov. 4 | Alabama Theater | Birmingham, AL
Sat., Nov. 5 | Ryman Auditorium | Nashville, TN — SOLD-OUT
Sat., Nov. 6 | Coca-Cola Roxy | Atlanta, GA
*Tickets On-Sale 8.1 at 10AM PST
###