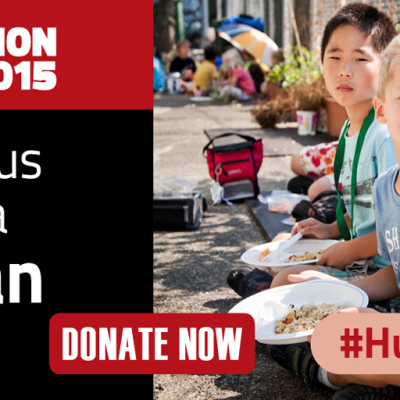 WhyHunger's 30th Hungerthon Campaign Kicks OffAnnual Nationwide Hungerthon Donation Drive Hits The Airwaves
New York, NY: 2015 marks the 30th year for WhyHunger's Hungerthon tradition that has tapped into the power of radio personalities, listeners, celebrities and fans to raise $15 million to fight for an end to hunger in America and the right to nutritious for food all. WhyHunger and its radio partners team up each November to engage the public through Hungerthon radio broadcasts, social media activation and an extensive celebrity online auction. Funds raised are invested in long-term community-based solutions that help people in need in communities across America.
"Hungerthon is an incredible opportunity to raise awareness about how hunger and poverty are affecting Americans and what people can do to make a difference," said Noreen Springstead, WhyHunger Executive Director. "With the help of the community and radio partners like SiriusXM Satellite Radio, CBS Radio New York and iHeartMedia, we can continue to work across the country to build local power, support sustainable solutions to end hunger and help more families access nutritious, affordable food."
With 48 million Americans struggling with hunger, WhyHunger ask supporters to join the campaign. Here's how to take action and contribute to WhyHunger's work:
Visit www.hungerthon.org this fall and make a donation to receive signature gifts such as a limited edition Bruce Springsteen 40th Anniversary "Born to Run" poster, John Lennon "Imagine" tee, infinity scarf and bracelets, 2015 Hungerthon tee and more.
Text the word WHY to 50555 to donate $10 to WhyHunger. Data & Msg rates apply, full terms at mGive.org/T
Spread the word and join the conversation on social media using the #Hungerthon and #GiveThanksgiving hashtags.
Tune in to Hungerthon on SiriusXM Satellite Radio, CBS Radio New York and iHeartMedia and more this fall.
Starting Nov 10th, visit www.charitybuzz.com/hungerthon to bid on exclusive auction items including autographed memorabilia and celebrity experiences. Included among the many items that will be up for bidding in this year's Hungerthon are:
Bruce Springsteen Autographed Born to Run Poster
Michael McDonald Autographed Piano Key
Lunch with Doonesbury creator Garry Trudeau
Meet & Greet w/2 tickets to sold out Fall Out Boy MSG show
4 first row tickets to NY Islanders game + team autographed hockey stick
10,000 Maniacs Autographed Guitar
Brandi Carlile Autographed Guitar
Additional Hungerthon auction items and events will be announced soon. Visit www.hungerthon.org for updates.
About WhyHunger Founded in 1975 by the late Harry Chapin, WhyHunger is a leader in building the movement to end
hunger and poverty by connecting people to nutritious, affordable food and by supporting grassroots solutions that inspire self-reliance and community empowerment. WhyHunger works to support, resources and build the capacity of community organizations and social movements that are changing the systems, policies and institutions that perpetuate hunger and poverty in our world. Together we are transforming our collective food system into one that is socially and economically just, nourishes whole communities, cools the planet and ensures the rights of all people to food, land, water and sustainable livelihoods. Learn more at www.hungerthon.org.

WhyHunger on the Web:
https://www.whyhunger.org/
https://twitter.com/whyhunger
https://www.facebook.com/WhyHungerFans
https://shorefire.com/client/whyhunger