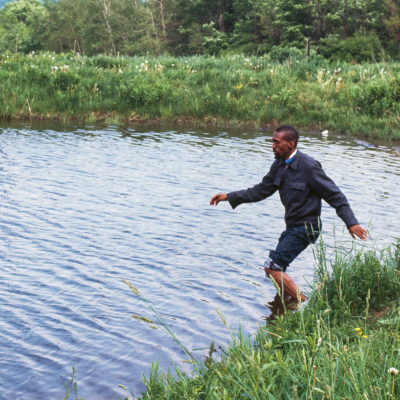 Wild Up Announce Julius Eastman Vol. 2: Joy Boy, Out June 17 On New Amsterdam Records
Includes Never-Before-Recorded Material, Listen To "Stay On It" Here
Wild Up Will Also Perform A Special Dawn-To-Dusk Version Of Eastman's "Buddha" In Los Angeles On June 19, More Details Here
On June 17, 2022, the acclaimed Los Angeles-based new music collective Wild Up will release Julius Eastman Vol. 2: Joy Boy, the follow-up to last year's Julius Eastman Vol. 1: Femenine, a record that was hailed "a masterpiece" (The New York Times), "instantly recognizable" (Vogue), "absorbing" (Pitchfork, in its 8.1 review), and "singularly jubilant" (NPR, who placed Femenine among its top 10 records of 2021, across all genres). Arriving, once more, on New Amsterdam Records, Julius Eastman Vol. 2: Joy Boy is the second entry in Wild Up's seven-volume anthology celebrating Eastman, the late composer whose musical vision was repeatedly dismissed during its day, but is now being unearthed to critical acclaim. It includes performances of never-before-recorded compositions including "Joy Boy" and "Buddha."
"Since we first learned about Julius Eastman in 2010, we've had an increasing affinity for the way that he set out to make music," says Chris Rountree, artistic director for Wild Up. "Eastman's process and approach feel like an ever-present teacher, embedded in the works. The composer has been an inspiration, larger than life, changing the way we want to work, how we want to make, what we want to make, and what we want it to mean."
Accompanying the album announcement, Wild Up share Joy Boy album closer "Stay On It," which constructs foreboding timbres around an insistent and joyful motif. Listen here.
Eastman was young, gay, and Black at a time when it was even more difficult to be young, gay, and Black. He swerved through academia, discos, Europe, Carnegie Hall, and the downtown experimental music scene as he built an exhilarating and thoroughly original body of work. And in 1990, at age 49, Eastman died in Buffalo, New York, less than a decade after the New York City Sheriff's Department threw most of his scores, belongings, and ephemera into the East Village snow.
Julius Eastman Vol. 2: Joy Boy delves deep into Eastman's oeuvre, as Wild Up explores his inimitable compositions and idiosyncratic ways of communicating musical ideas. Eastman's ideas about notation were notoriously loose and, as such, Wild Up's performances are informed both by knowledge passed down from Eastman's colleagues and collaborators as well as an adventurous, constantly seeking spirit.
More than anything, Joy Boy finds Wild Up reveling in the freedom afforded by Eastman's work. Whether it's Wild Up guitarist Jiji veering from placid minimalism to metallic drone across two radically different versions of Eastman's "Touch Him When" or the Wild Up ensemble's ebulliently discordant performance of "Joy Boy," there's a palpable sense of possibility throughout Volume 2. Says Rountree: "We want listeners to find themselves in these pieces. And in their multiple iterations. We want this work to be quintessentially queer. Every moment full of choice."
On June 19, 2022, Wild Up will be celebrating the release of Julius Eastman Vol. 2: Joy Boy with a special dawn-until-dusk performance of "Buddha," Eastman's egg-shaped open-score epic, at 2220 Art & Archives. Full details on that performance here.
Wild Up's Eastman anthology represents a departure for New Amsterdam Records, which, until this series, had exclusively released new music by active, living composers. But Eastman is a special case, a composer whose work shines like a beacon to today's musicians. Any term used to characterize the modern musical landscape —"genre-fluid" or the like — was anticipated by Eastman decades before; yet, he was punished for being ahead of his time, both in the treatment of his music and, tragically, his person. Eastman's music flowed freely from, and through, his myriad influences and was terribly served by the musical infrastructure of his day. It makes sense, then, for the anthology to arrive on New Amsterdam Records — a sort of loving backward embrace of a musical forefather to 21st-century composers.
"Wild Up feels changed when we play this music," says Chris Rountree. "We've found that Eastman's pieces are an ideal way to create the space we see for classical music going forward. We want listeners to find something joyous and raucous, something everchanging, and yet somehow also repeated over and over. To us, Eastman's music feels like a perfect mirror in the search for self."
About Wild Up:
Wild Up is a modern music collective — a group of Los Angeles-based musicians committed to creating visceral, thought-provoking happenings. They tell stories and make projects that live somewhere between new music and theater and performance art and pop. The group believes that music is a catalyst for shared experiences, and that the concert venue is a place for challenging, exciting, and igniting the community around us.
Julius Eastman Vol. 2: Joy Boy
Joy Boy
Buddha (Field)
Touch Him When (Light)
Touch Him When (Heavy)
Buddha (Path)
Stay On It
Follow Wild Up:
Website: https://www.wildup.org/
Facebook: https://www.facebook.com/WildUp/
Twitter: https://twitter.com/wildup?lang=en
Instagram: https://www.instagram.com/wildup/?hl=en