Working Girls Trixie & Katya's Guide to Professional Womanhood By New York Times bestselling authors Trixie Mattel & Katya Zamolodchikova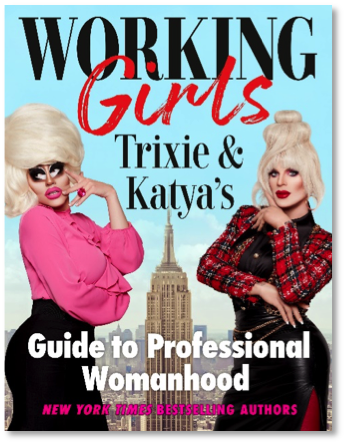 Trixie Mattel and Katya Zamolodchikova—who originally turned heads as contestants on RuPaul's Drag Race—took the world by storm in 2020 with their Guide to Modern Womanhood, an instant New York Times bestseller packed with their expert advice on beauty, homemaking, and relationships that earned praised from Vanity Fair, Nylon, BuzzFeed, The A.V. Club, E! News, and a host of other media outlets. Trixie and Katya's debut also racked up thousands of glowing consumer reviews, including one reviewer who described it as "the most amazing book I've ever read in my life…[a] modern masterpiece" and another who raved that it is
"A must buy for virtually the entire human population."
Now, they're tackling an even bigger challenge: finding success in the modern workplace. In their new book, WORKING GIRLS: Trixie & Katya's Guide to Professional Womanhood (Plume; on sale October 25, 2022), Trixie and Katya dole out both savvy and satirical advice for every stage of working life—from choosing a career path to sailing into a blissful retirement—in step-by-step guides, quizzes, the world's most bizarre aptitude test, and more. They also share personal stories from their own remarkable careers and their philosophies on everything from office attire to getting fired with dignity.
And there's so much advice to give, something for everyone: Are you trapped in one of the Nine Circles of Retail Hell? Agonizing over how to get that raise? Suspicious that your colleague doesn't really hope their email "finds you well"? Trixie and Katya have got you covered. Witty, beautiful, and filled to the brim with wisdom, WORKING GIRLS is the ultimate guide for the working woman. And just like their first book, WORKING GIRLS also contains a treasure trove of hilarious, gorgeous, never-before-seen photos of the dynamic drag duo that fans won't want to miss.
About the Authors:
Trixie Mattel is a comedian, musician, cosmetics entrepreneur, bestselling author, DJ, and all-around thin woman. She is incredibly thin with bombshell curves in all the right places. She loves her partner David and tolerates all others.
Katya Zamolodchikova is a woman in her early forties looking to fall in love in the next three to five weeks. She lives in Los Angeles with her ex-husband Glen and her four beautiful daughters. This is her second book.
WORKING GIRLS
Trixie & Katya's Guide to Professional Womanhood
Trixie Mattel and Katya Zamolodchikova
Plume | 10/25/2022 | $28.00 | 9780593186114
Also available as an eBook and audiobook
ABOUT PLUME:
Founded in 1970, Plume is dedicated to finding and championing a select group of new nonfiction voices in the genres of pop culture, cultural and feminist statements, influencers in the food, wine, and lifestyle space, and humorous and whimsical gift books. Notable recent successes include New York Times bestselling authors Amber Share, Trixie Mattel and Katya, and Hannah Shaw. Plume is also home to many perennial classics including Martin Duberman's Stonewall, Brian Hare and Vanessa Woods's The Genius of Dogs, Bernice McFadden's Sugar, August Wilson's Fences, Helene Maria Viramontes Under the Feet of Jesus, as well as best-selling fiction from Julia Alvarez and Joyce Carol Oates.