World Mental Health Day Summit And Concert On Sunday, October 10
Jewel & Her Inspiring Children Foundation (ICF) announce partnership with The Wellness Experience by Kroger to present the 2nd Annual World Mental Health Day Summit & Concert
Jewel & ICF Announce New Collaboration with One Mind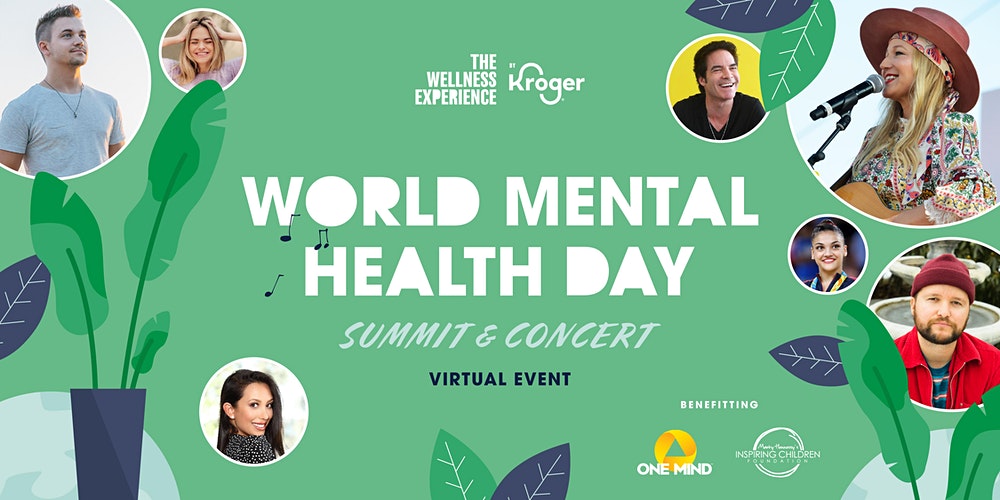 LAS VEGAS, Nevada. - October 7, 2021 - Grammy Nominated Singer-Songwriter and mental health advocate Jewel, and her leading mental health nonprofit The Inspiring Children Foundation, announced their partnership with The Wellness Experience by Kroger for its 2nd Annual World Mental Health Day Summit & Concert set for Sunday, October 10. For twenty years Jewel's Inspiring Children Foundation (ICF) has been empowering at-risk youth struggling with financial hardship, anxiety, depression, suicidal ideation and other mental health challenges by giving them the ultimate environment to survive, then thrive at the highest levels.
This year's event is in partnership with and benefiting the Inspiring Children Foundation and One Mind. The event's goal is to democratize wellness by bringing physical, emotional, and mental health to the masses in a fun, creative way, infused with music, celebrity and experts. To this end they are making the event available for free to the general public and have an open invitation to partner with organizations or companies interested in mental health. The event also kicks off a new collaboration between Jewel, ICF, and One Mind, the leading mental health and brain research nonprofit, founded over twenty five years ago.
The Summit & Concert will include music performances, exclusive conversations with celebrities, workouts with fitness experts, and cooking demos. The event is hosted by Jewel, Dancing with the Stars' Cheryl Burke, Alaska The Last Frontier's Atz Kilcher, Olympic Gold Medalist Laurie Hernandez, and Influencer Summer McKeen. Music Performances include Jewel, Alejandro Sanz, Nicky Jam, Quinn XCII, CG5, Lydia Knight, Hunter Hayes, and Pat Monahan. The event will feature mental health liver experience experts, researchers and clinicians including: Former.Congressman Patrick Kennedy, Co-Founder of One Mind, Ryan Wolfington, President of Jewel Inc. and Co-Founder of Inspiring Children Foundation, Dr. Blaise Aguirre of Harvard McLean Psychiatric Hospital, Dr. Gabor Maté; the subject of the award-winning film "The Wisdom of Trauma", and Dr. Stephen Murphy-Shigematsu; Director of the Heartfulness Lab and Co-Founder of LifeWorks at Stanford. There will be appearances by Kroger CEO Rodney McMullen, President of Kroger Health Colleen Lindholz, Chief Medical Officer of Kroger Dr. Marc Watkins, President of SaksWorks Amy Nelson, SaksWorks Director of Wellness Nicole Kalhorn, award-winning actress Tabitha Brown and ICF foundation youth. Fitness Sessions will be led by celebrity fitness trainers.
The livestream will be available on The Wellness Experience's website, as well as the Inspiring Children Foundation's Facebook page and www.WorldMentalHealthDaySummit.com. The Summit starts at 5PM EST/2PM PST on Sunday, October 10. The concert begins the same day at 7PM EST/4PM PST.
The CDC indicates that since the start of the COVID-19 pandemic there has been a 93% increase in those looking for help with anxiety, and a 62% increase in depression. 40.9% of respondents reported at least one adverse behavioral health condition. Pre-COVID-19 suicide rates for youngsters had increased exponentially from 2006, up 70% and 77% for white and black youth, respectively. During this time the Inspiring Children Foundation in Las Vegas has been on the front lines at Lorenzi Park, Craig Ranch Park, over the phone, and online, developing programs to inspire children to use the tools that have been scientifically proven to help mitigate mental illness in children and adults.
"We are giving them the same tools that helped me go from an abusive background, moving out at 16, and being homeless, to becoming a happy whole human," said Jewel. "I know how much people struggle to feel the healing and internal permission needed to become an architect of your own life, instead of the backseat driver of one you were born into. I believe there are every-day solutions that can help other people find peace of mind and live an extraordinary life."
The Inspiring Children Foundation's online, over the phone, and in person ecosystem of healing and growth includes programs that emphasize the need for: emotional intelligence, SEL, mindfulness/meditation, DBT, trauma therapy/informed care, group mental health counseling and mentoring, leadership development, entrepreneur skills, nutrition, yoga, recreational and high-performance tennis, sports, sleep science, and academics. The Foundation leadership empowers youth to co-create and run 80% of the programs believing it develops know-how, an understanding of themselves, and confidence.
"Jewel and I have given these children what we wish we had when we were young, the physical, emotional and mental health tools to find love in even the most challenging of circumstances," said Ryan Wolfington, Co-Founder of the Inspiring Children Foundation. "These tools and this information should be made available to everyone, everywhere, which is why the children co-created our online World Mental Health Day Summit and Concert with Kroger."
On the Foundation's Advisory Board, co-chaired by Jewel, is Dr Judson Brewer, Director of Research and Innovation at Brown University Mindfulness Center. Dr. Brewer is the Foundation's scientific advisor, and has validated the tools and practices being offered for free on their free mental health website JewelNeverBroken.com. The in-person programs and practices were further validated by the public recognition by Dr. Blaise Aguirre, the internationally recognized child and adolescent psychiatrist at Harvard-affiliated McLean Hospital, the nation's leading freestanding mental health facility.
To become a partner of the event, or for more information go to www.InspiringChildren.org.
About Inspiring Children Foundation
The Foundation's mission is to revolutionize education by providing an ideal model of youth development, co-created by children, for children, that includes mental health programming in underserved communities. This model includes a holistic approach including physical, emotional and mental health. Lives are transformed by creating a community of connection and care, both online and in-person, where the ecosystem inspires children to heal each other by sharing openly in meaningful conversations.
The leadership program provides youth with a "psychology for life," with the goal of inspiring the children's mindset, to help them deeply appreciate their opportunities, resulting in giving their best in everything they do. Through academics, athletics, mentoring and mental health counseling, entrepreneur skills, tennis and sports, and our award-winning project-driven learning volunteer programs, our youth leaders are inspired through our 10 pillars of growth, which include 40 tools to help them find mastery in the art of living.
This is simplified and pulled together as the youth create their own "Life Plan." This comprehensive plan inspires children to figure out who they are and who they want to become, with a detailed set of action steps on how to get there. This coupled with our award-winning programming has helped our organization create a revolutionary model of education that is now being duplicated in part by 22 other organizations.
About Jewel
Jewel went from a girl who grew up with no running water on an Alaskan homestead, to a homeless teenager in San Diego, to an award winning, multi-platinum recording artist who released one of the best-selling debuts of all time. Through her career Jewel has sold over 30 million albums worldwide and has earned 26 nominations for such awards as the GRAMMY®️s, American Music Awards, MTV Awards, VH1 Awards, Billboard Music Awards, and Country Music Awards, winning eight times. Jewel has been featured on the cover of TIME Magazine, Rolling Stone, has performed on Saturday Night Live, at the Super Bowl and the NBA Finals, for the Pope and the President of the United States. She has experimented with several genres over her career with top hits in Folk, Pop, Club, Country, Standards, Children's and Holiday music.
Today, Jewel continues to be a leader in the conversation around mental health, helping people tackle the silent symptoms of COVID-19—anxiety, depression, and isolation—to build community and connection for those who need it most. For more than 18 years, Jewel's non-profit, the Inspiring Children Foundation has helped at-risk youth cope with the same silent symptoms we are now seeing throughout the pandemic. Growing up in Alaska where she was indoors for eight months out of the year, she knows about isolation. After moving out at 15 due to an abusive household and suffering from debilitating panic attacks, Jewel became homeless by the age of 18 and developed agoraphobia, the fear of leaving one's home, a condition that experts worry some people will develop in the post-COVID-19 era. Mental health has been a significant passion of hers since being a homeless teenager with little access to resources. During that time, she began to develop a set of tools to rewire her brain and create new emotional patterns that were later validated by neuroscientist and associate professor in psychiatry at Brown University, Dr. Judson Brewer. After learning meditation and discovering and innovating her own mindfulness practices, Jewel was able to heal symptoms of her depression and go from surviving to thriving. These are the same tools she uses to help at-risk youth through her charity and the same tools she is offering online for free. For more information, please visit www.InspiringChildren.org. To access Jewel's free online tools, please visit www.JewelNeverBroken.com.
About One Mind
One Mind is a leading mental health non-profit that heals lives through brain research, working from science to services to society. By bringing together the best minds in brain science and advocacy around our collective vision of "Accelerating Brain Health for All", One Mind is advancing a three-pronged program strategy of accelerating discoveries, scaling implementation and transforming societal culture. Together, we are creating a world where all individuals facing brain health challenges can build healthy, productive lives. www.onemind.org
For more information on Jewel, contact:
Shore Fire Media
Allison Elbl, aelbl@shorefire.com
Cory Councill, ccouncill@shorefire.com
Kacey Porter, kporter@shorefire.com