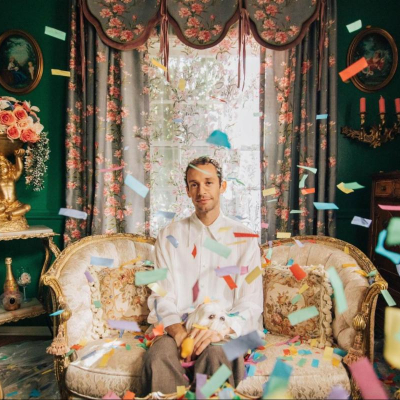 Wrabel Feels "happier" In First New Track Of 2023
Announces Forthcoming 'chapter of me' EP, Out April 21
Listen to "happier", Watch Video
Wrabel has returned and is kicking off the year on a happier note. Today he drops his new song "happier", which is the first taste of his forthcoming 'chapter of me' EP (out April 21 via Big Gay Records/Nettwerk). The song, which was co-written by Eric Leva (Kesha, Celeste), produced by Sam de Jong (Alex Benjamin, Anson Seabra) and mixed by Michael Freeman (Dean Lewis, 5 Seconds of Summer, Joshua Bassett), is a study in balance, overcoming the barriers life puts in your way, and learning to find a steady equilibrium that finally lets you feel at peace.
"I'm so used to writing about unrequited love, break-ups, the break up. But I wanted something that just states what was and what is," shared Wrabel. "Being happier isn't always easy. It's complicated. But it's a beautiful realization to have with yourself. This song is a marker of that."
The accompanying video for "happier" marries this sentiment perfectly while injecting the heartfelt performance with some delicious camp: Wrabel abandons a lover in the pouring rain in exchange for a confetti-covered tea party with friends (& his dog), lounging poolside being fanned with palm leaves, & surrounding himself with handwritten signs declaring the emotional namesake of the record.
Wrabel's 'chapter of me' EP is the first part of a larger, yet-to-be-announced project set to roll out throughout 2023 that takes the acclaimed songwriter & performer to emotional depths he's yet to publicly excavate.
The next wave of music follows the 2021 release of his debut full-length 'these words are all for you' which Billboard said boasts "boisterous vocals met by beautiful piano melodies" and that SPIN proclaimed "showcases his trademark, beautifully intimate performances and powerhouse songwriting". It also will be the latest addition to a songwriting & performance resume that includes partnerships/collaborations with a "who's who" of modern music legends including P!nk, Kesha, Cam, Tenille Townes, Louis the Child, Marshmello, Ellie Goulding, Louis Tomlinson, Backstreet Boys, Wafia, and many more.
As of today, Wrabel's personal discography has racked up over 700m streams across all DSP platforms, and his song "The Village" has become an LGBTQ+ anthem. Over the past few years, his "knife-to-the-heart" (Idolator) songwriting has led to him becoming "one of Hollywood's finest songwriters for a decade" (American Songwriter), earned him a performance spot on the national NBC TODAY stage and had Billboard saying that Wrabel is "ready for his breakthrough".
'chapter of me' EP Track Listing
happier
one drink away
on the way down
you got yours
feel it now (alive)
FACEBOOK | INSTAGRAM | OFFICIAL SITE
---------------------------
For more information on Wrabel, please contact Josh Page at Shore Fire Media