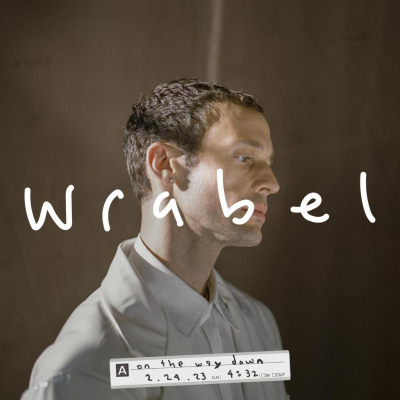 Wrabel Reaches For a Helping Hand "on the way down"
Latest Track From Forthcoming 'chapter of me' EP Out Today - LISTEN HERE
Wrabel is getting ready to excavate the deepest recesses of his heart with his forthcoming 'chapter of me' EP (out April 21 via Big Gay Records/Nettwerk), and today's release of "on the way down" showcases the soul-baring brilliance of the artist and star songwriter. The moody, reflective, and deeply resonating track is an ode to leaning on one's support systems amidst turmoil and the beautiful anchor our loved ones can serve during the storms of our lives.
"I wrote "on the way down" with Davis Naish, and it came from a place of reflection on the darker moments of my life, the moments that felt like I was in the most despair and how it's important to try and find that sliver of light to guide you out," said Wrabel about the origins of the track. "For me, that was getting sober, leaning on my family and my friends… not being afraid or too proud to grab the hand extended to me from the other side, asking for help, and taking it when it was offered."
Wrabel's 'chapter of me' EP is the first part of a larger, yet-to-be-announced project set to roll out throughout 2023 that takes the acclaimed songwriter & performer to emotional depths he's yet to publicly explore. He previously teased the collection with the release of "happier", a catchy guitar-driven celebration of liberating oneself from the chains that once held you down. Paper Magazine spotlighted the deliciously campy video while Wrabel did insightful interviews with GLAAD and Into discussing the track teasing the forthcoming EP.
The next wave of music also follows the 2021 release of his debut full-length 'these words are all for you' which Billboard said boasts "boisterous vocals met by beautiful piano melodies" and that SPIN proclaimed "showcases his trademark, beautifully intimate performances and powerhouse songwriting". It also will be the latest addition to a songwriting & performance resume that includes partnerships/collaborations with a "who's who" of modern music legends including P!nk, Kesha, Cam, Tenille Townes, Louis the Child, Marshmello, Ellie Goulding, Louis Tomlinson, Backstreet Boys, Wafia, and many more.
As of today, Wrabel's personal discography has racked up over 700m streams across all DSP platforms, and his song "The Village" has become an LGBTQ+ anthem. Over the past few years, his "knife-to-the-heart" (Idolator) songwriting has led to him becoming "one of Hollywood's finest songwriters for a decade" (American Songwriter), earned him a performance spot on the national NBC TODAY stage and had Billboard saying that Wrabel is "ready for his breakthrough".
'chapter of me' EP Track Listing
happier
one drink away
on the way down
you got yours
feel it now (alive)

FACEBOOK | INSTAGRAM | OFFICIAL SITE
# # # # #