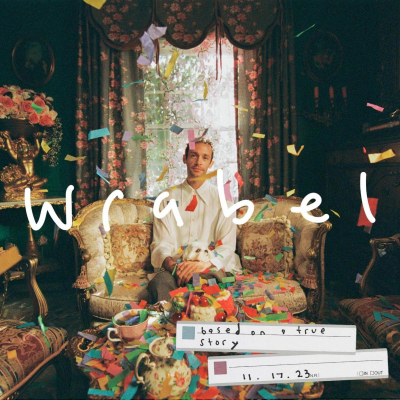 Wrabel Releases New Album 'based on a true story' 
Out Today via Big Gay Records/Nettwerk - Listen HERE
"Across 13 artfully penned songs, Wrabel tackles his own demons — including sobriety, anxiety and heartbreak — while simultaneously trying to provide space for those listening to insert their own daily struggles into his diaphanous lyrics."
- Billboard
Today, Wrabel has released his sophomore album 'based on a true story' – an inspired next chapter in the career of one of modern pop's most prolific talents. Today's new LP is an amalgamation of the celebrated songwriter and artist's previous two EPs 'chapter of me' and 'chapter of you', both of which unfolded throughout 2023 showcasing Wrabel's never-endingly brilliant knack for nuanced storytelling, lyricism and inescapable earworms. On the LP, the aforementioned EPs are brought together by a batch of new tracks, including the lush most recent single "happier" and his own recording of "lost cause" (a Wrabel-penned highlight off of P!nk's most recent album 'Trustfall'.)
LISTEN TO 'based on a true story' HERE
Of the new album, Wrabel shared, "I had a very clear intention with the album to try and offer some hope. Like a shoulder to lean on, a friend to confide in… sharing parts of myself that scare me. Sharing things I've been through in the hopes that it may make you feel less alone. The last group of new songs I feel ties together the previous chapters and offer some more depth. If I had one dream for the album as a whole it would be simply that I hope it brings you comfort and hope. I put a lot of heart into this and I hope it reaches yours. And as always I couldn't have done it without my incredible friends and collaborators and my incredible family team around me."
Earlier this summer, Wrabel released "Turn Up the Love" as the PRIDE anthem he wrote for AT&T Turn Up the Love 2023 campaign (which he recently spoke to Variety about), and also saw his earlier catalog song "The Village" go viral when the inspiring dance troupe Unity auditioned for Britain's Got Talent with a routine set to the song (which scored them the very rare Golden Buzzer from judge Simon Cowell). He also released a collaboration video with Unity for the song,which really hammers home the unifying message of the song. Initially inspired by a powerful meeting with two transgender fans of his, the song has been praised by People Magazine, Out Magazine, Billboard, and more, and Wrabel also spoke with Good Morning America last year about how he hopes his music connects with people to offer solace and community when they need it the most.
As of today, Wrabel's own personal discography has racked up over 700m streams across all DSP platforms, while he has also become known for high-profile collaborations/writing credits with Kesha, P!nk, Backstreet Boys, Ellie Goulding, Cam, and more. Over the past few years, his "knife-to-the-heart" (Idolator) songwriting has led to him becoming "one of Hollywood's finest songwriters for a decade" (American Songwriter), earned him a performance spot on the national NBC TODAY stage and had Billboard saying that Wrabel is "ready for his breakthrough."
'based on a true story' track listing
"another song about love"
"feel it now (alive)"
"just like you"
"abstract art"
"beautiful day"
"on the way down"
"one drink away"
"we all could use some help"
"happier"
"you got yours"
"find it"
"lost cause"
"don't be so hard on yourself"
For more info, please contact Josh Page at Shore Fire Media.